(50th anniversary) Aspherical lens elements: Transcending challenges in ultra-high-precision processing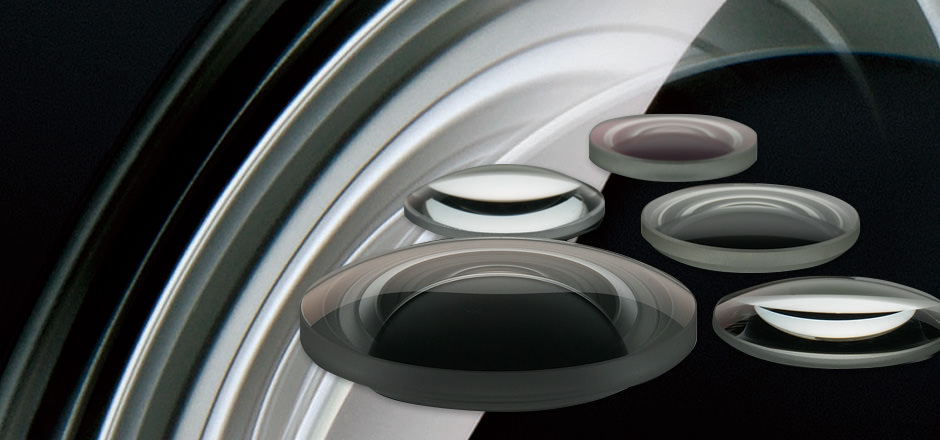 Long known to effectively correct various types of lens aberrations and improve image quality, aspherical lens elements can now be found in many interchangeable lenses, whether in entry-level models or high-performance models designed for professional users. However, manufacturing such lenses requires control over curvature at the submicron level (1/10,000th of a millimeter). It was considered so difficult to achieve such precision that the lenses were once called "dream lenses".
Over half a century ago in 1971, Canon finally released an interchangeable lens for SLR cameras that included aspherical lens elements. Since then, the company has continued to refine processing methods and precision technology, spearheading the constant improvement of image quality via aspherical lenses.
Aspherical Lenses (Created: December 2006 03'05'')
Blurring due to spherical aberration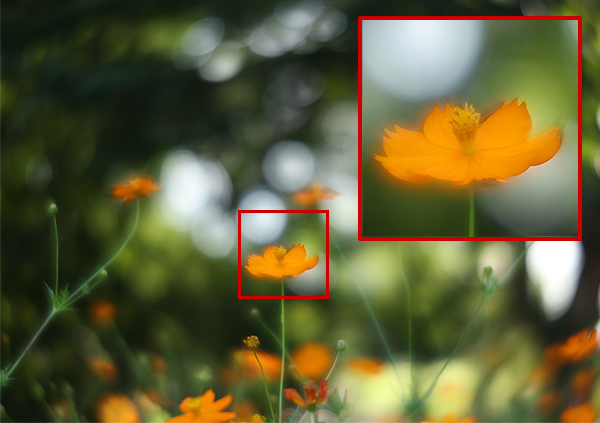 Image shot with spherical lens element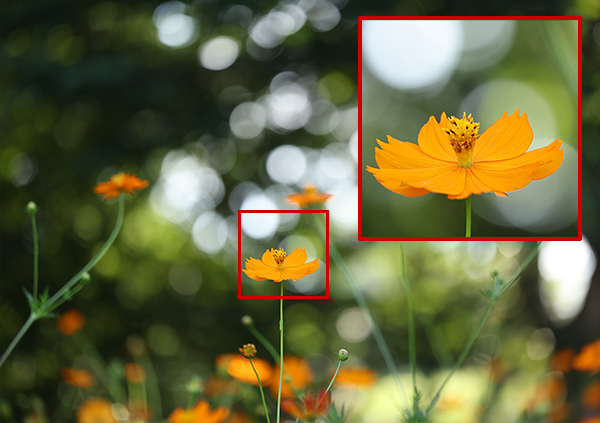 Image shot with aspherical lens element
Conventional lens elements have a curved surface shaped like a slice of a sphere, which is why they are called "spherical" lens elements. Compared to light rays passing through the center of a spherical element, rays entering from its peripheries must travel a longer distance in order to reach the image plane, resulting in the light rays converging at different positions. This causes an effect known as spherical aberration, where point light sources "blur" instead of being rendered as points.
With aspherical lenses, the curvature changes towards the lens peripheries, ensuring that all light rays converge at the same position, thereby reducing spherical aberration.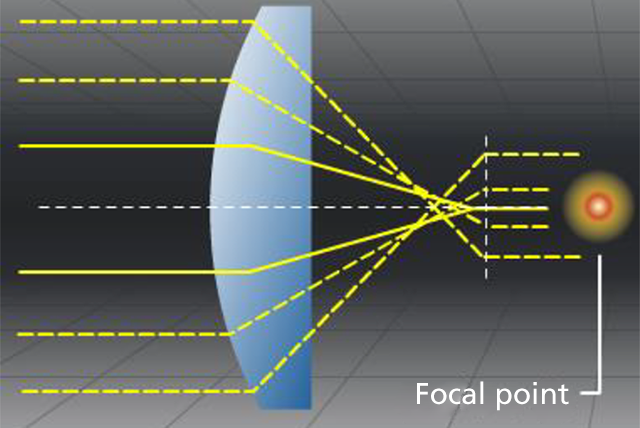 Spherical aberration on a spherical lens element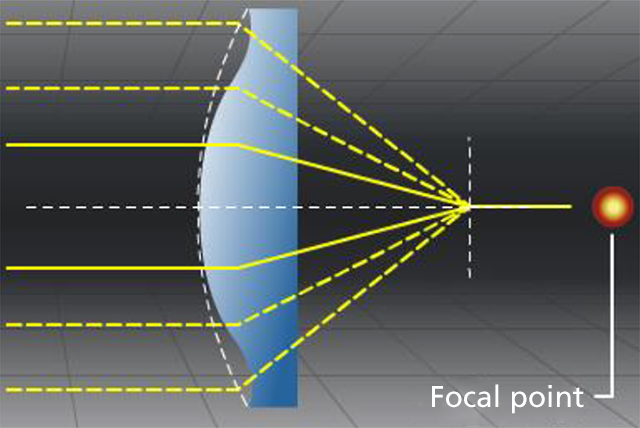 An aspherical lens element ensures light rays converge at the same position.
Correcting distortion
Distortion is another type of aberration that can be effectively corrected using aspherical lens elements. Wide-angle lenses are prone to barrel distortion, whereas telephoto lenses are prone to pincushion distortion.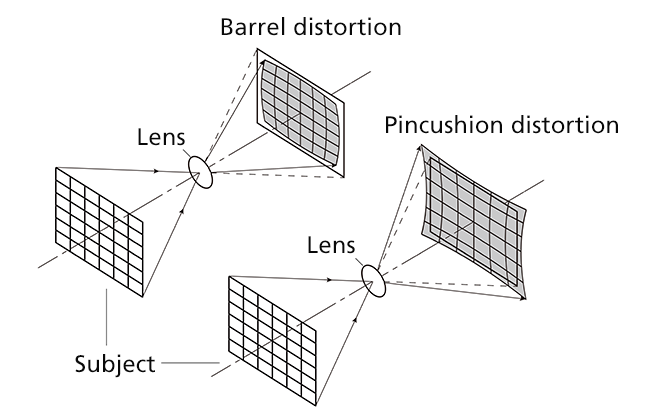 While aspherical lens elements can correct various types of aberration, one aspherical lens alone cannot correct everything. Rather, it must be used in combination with a number of other lenses, and the type of aberration that the aspherical lens element corrects changes depending on its relative position within the configuration of the lens. For example, barrel distortion is effectively corrected by placing aspherical lens elements near the front of the lens configuration.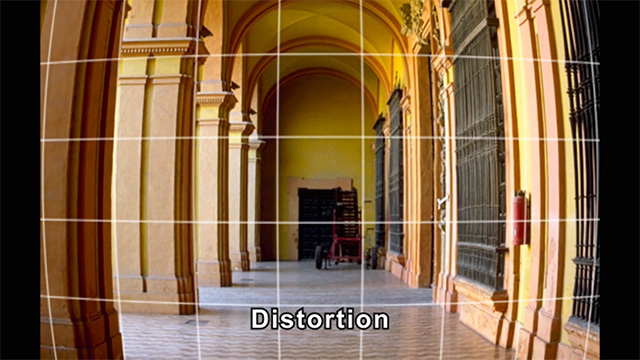 Image shot with a spherical lens element (shows barrel distortion)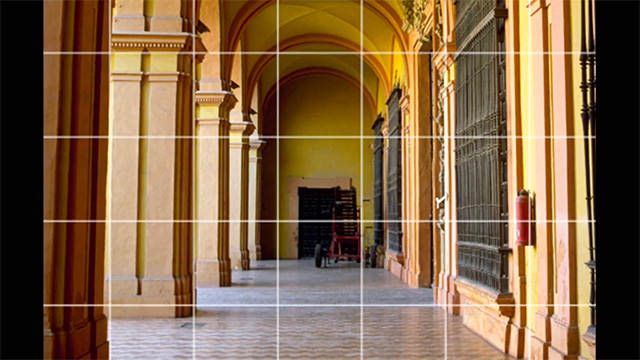 Image shot with an aspherical lens element
The emergence and evolution of aspherical lenses
The theory behind aspherical lenses and their use in correcting aberrations has been known for a very long time. In fact, such lenses have been used in astrometric telescopes since the early 1900s. The difference in surface curvature between an aspherical lens and a spherical lens is so subtle that it is not visible to the human eye, and requires submicron-level precision measurements and processing to replicate. There were also many huge obstacles that stood in the way of producing aspherical lenses that could be used on cameras, such as mass production capability and the need to produce lenses capable of correcting aberrations at wider angles—different from the existing telescopes.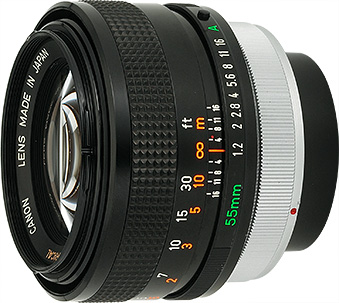 FD55mm f/1.2AL (released in 1971)
In the face of these challenges, Canon remained committed to their vision of bringing higher-image-quality lenses to more users. In 1963, it commenced research and development aimed at applying the yet-unexplored aspherical lens technology to camera lenses, and in 1969, released a prototype in the form of the FL55mm f/1.2AL at a camera expo in Japan. Two years later, in 1971, the first large-aperture SLR lens employing an aspherical lens was released—the FD55mm f/1.2AL.
The journey to mass-produce aspherical lens elements involved the incorporation of advanced technologies developed for the space exploration program, culminating in the development of the ALG-Z ultra-high-precision aspherical lens grinder and the ALM ultra-high-precision measuring machine. The use of a laser interferometer ensured fine control over equipment grinding, which made possible surface grinding precision down to units of 100nm* for shaping and 50nm for processing. Combined with the uniform grinding and polishing techniques that Canon had developed based on its own theories, these technologies made it possible to mass produce more than 1,000 pieces of ground and polished aspherical lenses per month.
*

One nanometer (nm) is one billionth of a meter.
Later, Canon also succeeded in developing plastic-molded (PMo) aspherical lenses, which can be mass produced in larger quantities at a lower cost, and large-diameter glass-molded (GMo) aspherical lenses, which are molded in a machine that incorporates a high-precision aspherical metal mold*.
*

1982: Release of the Canon Snappy 50, the world's first camera lens to incorporate a PMo aspherical lens element.
1985: Release of the New FD35-105mm f/3.5-4.5, the world's first interchangeable lens for 35mm full-frame cameras to incorporate a GMo aspherical lens element.
In 1990, Canon developed a fourth aspherical lens production technology that produces replica aspherical lenses by using ultraviolet-light-hardening resin to form an aspherical lens surface layer on a spherical lens element.
Taking such factors as desired image quality and intended use into consideration, Canon chooses the most appropriate of its four aspherical lens production technologies for each lens in its continuing efforts to develop high-quality lenses.
Catering to diverse needs: Canon's aspherical lens elements
Ground and polished aspherical lens elements
A lens element used in the EF11-24mm f/4L USM, which has the world's largest lens diameter*.
*

As of its release date in 2015.
In the production process for lenses, each piece of glass is individually ground and polished, thus producing extremely high-precision lenses. The process is suitable for different types of glass, and can be used to produce aspherical lens elements that have a large diameter or a large displacement factor relative to spherical lenses. These lens elements are mainly employed in lenses designed for professional users that require very high image quality.

Production process
First, the glass is carved and ground using a grindstone that contains diamond. The thickness, exterior, and aspherical shape are ground to 100nm-level precision. The aspherical shape of each lens is then measured in detail. Next, the measurement results are used to generate a program that will polish the glass so that it fits the design requirements. The measurement and polishing steps are repeated until the margin of error is no more than 50nm.
Plastic-molded (PMo) aspherical lens elements
PMo aspherical lens elements are formed by injecting resin into an aspherical surface mold. Highly suitable for mass production, they play a major role in improving the image quality of entry-level lenses, such as the EF-S10-18mm f/4.5-5.6 IS STM (released in 2014), which need to be kept relatively affordable.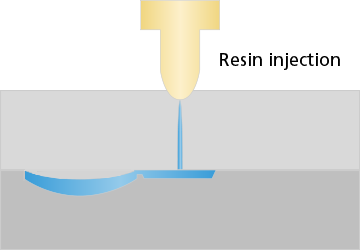 Production process
Resin is injected into a high-precision mold that takes the shape of an aspherical lens. After the lens element is separated from the mold, coatings are added to finish the lens.
Glass-molded (GMo) aspherical lens elements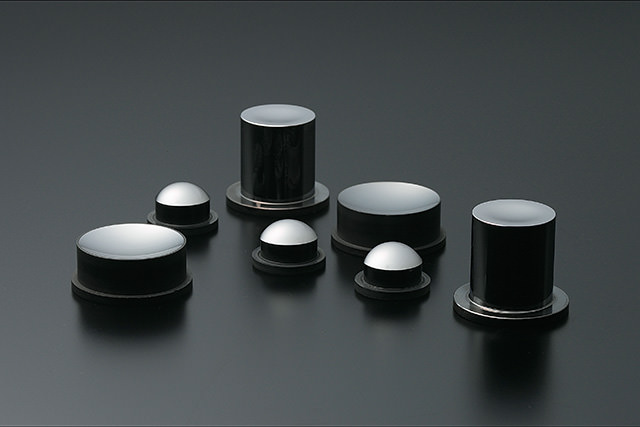 Molds for high-precision aspherical lenses
GMo aspherical lens elements are manufactured by softening glass material under high temperatures and then shaping it using a molding machine. Suitable for large quantity manufacturing, the resulting lens element retains the scratch- and heat-resistant properties of glass.
Ever since the very first batch of GMo aspherical lenses Canon produced, the molding equipment used to make the lenses has been developed and manufactured in-house, making possible the ultra-high precision that the lens designs require.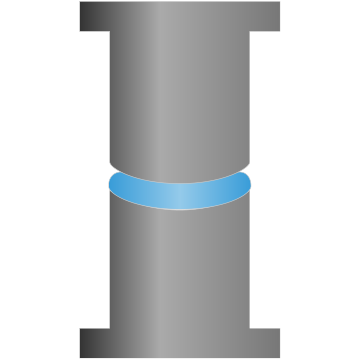 Production process
Glass material is softened under high temperatures, then shaped using a high-precision aspherical lens press mold machine. After the molded glass is cooled, it is put through various quality tests before it is finished. As the constitution depends on the type of glass used, the temperature, time, and pressure required in the molding process also differs.
Replica aspherical lens elements
Replica aspherical lens elements are produced by using an aspherical surface mold and ultraviolet-light-hardening resin to form an aspherical surface layer on a spherical glass lens. As this process is not restricted by factors such as the size of the spherical glass base or the glass material used, it offers high design flexibility.

Production process
Ultraviolet-light-hardening resin is dripped onto a spherical glass lens, which is then inverted and transferred into an aspherical surface press mold and placed under ultraviolet rays. The resin hardens under the ultraviolet rays, forming an aspherical surface.
Lenses with aspherical lens elements
(as at May 2021)
With their powerful aberration correction capabilities, aspherical lens elements are useful for such purposes as improving image quality, achieving smaller and lighter lens designs, or realizing high-performance specifications. In Canon's EF and RF lens lineups alone, they can be found in over 100 assorted lens models, ranging from entry-level models to those designed for professional users.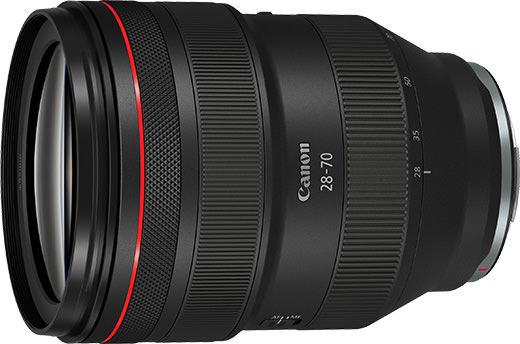 RF28-70mm f/2L USM (released in 2018)
RF lenses that employ aspherical lens elements (as of May 2021)

Special Exhibition