Challenge #3
How can they travel such far distances?
Let's find out the secrets of a bird's body.
Many sandpipers and plovers migrate long distances from the Arctic region to destinations in the Southern Hemisphere. Along the way, some bird species make a stopover to feed for a while at tidal flats or other feeding grounds, but there are others that fly straight to their destination, making very few if any stops. For example, during its autumn migration a Latham's Snipe fitted with a transmitter in Japan flew 5,000 kilometers to New Guinea over six days without stopping. Similarly, a Bar-tailed Godwit fitted with a transmitter in Alaska flew 12,000 kilometers non-stop across the Pacific Ocean in 11 days. It did not sleep or eat anything during that time.
By recording position data at set time intervals while a bird is flying, we can find out the speed the bird flew at between two locations.
The Wild Bird Society of Japan attached a satellite transmitter on Latham's Snipes in Hokkaido to investigate the migration route and number of days it takes them to fly to Australia. This year, one of the birds fitted with a transmitter from the Yufutsu Plain in Hokkaido arrived at its wintering area in Australia after flying the 7,800-kilometer distance non-stop in six days. It was calculated to have flown at a speed of about 50 km/h.
The Bar-tailed Godwit has an even more impressive record. A Bar-tailed Godwit flew 12,000 kilometers across the Pacific Ocean from its breeding grounds in Alaska to its wintering spot in New Zealand in 11 days without stopping even once. Its average speed enroute was about 45 km/h.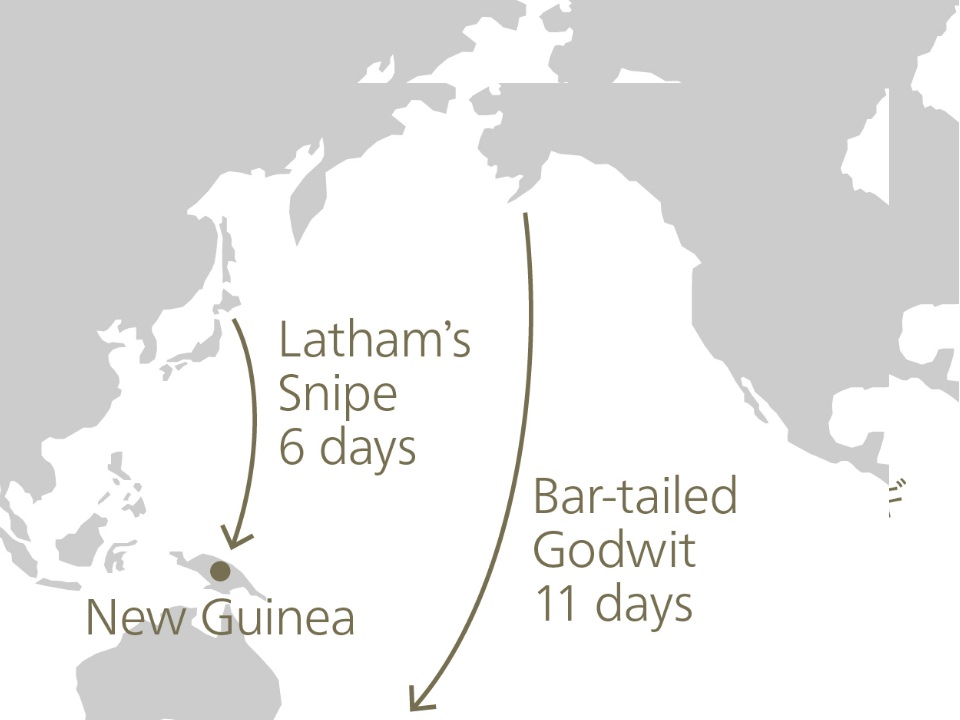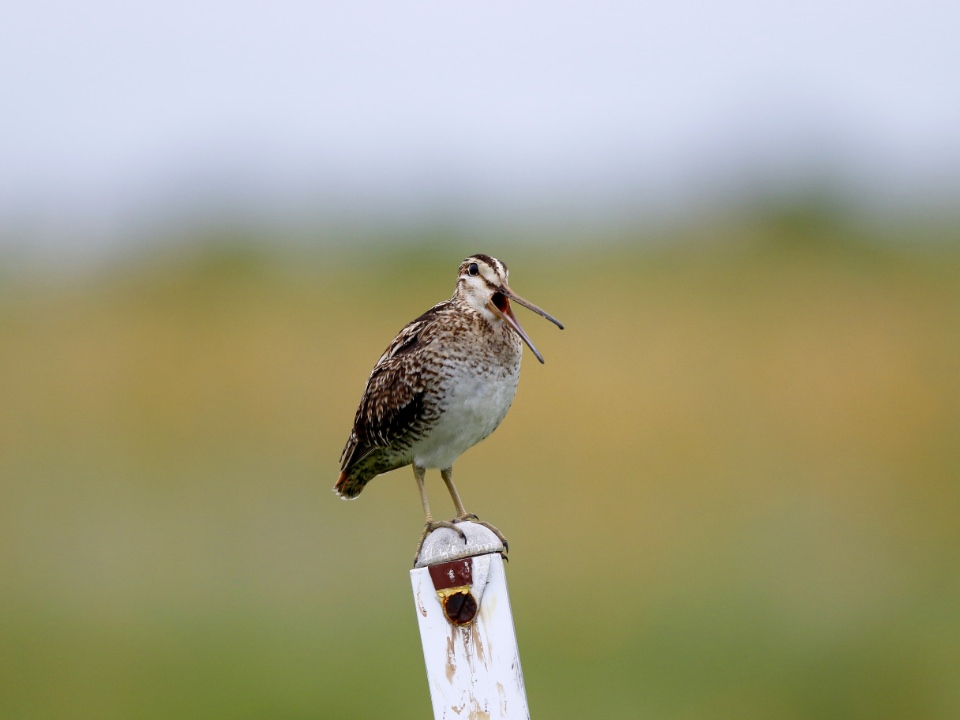 Sandpipers and plovers fatten themselves up well before starting their migration. Depending on the species, some birds are known to double their weight. Burning the fat bit by bit, birds migrate long distances without stopping, and when they arrive at their destination, they appear to have lost half of their weight.
Are they all right though without sleeping for a week or 10 days? For example, relatives of the Pacific Swift spend most of their life during the year in the air, but we understand that they also fly at night and seem to sleep while flying. Since dolphins and other animals are known to be capable of operating the left and right hemispheres of their brain independently, enabling them to put one side of their brain to sleep and then the other, perhaps birds migrating long distances may also alternate resting the right and left sides of their brain while flying.