The Peregrine Falcon is the fastest and strongest bird in the world!
Are we seeing falcons more frequently in urban areas?
Falcons have a habit of catching flying birds by kicking them while nose-diving at speeds of more than 300 kilometers per hour, searching for prey near cliffs. The reason why we are seeing falcons more often in urban settings is likely because they mistake high-rise buildings for cliffs.
They prefer to hunt medium-sized birds, like pigeons, instead of smaller birds due to the risks involved should they fail to capture their intended target during nose-dives. Because of the abundance of such prey as feral pigeons in parks and other city areas, falcons find it easier to feed in urban regions. But catching a glimpse of falcons in such settings will prove challenging as they will perch around the upper floors of tall buildings. If you search with the naked eye, they will likely appear no larger than a small spot.
Can it open its eyes when flying at such high speeds?
During the Edo period (1603-1868) in Japan, the shogun (military dictators) would use Peregrine Falcons, which employ hunting tactics that enable them to catch bigger birds, to hunt cranes.
Although falcons shouldn't be able to open their eyes while flying at high speeds, they are able to keep an eye on their prey while hunting through a nictitating membrane, a translucent "third eyelid" located between the eyelid and the pupil, that can be drawn across the eye to provide protection. The Common Kingfisher also makes use of nictitating membranes when it dives and catches fish in the water.
Mammals also have nictitating membranes but cannot close them because the muscle that moves the membranes has already degenerated.
Peregrine Falcon

Larger female Peregrine Falcons are almost the same size as crows. Compared with a Black Kite (right), which is larger than a crow, the relatively small size of falcons is apparent.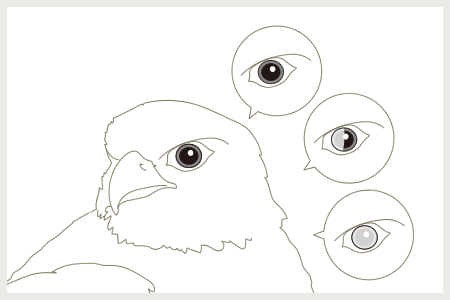 By closing the translucent nictitating membranes to protect their eyes, falcons can continue hunting despite the high wind pressure they must endure during nose-diving flight.