The 2016 finals match for a Cup of J.LEAGUE marked the start of a new era of visual solutions. Conventional stadium systems use fixed cameras and cable-suspended cameras, which provide video feeds from limited viewpoints. Meanwhile, for the first time ever, the new Canon system allows the viewer to see the action on the field from any position or any angle in the stadium. You can view the same scene from various angles, changing to the perspective of an athlete on the field or any number of alternate viewpoints. Additionally, viewers can control both viewpoint and game time at will. For example, viewpoint can be changed while watching the scene in slow motion. This revolutionary technology dramatically changes how sports are viewed, and this match was the moment it became reality.
The means by which video is generated may very well be considered the future of video capture. Visual data is captured by high-resolution cameras installed around the stadium, then converted into 3D data and stored on servers. When the user sets or moves the position of the virtual camera, the video they see is generated from the 3D data to show video from the desired camera angle. This video data can then be output for viewing.
In addition to optical and visual technologies consistently developed since its founding, the Canon Group develops cutting-edge technologies in such fields as network transmission and user interface. Such technologies have the power to completely transform the workflows of video production and broadcasting.
Canon's project to develop its Free Viewpoint Video System involved selecting engineers from various divisions to work together and combine their specialized engineering skills.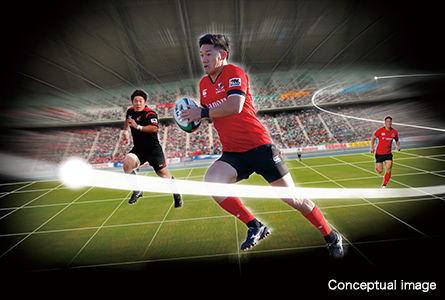 An immersive viewing experience just like being there in person.