Continuous printers can continuously print on paper rolls at high speed. They are suitable for transaction printing such as statements and invoices, direct mail, books, manuals, and other materials.
The high-speed feed commercial printer ProStream 1000 is packed with Canon Production Printing(CPP)* technologies, including a ColorGrip that achieves high image quality, independently developed ink, and a drying method that helps to reduce paper degradation, all of which make it possible to print at high quality even on coated paper used for offset printing.
*
Changed its name from Océ in 2020. This Netherlands-based company joined the Canon group in 2010 and accounts for a large share of the commercial production printer market.
Ink Set Technology Achieves High Image Quality
#Commercial printing#Imaging technologies#Chemistry
ColorGrip, a media-pretreatment for Handling All Kinds of Paper
Ink set technology makes it possible to achieve high image quality on various types of paper. One technology that supports this is ColorGrip, a media-pretreatment. The ColorGrip is applied to the surface of the paper before the ink used for printing. This makes it possible to prepare the surface of the paper without altering its texture so that pigment particles can be quickly fixed to it. The ColorGrip is also effective for ensuring that a uniform amount of ink is applied when printing an image.
In addition, the company's own unique polymer pigment ink contains a polymer component, which makes print images much more robust and makes it possible to achieve vivid colors for a wide range of media.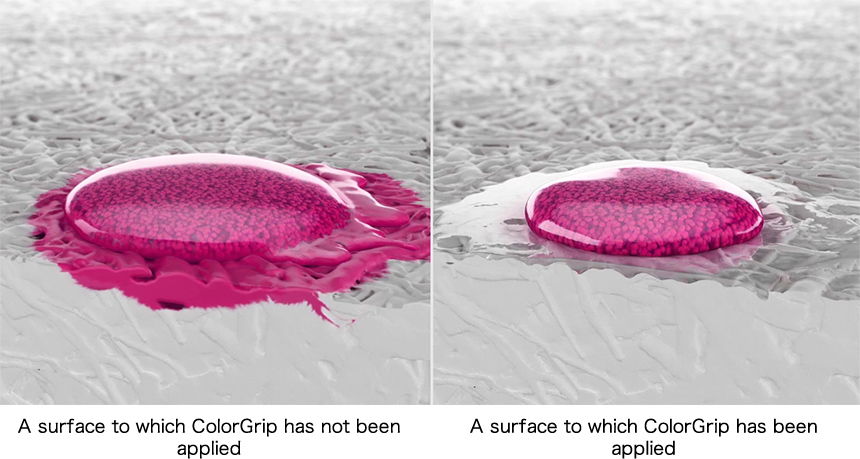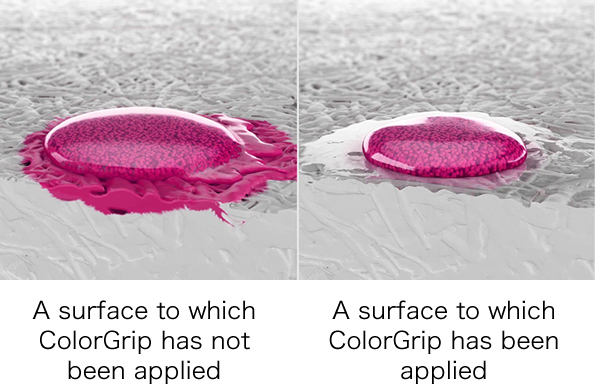 DigiDot Technology, which Can Handle High Resolution
Depending on the images to be printed, the ProStream 1000 can eject 2 or 4.6-picoliter* ink droplets (multilevel drops) from the ink head to achieve smooth gradations. The printer can also handle a high resolution of 1,200 dpi.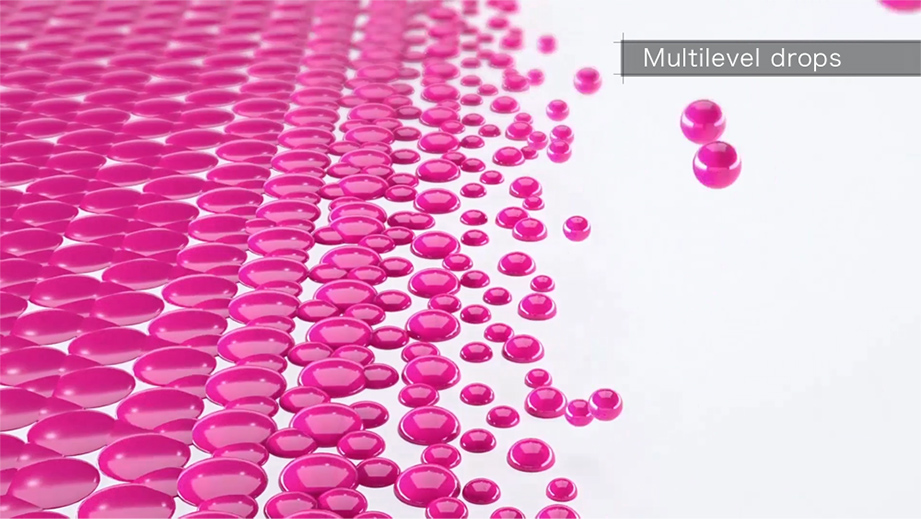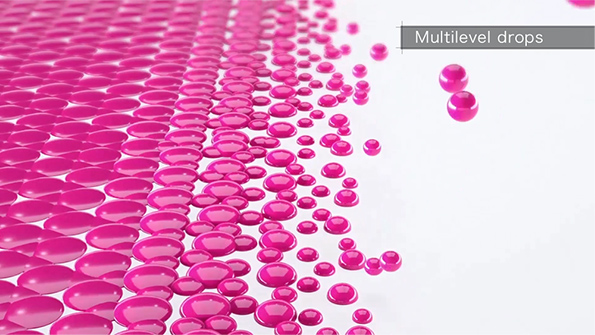 Multilevel drops
Achievement of Painting with High Image Quality Through Non-Contact Drying
#Commercial printing#Imaging technologies#Physics
The ProStream 1000 uses air flotation non-contact drying technology, which involves melting ink at a high temperature, applying it, and then quickly drying it in order to achieve printing with high image quality for a wide range of media including offset coated media. This was once thought difficult to achieve. First, air that has been heated to 160°C is blown against both sides of the paper to make the paper roll float. Next, the temperature of the paper is gradually increased to 100°C or more depending on the paper and image requirements, the ink polymer particles are melted, and an glue layer is formed around the pigment. After that, cooling is used to reduce the temperature of the paper roll to 60°C or less, which causes the ink to cool and fixes a hot, wet polymer layer in place. Because both heating and cooling are accomplished using a drying method that does not require contact with the paper, the process ensures minimum stress on paper. The printer can therefore support the printing on various types of media and achieve double-sided printing at a high speed of 80 m/minute while keeping haptics and gloss levels of the original paper unchanged.