Efficiently Implementing Random Processing on Office MFDs
Office MFDs that carry out concurrent processing such as printing and scanning handle enormous volumes of data. Because of this, the heart of such products needs to efficiently process multiple functions. Canon is developing dedicated processors to suit these products.
To increase overall system performance and the ability to respond to solutions, the "Advanced iR Controller" is made up of an image processing controller section equipped with an image processor, and an information processing controller section equipped with an information processor. Not only is processing speed maximized by connecting these two controllers using a high-speed PCI Express bus, but it is also possible to adapt to the evolution of document workflows by optimizing each of the controller sections.
The imaging processor incorporates advanced image processing technologies in addition to providing faster printing and scanning, which are the basic functions of an Office MFD. The information processor boasts excellent compatibility with the network and Internet environments and provides many new functions by coordinating security functions and connections with external systems.
VL compression technology
Printing A4 sized image data at 600dpi in full color requires 100MB of image storage space. To process this quickly, compression technology must be fast and highly efficient.
VL (Visually Lossless) compression technology is one of the many image processing technologies used in the imaging processor. This unique Canon image compression technology appropriately balances the image quality and compression ratio of PDL*7 data.
When a command is received from a PC to print PDL data, the system first divides the data up into many small tiles. The segmented image data is sent, in random order, to the compression engine, where it is processed. What makes this technology notable is that when this happens, it automatically divides the data into two types.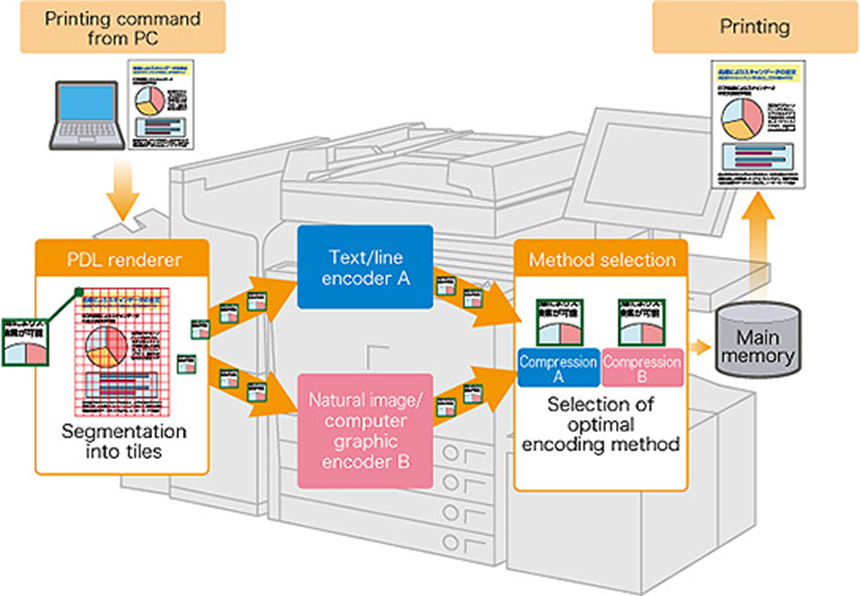 Overview of VL Compression Method
It is difficult for people to notice compression degradation in natural images and complex computer graphics. This means that even if high compression coding is performed on images such as these, they will be recognized as being suitably high quality images. This type of image data is highly compressed using unique Canon compression method suitable for use with natural images and computer graphics.
On the other hand, compression degradation of text or lines in images is very noticeable, an encoding method which produces little degradation must be used. This type of image data is processed using unique Canon compression method suitable for use with text and lines, which produces little compression degradation.
In this way, automatically applying different compression methods depending on the type of image data makes it possible to achieve fast, highly efficient compression.

Comparison of VL and JPEG Image Compression
100MB images compressed to approximately 2.5MB (approx. 1/40thof its original size) using VL compression and JPEG compression. The images compressed using VL compression have a clearly higher image quality than those compressed using JPEG compression.