Because the heart constantly moves, it is necessary to accurately determine the position of a cross sectional view of the heart to examine it. To achieve this, patients have to repeatedly hold their breath, which imposes a burden on them and takes a lot of time as well as demanding the involvement of a skilled technician. To more smoothly start a heart MRI examination, it is important to shorten how long it takes to determine the position of the cross sectional view and simplify the process. Canon Medical has expanded its functions for assisting with determining the positions of cross sectional views necessary for diagnosis in order to achieve both examination efficiency and reproducibility.
SURE VOITM Cardiac, a System that Automates Examination Settings
This technology infers the position of the heart by comparing a scanned image with a model. The system's anatomical-structure recognition technology provides assistance with the bed position and volume-of-interest (VOI) settings during heart MRI examinations, which require expert knowledge. The equipment automatically detects the position of the subject's heart.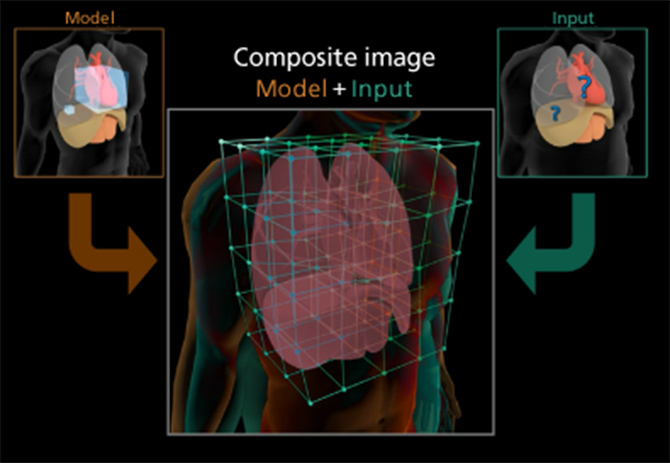 The scanned image is compared with a model, and the position of the heart is detected through the recognition of three-dimensional structures.
CardioLine+ Can Determine the Positions of Up to 14 Cross Sectional Views With Just One Scan
CardioLine+ uses example-based part inference technology that recognizes the statistical patterns of multiple distinctive parts of the heart to automatically infer the position and orientation of the heart regardless of the subject's particular physique, gender or medical conditions. This makes it possible for the system to accurately determine the positions of standard cross sectional views for heart MRI examinations. As a result, it is no longer necessary to repeatedly scan the patient as they hold their breath to determine the position of these views. Instead, 14 cross sectional views of the heart can be detected with just one scan of the patient while they hold their breath. These views include basic left ventricular views (the horizontal long-axis view, vertical long-axis view, left ventricular short-axis view, left ventricular four-chamber view, left ventricular two-chamber view and left ventricular three-chamber view), basic right ventricular views (the right ventricular short-axis view, right ventricular four-chamber view, right ventricular two-chamber view and right ventricular three-chamber view), the aortic valve, the pulmonary valve, the left ventricular outflow tract and the right ventricular outflow tract.
During a typical heart MRI examination, approximately 43%* of the examination time is used to perform such manual operations as setup. However, Canon Medical's assistance technology—which includes SURE VOI, a system that uses anatomical-structure recognition technology to automatically detect the position of the heart—and CardioLine+, reduce manual operation time during examinations to 9%, dramatically shortening the examination time. This makes it possible to greatly reduce the burden imposed on patients.