The EOS System 30th Anniversary Interviews

Developers Look Back on the History of the EOS System – Part 2

In Part 1 of the series, we talked about the history that led to the introduction of a fully electronic mount. In Part 2, the developers tell us what it was like at the time when the EOS system moved over to digital, and share with us stories behind the development as well as changes in the role of the lens following breakthroughs in the digital technology.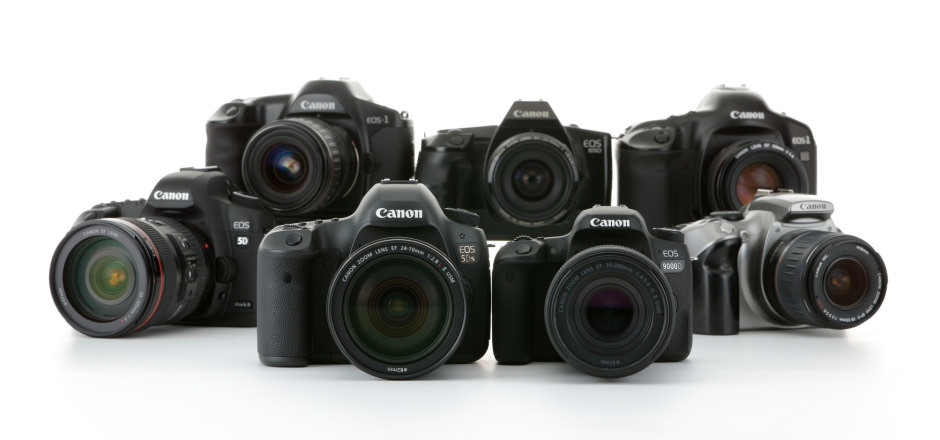 EOS models through the years. (Back row, from left to right) EOS-1 (released in 1989), EOS 650 (1987), EOS-1V (2000); (Front row) EOS 5D (2005), EOS 5Ds (2015), EOS 77D (2017), EOS 300D (2003)
The EOS system: Evolving from film to digital
—Can you summarize the major differences between the traditional and the digital EOS system?
Shiomi During the era of film cameras, we managed to control blurry images and camera shake using various camera features. However, the film itself was outside the scope of camera manufacturers like us, so we were not able to improve on film-related aspects such as apparent resolution, graininess and sensitivity. With the arrival of the digital age, we wanted to address these issues with our own hands.
It was around the year 2000 when we began to fully embrace digital technology. At first, Canon did not possess any of the image production knowledge that film manufacturers had been accumulating over the years. It was under these circumstanced that we began to engage in the development of digital video technology, starting with camcorders, followed by compact digital cameras and finally digital SLR cameras.
At the time, all of the departments related to signal processing, including image production, were working separately, so the overall efficiency of the development process was a far cry from optimal. Under such circumstances, we arrived at the conclusion that it was necessary to develop an image processor exclusively for digital cameras and create a stress-free system that was capable of handling all processes with a single chip.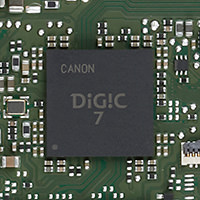 DIGIC is an image processor that is capable of processing images all by itself. It was first introduced on EOS DSLR cameras during the release of the EOS D30 in 2000. It was known as simply as the "image processor" back then, and the name "DIGIC" was only introduced later.
—So that was how you came up with DIGIC. I remember everyone was talking about it when Canon first introduced the same LSI processing chip on both compact digital and DSLR cameras.
Shiomi Yes. It was a great advantage to have a separate team for developing an exclusive image processor. By identifying prevailing trends very early on, Canon was able to respond and effectively make changes to its internal structure.
Development of the digital EOS system
—Is the system for the development of digital EOS significantly different from that in the past?
Shiomi When we developed digital devices, hardware and software development were each handled by a different team. This was the same for EOS when we shifted to the development of a digital system. What's more, there was further division of labor within the mechanical team, and it became difficult to continue development with so few people. The roles became more specialized as time went by, and we now have almost 10 times more manpower working on the EOS system than we did in the beginning.
Despite the substantial increase in the number of people, our developers who specialize in the different aspects of the EOS system continue to maintain close communication with one another. There is a human touch to it. This is what makes our products different from conventional industrial products and home appliances.
Kaihara You can see the EOS system as something that is built by people who are photo enthusiasts themselves. To many of them, their hobby is also their career. A camera can only function when the mechanical, optical and electrical components work in harmony. To ensure this, we have people who can cover both optronics and mechatronics, and this is a crucial point.
—What is the scale of development like compared to the EOS system in the early years?
Shiomi In the past, the development process centered on hardware. Today, our product schedule is determined by the development schedule of digital firmware. Besides, we have so many more product models now compared to before. DIGIC, in particular, uses LSI processing chips that are about 100 times larger in gate size than that in the early days. Of course, the scale of software development is also significantly large, and development evaluation can be very time-consuming too, although I believe the same holds true for the other manufacturers. Naturally, the scope that each staff member is capable of covering becomes narrower as a result.
Kaihara Although the scope of my job is very narrow, a characteristic of camera systems is that we are able to visualize the final product as we work. I have a colleague who was formerly working with a bicycle manufacturer. He joined Canon because he wanted to have a clear overall picture of the final product that he was working on. Now he is very actively involved in the development process. It seems that engineers like it if they are able to visualize the product they are making while working.
Whenever a new camera project kicks off, we would organize an off-site session to think about what we want to include in the camera. Doing so helps to motivate us. We would discuss different ideas while taking our competitors into consideration at the same time. We try not to build a wall to separate hardware and software, but rather achieve synergy through mutual compromise.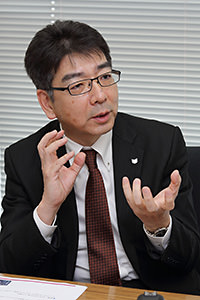 With developers from different fields making a concerted effort, a synergetic effect will be created naturally. (Kaihara)
Role of the lens in the evolution of image-processing technology
—Is it true that with advancements in image-processing technology, lenses plays an increasingly smaller role in ensuring image quality?
Shiomi Image processing can correct optical aberration to a certain extent, but the truth is that you get better image quality if the image correction process takes information about the optical design of the lens into account. There is a limit to how much can be done if we process images based solely on information we get from the image. On the other hand, there is a trend that tries to make use of software programs to produce images that could otherwise only be produced with an optical system that costs several hundred thousand or even million yen.
The ultimate quality of the images produced by a camera is also dependent on its optical performance, so it is indeed very important take not just the sensor information, but also the optical information into consideration.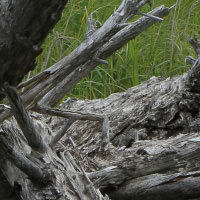 DLO Off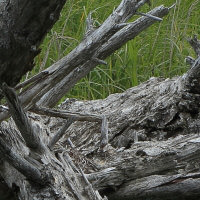 DLO On
The Digital Lens Optimizer (DLO) helps to produce the ideal image by correcting such problems as aberration and diffraction based on highly-precise data.
—I heard that the Digital Lens Optimizer (DLO) helps to eliminate the gap between the actual image data and the ideal image. Is that true?
Hayakawa Image processing is one of the key technologies for realizing high-quality digital images. Our competitors are also working on this technology, but when we develop, we are always thinking about what else can be done with DLO. EF lenses are developed with the aim that they not only faithfully reproduce what we see with our eyes as a high-quality image, but also capture aspects not clearly visible to us. By using lens information from Canon lens, the DLO achieves a high level of image quality, and in fact aims to reproduce image information beyond that visible to the human eye.
What we see through an optical viewfinder is the real world before it is captured in an image. Meanwhile, while an electronic viewfinder (EVF) offers an image of the world after it has been partially processed. Both the EVF and optical viewfinder have their advantages, and we try to make the best use of them in our lineup of EOS products.
Principle of the Digital Lens Optimizer (DLO)
Before light reaches the image sensor after passing through the lens, it is difficult to avoid adverse influences by such factors as lens aberration, diffraction and low-pass filter, which may cause the image quality to deteriorate. The Digital Lens Optimizer (DLO) is an image-processing technology to correct these influences and enhance the apparent resolution of an image. With the ideal values clearly defined in the optical design, correction is performed based on highly-precise data. Factors contributing to a decline in image quality are identified and converted into mathematical functions based on data on the different lenses and filters inside the camera. The inverse functions are then applied to the captured image to eliminate impact caused by aberration and diffraction, thereby restoring the image quality to the state before deterioration sets in.
Main optical factors in image deterioration
—Am I right to say that the lens sends to the camera all kinds of image-related information in addition to that available from visible light?
Hayakawa The role of the lens has changed. After advancement in digitalization started to take place just before the year 2000, we needed to ensure that a high level of optical information was being sent to the image sensor. If the lens was capable of forming high quality images on its own, then the result would be even better after image processing was applied, and so it was also necessary for us to consider utilizing these technologies.
In lens design, balance is an important consideration. If our aim is to achieve high image quality, we simply need to increase the size of the lens to enhance the optical performance. As a tool, however, we need to focus not only on the performance of the camera, but also its balance with the size of the camera body.
—With advancements in the image-processing technology, is it correct to say that high image quality of the hardware is no longer a crucial factor?

Kashiwaba It is only natural that we can produce excellent images by combining the latest camera with the latest lens. However, given that our users have chosen to use an interchangeable lens system, it would be meaningless if we are unable to ensure that satisfying images can be produced by any camera and lens combination. To do so, I believe we cannot rely completely on advancements in image-processing technology, and it remains necessary for us to pursue high-quality images with lenses.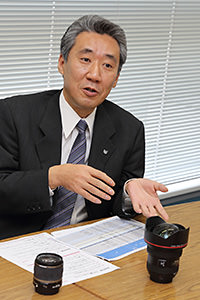 It would be meaningless to have interchangeable lenses if we were unable to maintain their compatibility. (Kashiwaba)
Evolution of lenses and future challenges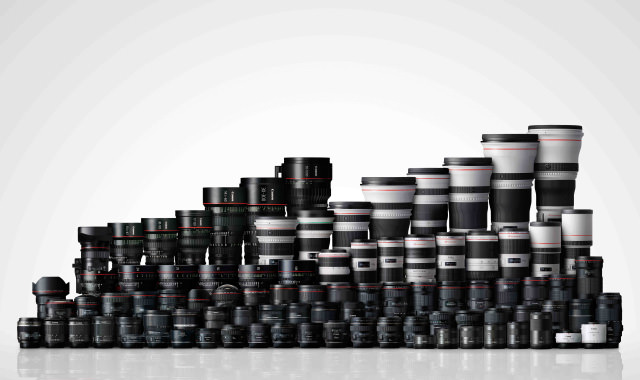 In August 2016, the cumulative production of Canon's EF lenses hit the 120 million mark, breaking the highest record in the world for interchangeable camera lenses.
—How would you summarize the evolution of Canon lenses in the past 30 years?
Hayakawa In the first decade, we tried to develop a full lineup of AF lenses. Next, we embarked on the introduction of Image Stabilizer technology, which coincided with the advent of the digital age.
Also, the photo size we use today for display has become a good deal larger. In the past, it was common to develop photos up to a size of 10R when making prints. However, now large LCD screens are used to display images and the image can be shown at its actual size, so users have become more stringent when it comes to the image quality of interchangeable lenses. This is why we try to enhance the optical performance of our lenses to deliver high image quality over the entire image area.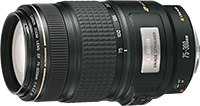 EF75-300mm f/4-5.6 IS USM (Released in 1995)
The world's first interchangeable lens for 35mm-format SLR cameras that featured an Image Stabilizer (IS). It offers a correction effect that is equivalent to approximately two shutter speed stops.
Kashiwaba The year 1990 was also an important milestone for us. Following the introduction of AF technology, we encountered challenges that were not found during the FD mount era. However, in the same year, we successfully developed not only a technology that could mass produce a stable quantity of ultrasonic motors, but also an inner-focusing zoom mechanism that enhanced the AF speed, quietness and the usability of hoods and filters with non-rotating filter rings. These factors enabled us to offer lenses at more reasonable prices.
Hayakawa The AF lens on the T series had a protrusion. This was because a motor was mounted to the existing lens. For EF lenses, we needed to mount the motor within the cylindrical lens barrel. We engaged in the development of the ultrasonic motor from the start, which allowed us to achieve silent and satisfying AF operation. We then extended the use of ultrasonic motors from high-grade lenses to standard ones for greater speed and comfort.
—How will lenses evolve in future?
Hayakawa Lenses in the future will be required to offer a pleasant experience not only in capturing still subjects but videos as well. To do so, it will be necessary for the actuator to evolve at the same time. The variety of shooting styles are becoming more diverse. For example, there are voices asking to increase the focusing speed during AF shooting and slow it down when shooting videos. While these two requests may sound contradictory, the EOS camera system needs to evolve further in its capability to handle both still photography and video shooting.
Murakami Although it doesn't get as much attention as the DIGIC image processor, we actually have something called a control engine inside the lens. This engine was first developed and introduced on our lenses in the mid-2000s. Besides speeding up communication with the camera, we also aim to improve the lens functionality with this engine by incorporating features to control the ultrasonic motor as well as those to enhance the image stabilization effect. Please look forward to what we can achieve as we bring our camera system to the next level with further evolution of DIGIC and the control engine.
Hayakawa Both cameras and lenses will evolve gradually through further communication. Please look forward to our next 30 years.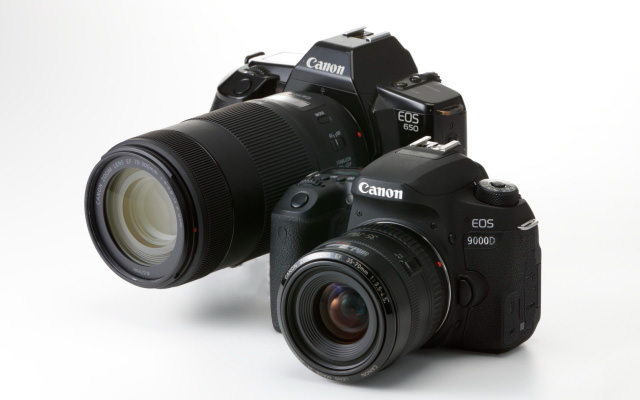 Back: EOS 650 (released in 1987) + EF70-300mm f/4-5.6 IS II USM (released in 2016)
Front: EOS 77D (released in 2017) + EF35-70mm f/3.5-4.5 (released in 1987)
The EF mount is built on a concept of electrical communication between the camera and the lens. It allows the latest lenses to be mounted to the EOS 650 without any problem. Also, the lens that was launched together with the EOS 650 30 years ago can function properly even when it is used with the latest EOS 77D camera.
—Thank you.