TELEPHOTO ZOOM Lens
EF200-400mm f/4L IS USM Extender 1.4x
Specifications
Block diagram
Sample Image
Marketed
May 2013
Original Price
1,330,000 yen
Lens Construction (group)
20 (Built-in Extender:24)
Lens Construction (element)
25 (Built-in Extender:33)
No. of Diaphragm Blades
9 (circular aperture)
Minimum Aperture
32(Built-in Extender:45)
Closest Focusing Distance (m)
2.0
Maximum Magnification (x)
0.15(400mm)
(Built-in Extender:0.21(560mm))
Filter Diameter (mm)
52 (Drop-In)
Maximum Diameter X Length (mm)
128×366
Weight (g)
3,620
The groundbreaking L (luxury)-series lens, the world's first*1 super-telephoto zoom lens to incorporate an internal extender, delivers enhanced convenience and exceptional imaging performance on par with large-diameter super-telephoto prime lenses. Covering a wide zoom range from 200-560 mm, the new lens supports the advanced needs of professional photographers and contributes to expanding the possibilities in imaging expression.

Featuring a built-in 1.4x extender that employs eight lens elements in four groups, the Canon EF200-400mm f/4L IS USM Extender 1.4x enables users to instantly change the lens's zoom range from 200-400 mm to 280-560 mm with the single flip of a switch.*2 In addition, the super-telephoto zoom lens realizes high image quality even when the extender is in use.*3 Offering superior convenience, the model is particularly useful for capturing sports, nature and other types of photography involving weight and shooting-space restrictions that limit the amount of equipment that can be brought to a location, or in situations where users are unable to get close to a subject.

Through a simple one-touch operation, the zoom range of the EF200-400mm f/4L IS USM Extender 1.4x can be extended without having to switch lenses, eliminating the risk of dust or moisture entering the lens or camera when changing lenses. In addition, with the attachment of an external 1.4x extender (sold separately), users can realize image capture up to a maximum focal length of 784 mm and auto-focusing at a maximum aperture of f/8.*4

The Canon EF200-400mm f/4L IS USM Extender 1.4x incorporates a new optical design that makes use of a fluorite lens and four UD (ultra-low dispersion) lens elements, which effectively correct for color aberrations across the entire zoom range, making possible high-resolution, high-contrast imaging performance comparable to that made possible by large-diameter super-telephoto prime lenses.
*1 Among interchangeable lenses for interchangeable-lens cameras (SLR and compact-system cameras). As of May 1, 2013 (based to a Canon survey).
*2 When switching on the internal extender, different restrictions may apply depending on the camera used. For more information, please refer to the Canon homepage.
*3 When using the internal 1.4x extender, the amount of light is reduced in accordance with the amount that the focal length has been extended (one f-stop), making it necessary to adjust exposure.
*4 When using a camera that supports auto-focusing at an aperture of f/8.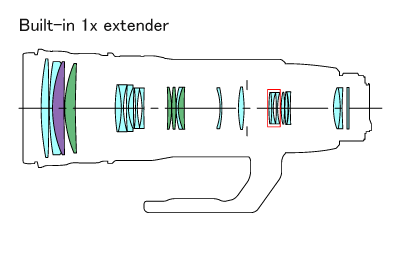 Fluorite lens 
UD lens 

IS Unit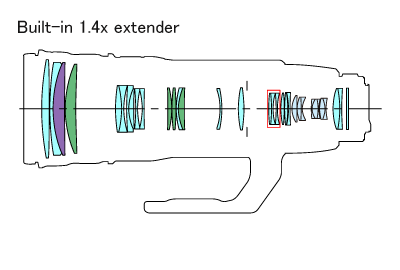 Fluorite lens 
UD lens 

IS Unit