STANDARD ZOOM Lens
RF28-70mm F2 L USM
Specifications
Block diagram
| | |
| --- | --- |
| Marketed | December 2018 |
| Original Price | 420,000 yen |
| Lens Construction (group) | 13 |
| Lens Construction (element) | 19 |
| No. of Diaphragm Blades | 9 |
| Minimum Aperture | 22 |
| Closest Focusing Distance (m) | 0.39 |
| Maximum Magnifcation (x) | 0.18 |
| Filter Diameter (mm) | 95 |
| Maximum Diameter x Length (mm) | 103.8×139.8 |
| Weight (g) | 1,430 |
Thanks to the newly developed RF mount, the large-diameter RF28-70mm F2 L USM maintains a constant aperture of f/2 across the entire zoom range—difficult to achieve with conventional EF mount lenses. The lens features an optical configuration comprising 19 lens elements in 13 groups, including two ground and polished aspheric lenses, two glass-molded aspheric lenses, a super UD lens and two UD lenses. As a result, superior image quality is realized throughout the wide 28-70 mm zoom range. With its constant aperture and easily adjustable exposure settings, the RF28-70mm F2 L USM opens up new photographic possibilities to users.
The large-diameter, short-back-focus mount allows large-diameter lenses to be positioned more closely to the imaging sensor, resulting in even higher image quality at the periphery. The lens achieves image quality at fully opened aperture of f/2 comparable to—or even greater than—that of the EF24-70mm f/2.8L II USM (released in September 2012) at its widest aperture of f/2.8.
Despite being a zoom lens, the RF28-70mm F2L USM delivers descriptive performance on par with a fixed-focal-length lens, enabling users to cover the entire 28-70 mm shooting range with a single lens in scenarios that would otherwise require several.
The RF28-70mm F2L USM features Canon's proprietary Air Sphere Coating (ASC) and SubWavelength Structure Coating (SWC). Taking full advantage of these technologies, the lens greatly reduces reflected light that causes flaring and ghosting, delivering even higher image quality.
The surface of Canon's SWC suppresses light reflection with countless wedge-shaped structures more minute than the wavelength of visible light on the surface of a camera lens. With ASC, a film containing a mixture of silicon dioxide and air is created over a vapor deposition lens coating to suppress the reflection of light. Systematic lining of the inside of the coating with spheres of air forms an ultra-low refractive index layer that realizes extreme anti-reflective performance.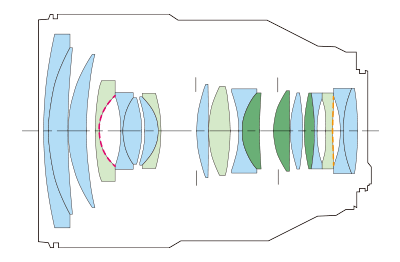 Aspherical lens UD lenses
SWC ASC