STANDARD & MEDIUM TELEPHOTO Lens
RF100mm F2.8 L MACRO IS USM
Specifications
Block diagram
| | |
| --- | --- |
| Marketed | July 2021 |
| Original Price | Open price |
| Lens Construction (group) | 13 |
| Lens Construction (element) | 17 |
| No. of Diaphragm Blades | 9 |
| Minimum Aperture | 32 |
| Closest Focusing Distance (m) | 0.26 |
| Maximum Magnification (x) | 1.4 |
| Filter Diameter (mm) | 67 |
| Maximum Diameter x Length (mm) | Approx. 81.5×148 |
| Weight (g) | Approx. 685 |
Leveraging a short back focus1, one of the advantages of the RF mount, the RF100mm F2.8 L MACRO IS USM features an optical configuration comprising 17 lens elements in 13 groups, and maximizes the range of movement between the focus lens group and the floating lens2 group. This makes possible maximum shooting magnification of 1.4x and a minimum shooting distance of 0.26 m for macro photography. Thanks to greater than life-size shooting magnification, photographers can create powerful and compelling photos of subjects as well as photos of small subjects including flowers, capturing fine details and textures difficult to see with the naked eye.
The RF100mm F2.8 L MACRO IS USM features an SA control ring3 which enables users to adjust spherical aberration. Simply by turning the ring, users can soften the outlines of subjects at the focal point, alter the bokeh in front of and behind the focus point, and make other adjustments to easily enjoy various styles of photographic expression.
By placing a concave lens element at the front (subject-facing) end of the lens, the RF100mm F2.8 L MACRO IS USM reduces spherical aberration when shooting subjects at extremely close distances. This concave lens element is part of the lens' new optical configuration, which comprises 17 lens elements in 13 groups. This configuration helps reduce various aberrations that can result in lower image quality, and realize high image quality throughout all areas of the image. What's more, when equipping the EOS R5 (released in July 2020) with this new lens, users can enjoy up to 8.0 stops4 of image stabilization (IS) for stills photography and a high level of IS during video shooting through the combined IS of the camera body and lens.
1 The distance between the optical axis from the vertex of the rear lens element to the imaging plane.
2 Lenses that move in conjunction with changes in focal length to correct aberrations.
3 SA stands for "spherical aberration." Operation of SA control ring adjusts angle of view and exposure settings.
4 Based on CIPA standards. Yaw/Pitch directions.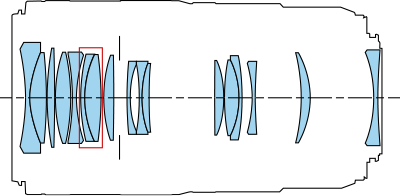 IS unit