Canon's latest technology is used to capture every aspect of the original cultural asset, from its subtle textures to the 'feel' of the original material. The images are then printed out faithful to the original, with traditional craft applied, such as gold leaf, mounting, and other processes. The result is a high resolution facsimile that reflects every detail of the original. Let's take a closer look at this production process.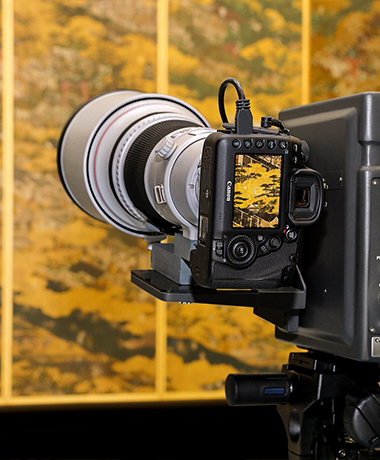 The process begins by choosing the method of photography best suited to the original. The method combines the time-honored expertise of the Kyoto Culture Association, with Canon's latest photography equipment and image processing technology. A digital SLR camera (EOS-1Ds Mark III) is mounted on a specially designed pan-tilt head, which controls accuracy. This arrangement is used to shoot multi-segmented images of the original. The multi-segmented images are digitally stitched together on a computer. Deterioration resulting from image processing is kept at a minimum, and image distortion and other effects caused by lens aberration are also corrected.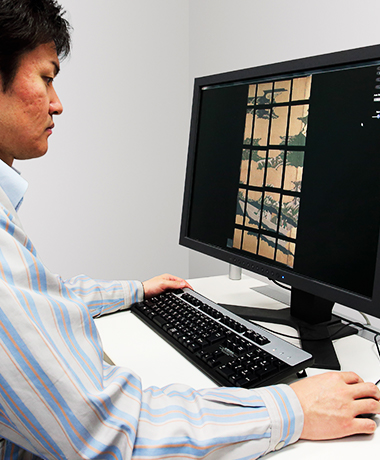 A special image processing algorithm is applied to the digital data to correct color variation caused by differences in lighting. Colors are reproduced faithfully by making adjustments according to inherent differences in the lighting environment at the shrine, temple, or museum where the asset is displayed. With the conventional process it was difficult to match the color of the print with that of the cultural asset in one pass. The image had to be printed over and over, each time followed by a minor adjustment, to eventually match color. This time-consuming process has been greatly reduced by the introduction of a highly accurate color matching system, which has helped minimize wear on the cultural asset.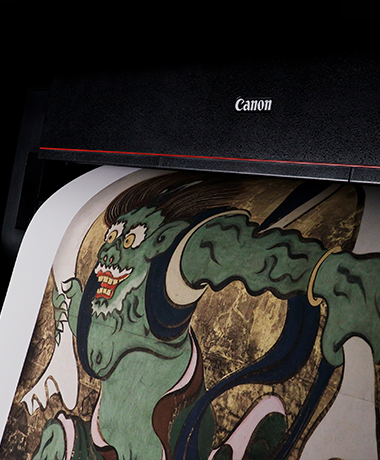 Ink and wash paintings may perhaps be the culmination of Japanese beauty. They express a dimensional depth through tonal subtleties and shading. Every aspect of this beauty is reproduced, from its subtle texture variations developed by age, to the feel of the original, through use of a large-format printer, the imagePROGRAF, equipped with a 12-color pigment ink system. Even the washi paper was specially adapted, through our own research and development, to make it suitable for printing cultural assets and applying gold leaf and other finishes. Development was also done to enable printing on silk paper, traditionally thought to be problematic.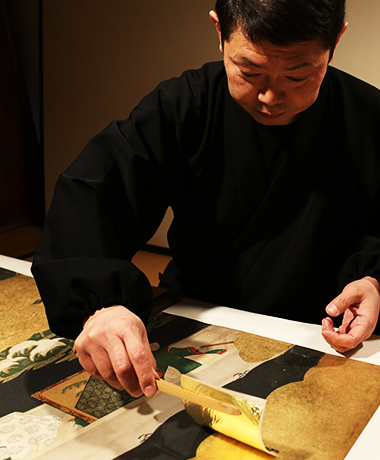 Reproducing the most significant feature used in Japanese cultural assets -- gold leaf, gold paint, and isinglass. The call for help in this reproduction process was answered by an authentic Nishijin craftsman and 'leaf' artist. The successive owners of each cultural asset have taken care to preserve their possessions, which, as a result, reflect their history through aging. This Project has made efforts to reproduce the 'era' of the work by laying emphasis on the level of `color fading` that has taken place. Care has been taken to observe and apply gold leaf that has been properly sized and shaped to reflect the era and location where the assets originate from.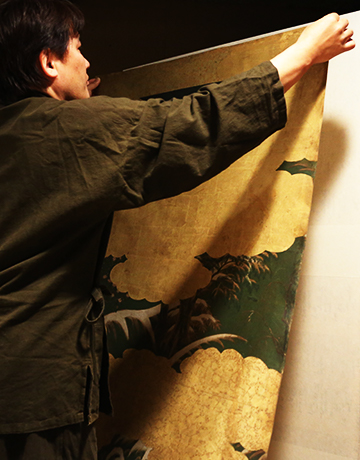 Once the work has been digitally printed on washi and finished with gold leaf, it must be mounted by a master craftsman. The final work is complete when it is mounted on an authentic Japanese sliding door or folding screen. This is done using the skills of an authentic craftsman, responsible for restoring mountings and various cultural assets in Kyoto from ancient times.