2005-2010
The High-Definition Era
As the versatile digital camera has continued to evolve, it has come to replace the conventional film camera. Today, the trend is clearly focused on the adoption of high-definition (HD) video capability.
Since 2005, the digital camera has progressed in ways unimagined during the 200-year history of the film camera. Canon, with its unmistakable advantage in CMOS image sensor technology, has continued to lead the industry throughout this era of unprecedented innovation.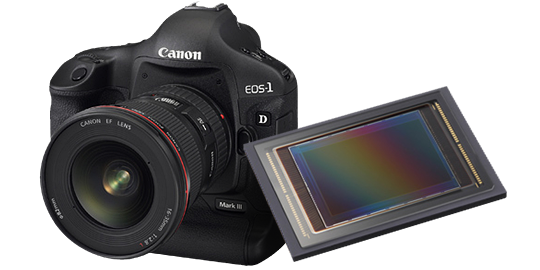 The Full-Size Digital SLR Camera Comes into Its Own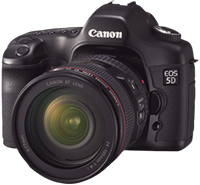 Thanks to Canon's mature CMOS image sensor manufacturing technology, the EOS 5D was surprisingly affordable.
With the advent of high-definition digital terrestrial broadcasting in 2003, the availability of high-definition video equipment suddenly accelerated. Accordingly, as requirements increased for camera sensors offering higher performance, end users demonstrated growing preference for full-sized 35mm digital SLR cameras. At that time, the cost of a full-sized 35mm SLR camera exceeded one million yen, beyond the reach of most consumers. In October 2005, however, Canon debuted the EOS 5D in a groundbreaking move. Prices started around ¥300,000, a price significantly less than conventional models and within reach of many consumers. This breakthrough in affordability was achieved when Canon developed its own stepper1 (reduced projection exposure apparatus), which led to refinements to its CMOS image sensor manufacturing technology. This innovation represented the dawn of the era of the full-size digital SLR camera. Other camera makers soon followed suit with updated CMOS image sensors.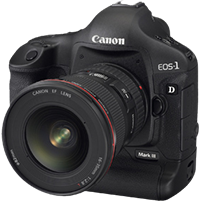 The EOS-1D Mark III, Canon's flagship model, with Live View video functionality
In 2007, Canon introduced two models with the innovative Live View video feature in an effort to accommodate a wide range of user needs. On May 5, the APS-H-size EOS-1D Mark III made its debut as Canon's flagship professional digital SLR camera. The following November, Canon introduced the EOS-1Ds Mark III featuring a 21.1-megapixel 35mm full-size CMOS image sensor. This innovation hinted at the emergence of digital single-lens reflex cameras with video recording capability.
1 A semiconductor manufacturing device for controlling exposure that follows a sequence of steps to produce several hundred semiconductor microchips from a single silicon wafer.
The Industry's First Full-HD Video Recording Capability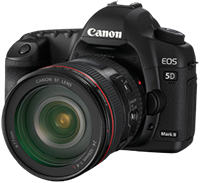 The EOS 5D Mark II, launched as the industry's first SLR digital camera with full-HD video recording capability, won the triple crown of three major international camera awards.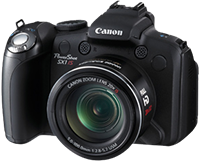 The PowerShot SX1 IS, with Canon's proprietary 10-megapixel CMOS image sensor
In 2008, Canon produced its 50 millionth SLR camera unit. That same year, Canon added a new page in the history of digital SLR cameras.
In November, Canon developed a 35mm full-size CMOS image sensor with its own high-speed signal readout circuit. The EOS 5D Mark II was launched as the industry's first SLR digital camera with full-HD video recording capability. Its highly regarded and innovative technology won the triple crown of major international camera awards: the TIPA Best Digital SLR Expert Camera Award in 2009; "Camera of the Year" at the Camera Grand Prix 2009; and the EISA European Advanced Camera Award 2009–10.
Moreover, broadcasters noticed that this novel video camera facilitated the integration of video and still images. Notably, this feature was highlighted in Sekaino Kaido-wo Iku, TV Asahi series about a global road tour aired beginning in October 2009.
In September 2009, Canon introduced the PowerShot SX1 IS, which featured the company's own 10-megapixel CMOS image sensor, developed for compact digital cameras.
The Industry's First (APS-C size) 18-megapixel CMOS Sensor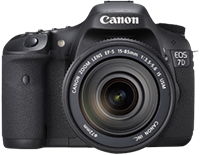 The EOS 7D attracted attention as a high-sensitivity, low-noise camera with a minimal pixel size.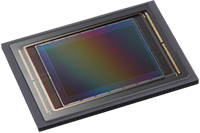 The industry's highest-density1 CMOS image sensor with 120 megapixels and an APS-H pixel size
1As of Aug. 20, 2010
In 2009, Canon marked the 50th anniversary of the SLR camera. In October of that year, Canon released a model incorporating new area sensor technologies. Targeting the advanced amateur, Canon released the EOS 7D, a high-sensitivity, low-noise camera with a pixel size as small as 4.3 × 4.3 µm. It featured an APS-C size CMOS image sensor, the first in the industry with 18 megapixels. It also adopted dual DIGIC 4 high-performance video processing engine. In addition, it grabbed attention as an advanced digital SLR camera with a regular speed range of ISO 100–6400 and a maximum speed of ISO 12,800 when used with the ISO Expansion feature.
The evolution of Canon's CMOS image sensors has continued without limits. In August of 2010, the company announced a 120-megapixel (13,280 × 9,184) CMOS image sensor with an APS-H optical format. Although a direct comparison is difficult, this number of pixels is similar to the number of photoreceptor cells present in the human eye. This innovation represented another industry first as of August 20, 2010.
The Canon HD CMOS Sparked the Evolution of The Digital Video Camera
A closer look at the history of the digital video camera reveals that HDTV broadcasting became the critical driving force behind the evolution of this product. In September 2003, Sharp, Sony, JVC and Canon adopted the HDV file format for high-definition camcorders. In November 2005, Canon introduced the XL H1, which features recording and playback of high-definition video to mini DV tape in HDV format for professional use. In September 2006, Canon targeted the amateur market by introducing the long-awaited Canon HD CMOS image sensor for video recording. The resulting iVIS HV10 HDV video camera, featuring high-definition digital recording, was the industry's smallest and lightest at the time.
The quality of digital broadcasts of video obtained by a video camera is determined by how fast the HDTV pixels are read. Thanks to CMOS image sensors that exceed the capabilities of conventional CCD, Canon's proven digital SLR cameras have overcome this significant hurdle.
In August 2007, Canon introduced the iVIS HG10, the first in the industry to include a 40 GB internal hard disk for recording. This innovation made it possible to record up to 15 hours2 of high-definition video for HDTV.
In February 2009, Canon introduced the iVIS HF S10 and the iVIS HF20 featuring Canon's full-HD CMOS and IGIC DV III. Canon continues to stand at the forefront in the evolution of digital video cameras for digital HDTV.
2 When recorded in LP mode (about 5Mbps)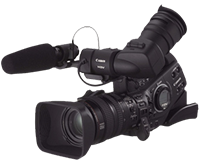 The XL H1 is an HDV-compatible HD camcorder capable of recording in high definition.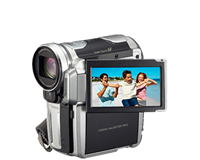 The VIXIA HV10 video camera, featuring Canon's HD CMOS image sensor, was introduced as the smallest and lightest1 HDV-compatible video camera in the industry.
1As of July 26, 2006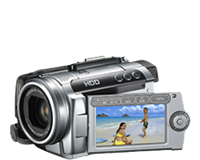 The VIXIA HG10 video camera, featuring an internal hard disk drive capable of recording hours of high-definition video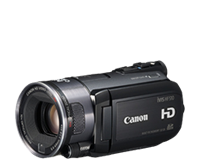 Featuring the most advanced CMOS image sensor, lens, and video engine, the VIXIA HF S10 provided the highest horizontal resolution in a consumer-level video camera.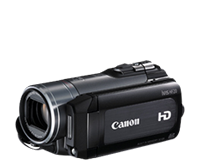 The VIXIA HF20 video camera with Canon's full-HD CMOS and DIGIC DV III image processor
Innovations in Lenses
As of April 2008, Canon produced its 40 millionth EF lens. Around this time, a remarkable innovation in lens technology was achieved. In September, Canon developed Subwavelength Structure Coating (SWC), which minimizes ghosting and flare caused by reflected light. This contributed to an excellent anti-reflection effect unavailable with conventional coating technologies, especially in situations involving light with a large angle of incidence. The TS-E17mm f/4L lens, which features SWC, was named one of the 2009 TIPA Best Photographic and Imaging Products in the professional lens category by the prestigious Technical Image Press Association of Europe. Moreover, in October 2009, Canon introduced the EF100mm f/2.8L macro IS USM lens, the first to incorporate Hybrid IS, a new image stabilizer technology that optimally compensates for both angle camera shake and shift camera shake. This breakthrough made possible high-precision close-range shooting by hand. By December 2009, Canon had produced its 50 millionth EF lens.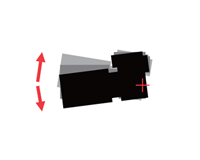 Angle camera shake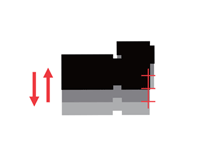 Shift camera shake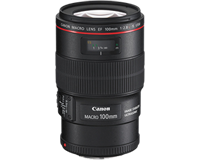 The EF100mm f/2.8L macro IS USM lens incorporating Hybrid IS, a new image stabilizer that compensates for both angle camera shake and shift camera shake
Subwavelength Structure Coating (SWC)
During this period, Canon also achieved great progress with the DIGIC image processor. The highly advanced DIGIC 4 now includes new features such as noise reduction and scene detection technologies as well as improved face detection and motion detection technologies. The DIGIC 4 was first featured in the PowerShot SD960 IS DIGITAL ELPH and PowerShot D10, among others, and today is found in the PowerShot series and EOS series.
It is remarkable that the history of the digital camera extends back less than 20 years. From 2005 to 2010, Canon achieved numerous breakthroughs in terms of sensitivity, pixel count, and video capabilities. The key technology behind many of these advances is the CMOS image sensor, which Canon developed in advance of other companies. While leveraging the advantages of the CMOS image sensor, Canon is also refining peripheral technologies and is setting out to pioneer a new era of digital imaging that almost exceeds the imagination.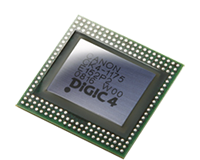 The DIGIC 4 video engine, capable of high-speed processing and excellent image quality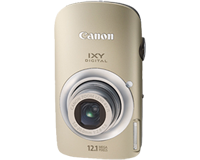 The PowerShot SD960 IS DIGITAL ELPH features a 4x zoom lens, a 12.1-megapixel CCD, and a 2.8-inch Clear Live II LCD capable of displaying a widescreen image with a 16:9 aspect ratio.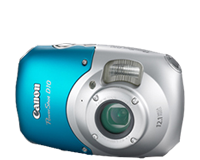 Designed with superior resistant to water, dust, cold, and shock, the PowerShot D10 is ideal for outdoor recreation, whether at the beach or on a snowy mountain peak.