2001-2004
A Vibrant Evolution in Digital Imaging
As the digital revolution continues to sweep across the landscape for electronic devices, makers of cameras and camcorder are embattled in a fierce drive to develop product that are increasingly lighter weight, easier-to-use and offer greater levels of picture quality. The race to innovate is heating up in all aspects of digital imaging, including the optical, control and processing realms. Consumers meanwhile are demanding that digital imaging products be not only easier to use but that processing and sharing of images be simplified, a trend that tests both the range and depth of manufacturer competence.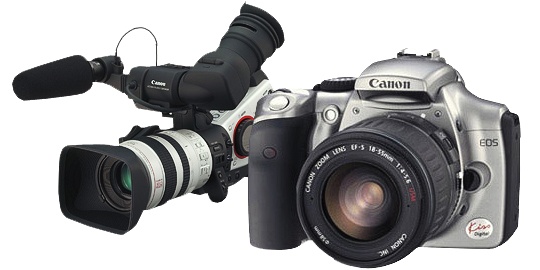 Debut of Canon's Landmark Full-Fledged Digital SLR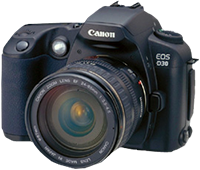 "EOS D30," Digital SLR with a 3.25 megapixel CMOS sensor
Digital cameras for the consumer market first appeared in the second half of the 1990s, but by the turn of the millennium had reached massive market penetration. The landmark product that expanded the user base of digital SLR (single-lens reflex) cameras was the EOS D30, launched in September 2000. SLRs had previously fetched premium prices and had been used primarily by professional photographers. Equipped with a Canon-developed 3.25 megapixel CMOS sensor and a RGB color filter, EOS D30 featured unique and sophisticated digital signal processing (DSP) technology. The smallest and lightest body in this product category shattered the general perception that a digital SLR has to be large and heavy. The EOS D30 came endowed with high-tech conveniences as an image select mode and a full automatic mode, allowing users to easily employ sophisticated photographic techniques simply by selecting from a range of buttons with picture icons on them. The camera's 35-zone evaluative metering feature and a built-in E-TTL auto-flash enabled users to effortlessly take natural-looking pictures using the most suitable flash settings in response to photographic conditions. In addition to complying with standard JPEG format, the D30 was also applied Canon's RAW format, which preserves raw image data without signal processing, thereby giving users the freedom to process images as they please in their computers.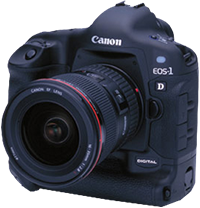 "EOS-1D," Top-end digital SLR winning the trust of professionals
Digital SLR photography reached new heights in picture quality and performance in two high-end models: the EOS-1D, a high-powered machine with great portability suitable for sports and news photographers, released in 2001; and the EOS-1Ds, designed primarily for professionals specializing in portraiture, commercial product shoots and landscape photography, released in 2002. The two models were exceptionally well received by professional photographers and experts in a perpetual quest for greater perfection in digital photography.
Original CMOS Sensors for Powerful Image Processing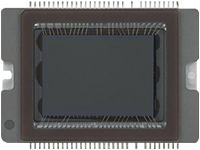 A 3.25 megapixel large-area CMOS sensor ensuring high image quality
One of the factors driving the superb image quality of the EOS digital SLR series, from the EOS D30 and EOS Kiss Digital, a popular-priced model, to the high-end EOS-1Ds has been large-area, high-sensitivity CMOS image sensors. Problems with CMOS, such as low resolution and high noise susceptibility that often spoil images and image quality, and partly offset their advantages in low power usage and cost performance, were overcome with Canon technology. A sensor designed to achieve rich gradation in both highlight and shadows while reducing color heterogeneity and noise even when shot at long exposure and high ISO sensitivity, CMOS has been the driving force behind the evolution of the EOS series. CMOS resolution was raised from 3.25 megapixels (EOS D30) to some 6.3 million (EOS Kiss Digital). The powerful sensor technology has been taken to new heights with the EOS-1Ds, which is equipped with a full-frame, 11.1 megapixel CMOS sensor, the first of its kind in the world.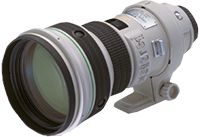 "EF400mm f/4 DO IS USM," the first zoom lens ever to use newly developed multi-layer diffractive optical (DO) elements
Constant improvement efforts have also been made to Canon EF lenses – interchangeable AF lenses for SLRs. In 2001, Canon released the EF400mm F4 DO IS USM, the first zoom lens ever to use newly developed, multi-layer diffractive optical (DO) elements. The most outstanding character of a DO lens is its ability to rigorously correct chromatic aberrations normally associated with refractors under idealistic conditions and deliver sharp and clear images with high levels of resolution and contrast. Use of the DO lens drastically reduces the overall length of the telephoto optical system, while allowing the adoption of low-density glass and scaling back the number of lens elements for lightness. Image blur reduction technology, generally associated with a telephoto zoom lens, along with dust control and drip-proof features also met with great market acclaim.
Multi-layer diffractive optical (DO) elements
The PowerShot Series Enhances Performance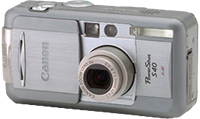 "PowerShot S40," a compact digital camera featuring a 4.0 megapixel CCD sensor and 3X optical zoom lens
Canon's hugely popular PowerShot S series offers a broad array of high image quality features all in a compact and stylish body design. The PowerShot S40, launched in October 2001, is equipped with a 4.0 megapixel CCD sensor, while the PowerShot S30, released in December the same year, is powered by a 3.2 megapixel CCD. These products gained rapid popularity in part because of their streamlined design, which features a horizontal to vertical ratio of 1:2, combined with a sliding cover. Moreover, CCD sensor resolution had increased markedly over three years from 810,000 pixels in 1998. But the focus of competition in this class of digital cameras began shifting from pixel count to color fidelity and operability. The PowerShot S45, which hit the market in October 2002, featured Canon's SI (Super Intelligent) sensor to automatically ascertain camera orientation, a DIGIC imaging processor, and RGB primary color filters with superlative color reproduction capabilities. The SI censor ensures optimum AF (auto-focus), AE (auto-exposure) and AWB (auto white balance) performance.
Camera Direct for High-Quality Prints Without Computer
Images taken with a digital camera can easily be posted on a website or stored in a computer. But a growing number of consumers have been demanding easier ways to print digital pictures for photo albums or for families and friends. Canon has responded to this demand with "Camera Direct," an easy interface that allows users to create very high-quality prints without using a computer simply by connecting the camera via special cable to a printer. The feature has proven very popular among general consumers, especially those not accustomed to using computers. Camera Direct, first featured in the PowerShot S40 and PowerShot S30, eventually became a standard feature on all Canon digital cameras.
High-Performance Image Processor "DIGIC"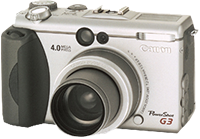 PowerShot G3 armed with a 4X optical zoom lens with a large aperture range and a 4 megapixel CCD
In September 2002, Canon fortified its PowerShot lineup with the rollout of the high-end PowerShot G3, featuring a high-resolution, 4.0 megapixel CCD sensor and a 4X optical zoom lens for a maximum aperture range of f/2.0-3.0. It also housed a new Super Intelligent (SI) sensor that calibrates the variation between images taken vertically or horizontally, along with iSAPS technology, which controls AF, AE and AWB by analyzing the photographic subject. The camera also features a wide range of shutter speeds from 15 seconds to 1/2000 and a built-in Neutral Density (ND) filter, enabling the creation of background blur and flash photography at macro distances. One common flaw of conventional digital cameras is the slow response time, which tends to cause users to miss out on great shooting opportunities. The newly developed DIGIC signal processor features a far greater processing ability than general-purpose processors, easily handling a huge amount of image data captured by CMOS or CCD sensor.
Replete Compact Digital Camera Lineup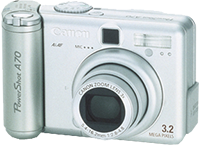 "PowerShot A 70," a smaller, lighter and more stylish model
The DIGIC image processor, which boosts signal processing for higher image processing speed and improved picture quality free of noise, has become a standard component in general consumer digital cameras. The PowerShot A70 / A60, which debuted in March 2003, features a 5-point AiAF (Artificial Intelligent Auto-Focus) system as well as a DIGIC processor and iSAPS technology. AiAF automatically selects one or more focal points based on various factors, such as subject position and motion. A rise in the number of focal points to 5 from the previous 3 has led to greater freedom in framing a shot, and has increased shooting modes from 5 to 12, ensuring optimal photography for a variety of conditions.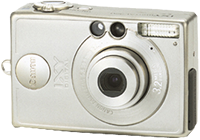 "IXY DIGITAL 320," a sleek consumer-priced model with a 3.2 megapixel CCD and a 2X optical zoom lens
Cutting-edge digital imaging technologies like DIGIC and iSAPS have been passed on to new generations of products. In March 2003, a stylish, ultra-compact model, IXY DIGITAL 320, was released at a popular price. In response to user demand for greater resolution, the camera is equipped with a newly developed 1.2/2.7″ 3.2 megapixel CCD sensor. The "IXY" series, created and known as a synonym for APS technology, has found a new incarnation as a trend-setting digital camera brand embodying the high-speed, plug-and-play spirit of compact digital cameras.
Sensation of EOS Kiss Digital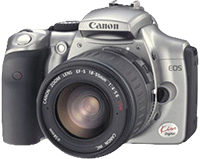 "EOS Kiss Digital," a digital SLR for the consumer market powered by a 6.3 megapixel CMOS sensor
In September 2003, Canon unveiled a new digital AF SLR that succeeded in creating a huge sensation in the world of digital photography. The camera, EOS Kiss Digital, was the digital equivalent of the best-selling EOS Kiss 35 mm SLR series. The popular-priced EOS Kiss Digital gives anyone the ability to capture high-quality images at anytime and anywhere. A happy marriage of the large-area 6.3 megapixel CMOS image sensor and the new DIGIC image processor, which maximizes sensor potential, produces stunning high-resolution images with high quality and natural colors. The EOS Kiss Digital is the lightest and smallest of the EOS Digital series. The mode dial and electronic dial are ingeniously mounted on one side for greater ease and comfort of use. The high-performing, consumer-priced camera has been extremely popular since its release, contributing to the rapidly expanding base and scope of digital SLR users.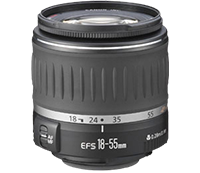 "EF-S 18-55mm f/3.5-5.6 USM," a compact, lightweight zoom lens offering high image quality
One important contributor to the spectacular success of EOS Kiss Digital is the new EF-S 18-55mm f/3.5-5.6 USM zoom lens, developed exclusively for the model. A "short back focus" lens construction reduces the distance from the rear of the lens to the imaging sensor to fit the APS-C sized CMOS sensor used in the model. This arrangement accounts for its compact size and light weight while still securing a 35mm equivalent zoom range of approximately 29-88 mm – a range often used – and producing high image quality at all focal lengths. Initially available only in the EOS Kiss Digital kit, the lens was launched as a standalone product in September 2004 in response to its huge popularity.
Evolution of Digital Camcorder
"FV30," a compact digital camcorder with a 22X optical zoom lens
The digital camcorder is another photographic device that has benefited from extremely rapid technological advancement. The spread of high-powered personal computers and broadband Internet connections is improving the environment for editing and transmitting digital video, thereby fueling demand for easy-to-use digital camcorder. Canon launched two digital camcorder in 2002, FV30KIT in February and FV200KIT in March. FV30KIT features a compact, portable body and a powerful 22X optical zoom lens. It also has a memory card slot that supports multimedia cards and SD memory cards for storing still image files. FV200KIT, meanwhile, is an entry-level model designed to enable beginners to use its various features easily. This camcorder features an 18X optical zoom lens and a Night Mode for clear color shoots in low-light situations.
A Diverse Camcorder Lineup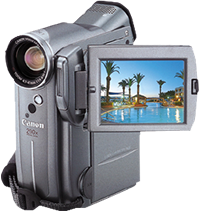 "IXY DV2 M2," A ultra-compact, light camcorder that offers high image quality for both video and still photos
Canon's camcorder lineup offers a wide range of choices for all types of users, from beginners to professionals. The XL1S and XV1 are models targeting the professional and high end of the amateur market. The megapixel PV130 is a midrange model, while the IXY DV2 M2 is an extremely compact and lightweight device with high image quality for both digital video and digital stills. Consumers seeking high cost performance may turn to the FV30KIT and FV200KIT. Their aspheric lens smoothly corrects aberrations and enables users to zero in on subjects with crisp detail. This approach also helps make the lens unit very compact. An effective image stabilization system designed to eliminate camera shakes allows stabilized handheld telephone zoom photography. The all-in-one package contains a battery, an AC adapter and cables, and promises great cost performance.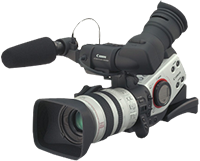 "XL2," Top-of-the-line camcorder with an interchangeable lens
In July 2004, the XL2 was rolled out as the top-of-the-line digital camcorder model, coming armed with an interchangeable lens. A feature-loaded device designed to replace conventional professional cameras, it is perfect for filming movies and commercials. With a high ability to handle CG and special effects, XL2 can also meet the needs of high-end users who process video images with various media. XL2 also offers such professional features as 3X 1/3″ 680,000 pixel progressive scan CCDs for the high-resolution 16:9 aspect ratio and advanced CCD technology, called Horizontal Pixel Shift, which effectively increase the system's total pixel count by 50 percent to achieve a horizontal resolution of 540 TV lines. All these features combine to create high video quality befitting of Canon's flagship camcorder.
Growing Demand for Better Still Images and Internet Readiness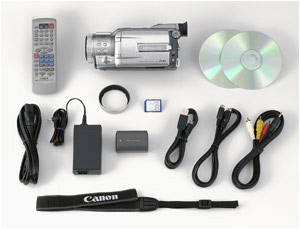 "FV M1 KIT," a camcorder with a 2.2 megapixel CCD enabling high-quality still photography
Demand is also growing for camcorder that offer higher image quality and enhanced functionality for still photos. A combination of a 2 megapixel or higher CCD, an RGB primary color filter for high color reproduction and a DIGIC DV high-performance signal processing circuit has been employed as a recipe for high image quality for both video and still pictures. The efforts led to the development of a new DIGIC DV image processing engine powering both the FV M1 KIT and IXY DV M2 KIT, released in July 2003. The new DIGIC DV circuit integrates on one chip Canon's accumulated imaging know-how and high-speed digital processing technology essential for ensuring high image quality. The DV Messenger 2 is an accessory utility software designed to enable a digital camcorder to be used as a two-way communications tool for the Internet. Use of camcorder as videophones is also being explored. Through comprehensive efforts to develop and improve image processing engines, both hardware and software for capturing and processing digital images and various contents, Canon keeps breaking new ground in the field of digital imaging, straddling the border between video and still photography.
※Note: This article is current as of November 2004.