TOKYO, October 10, 2008—Canon Inc. and Toray Industries, Inc. announced today the successful development of a bio-based plastic that achieves the world's highest level of flame retardance.*1 The new bio-based plastic, which includes more than 25% (by weight) a plant-derived component, will be used in exterior plastic parts for Canon multifunction office systems to be launched beginning next year.
Plant-derived bio-based plastics, which curb increases in CO2 and decrease the consumption of oil resources, offer material properties that effectively reduce environmental burden. To date, however, bio-based plastics have not performed as well as conventional petroleum-based plastics in such areas as flame retardance, impact resistance, heat resistance, and moldability, and therefore their use in products had been limited to a very few number of parts.
Canon and Toray, through the establishment of a new material design and molding technologies, were able to develop "Ecodear," a bio-based plastic that realizes improved material characteristics.*2 Particularly in the area of flame retardance, Ecodear is the world's first bio-based plastic applicable for use in multifunction office systems to achieve 5V classification under the UL 94 flammability testing program.*3
Compared with conventional petroleum-based plastics used in multifunction office systems, the new bio-based plastic developed by Canon and Toray offers an expected reduction in manufacturing-related CO2 emissions of approximately 20%. The development of the new bio-based plastic will enable its use not only for select parts in multifunction office systems, but also for replacing petroleum-based plastics used for exterior parts, which require a high level of flame retardance.
Beginning next year, Canon intends to introduce multifunction office systems that incorporate the newly developed bio-based plastic, with initial plans to use approximately 100 tons of the material per year.
Through continued technical development, Canon and Toray will work to realize further enhancements in the field of bio-based plastics with the aim of expanding the range of applications in which they can be used.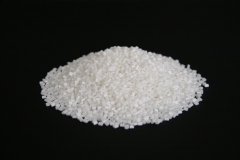 *1

As of October 1, 2008. The only bio-based plastic to receive UL 94-5V certification.

*2

Ecodear is a registered trademark of Toray Industries, Inc. A plant-derived polylactic acid that, with the addition of Toray-proprietary technology, realizes significant improvements in flame retardance, heat resistance, impact resistance and moldability.

*3

The Underwriters Laboratories Standard for Flammability of Plastic Materials for Parts in Devices and Appliances. UL 94 specifies the following classifications related to materials commonly used in manufacturing enclosures, structural parts and insulators found in consumer electronic products: (in descending order) 5V, V-0, V-1, V-2, HB.