CTO Message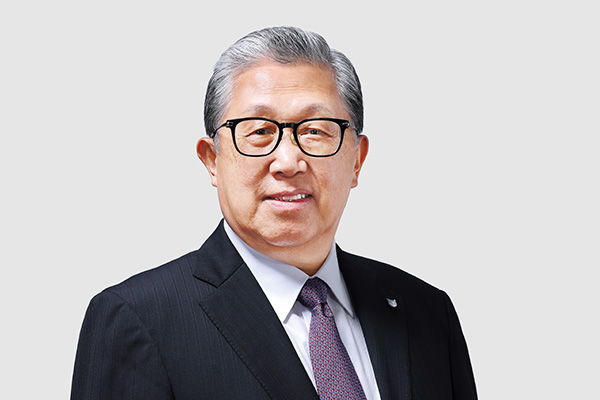 Looking to Solve Social Problems through Innovation
The post-COVID19 society is in a period of transformation. Amid these developments, how will Canon develop new technologies and carve out a new future?
Toshio Homma, Executive Vice President and Chief Technology Officer (CTO), talks about research and development at Canon.
Social Changes and Canon
As society undergoes significant changes thanks to striking technological progress in the forms of digital transformation (DX) and artificial intelligence (AI), Canon is also approaching a major turning point. Alongside the continued contraction of markets for cameras and other products that once constituted our core businesses, significant changes are affecting the office multifunction device and printer markets as well. We are taking on the challenge of great transformation in order to reach the next stage of growth.
In the future society we are about to step into, research and development undergoes a paradigm shift, where an innovation-focused approach to solving society problems is being added to the prior invention-focused approach. We are in an era where a variety of social issues such as environmental concerns are coming forth and technologies solve them. Social issues come to define technologies in need. Relying solely on inventions after spending much time to nurture the seeds for the future is no longer possible. There is an even greater need for innovation-focused R&D that can address social issues in timely manner. Canon's R&D units are also engaged in self-transformation for that purpose.
Research and Development at Canon
Since Canon's foundation, we have been promoting diversification of our business through development of core competency management, which combines core competency technologies (core technologies), which create industry-leading core products, with fundamental technologies that form the basis of our technology accumulation, and value creation technologies that form the basis of our product commercialization technologies.
We have transformed several of these core technologies into fundamental technologies through repeated R&D efforts. For example, the core technology behind camera people detection has been further developed as a fundamental technology for detection AI/statistics analysis and is now being incorporated into healthcare IT systems helping to enhance our business unit.
Core competency management is put into practice in the research and development process through the "matrix R&D structure." The head office's research departments and the product development divisions of the business units of various products have established a matrix-style system and created a structure that will make it possible to use company-wide technologies. The development divisions of our business units are the main players when it comes to the core technologies that make our products competitive. Meanwhile, the head office's research departments handle research into forthcoming trends and the development of fundamental technologies. This can lead to the advance development of core technologies at the business departments.
Furthermore, the most distinctive feature of Canon's R&D is that a holistic environment (one where technologies can be joined in complex ways) has been developed where it is possible to use and deploy together throughout the company the "technologies that go into products" like core technologies/fundamental technologies and the "technologies that support products" such as value creation technologies. With this, by simultaneously leveraging the technologies included in products and those that support products in product development, we will create competitive products that are hard to mimic for other companies.
Aiming for New Heights
At Canon, the three groups of core technologies and fundamental technologies, both of which are employed in products, respectively related to capturing, value deriving, and outputting of video/image, have strongly supported the four businesses of Printing, Imaging, Medical, and Industrial, while at the same time having promoted business diversification. This structure has been the main source of Canon's current strongpoints. Going forward, Canon will use open innovation through industry-academia collaborations and collaborations with partner companies to further strengthen our businesses and expand their scope. Canon's value creation technologies for our products are very advantageous in such efforts.
For example, in the XR field we are creating new value by collaborating with partner companies which have cyber (software etc.) technologies as their core competencies, making use of the physical (product) technologies for capturing and depicting videos and images that are Canon's strengths. In the fields of such materials technologies as inks and toner, we are working through collaborations with our partners in the fields in questions to expand their uses beyond printing. In addition, we will work on a wide range of alliances in the field of environmental technology to realize a sustainable society.
Canon needs young, vital people to make these changes. In order to maintain the R&D system that meets the demands of the times, we actively provide opportunities for them to demonstrate their power in both the research department of our headquarters, which develops cutting-edge fundamental technologies, and the development department of business units, which develops world-class core technologies. In addition, for new areas of technology that need to be strengthened, we provide opportunities for education to acquire the technology. Canon hopes to continue its corporate culture by developing human resources who have a distinctive insight into both technological fields and social issues, which is essential for innovation, and who are willing to take on uncharted territory.
Click here for more information about Technologies Supporting Canon(1.6MB)
Toshio Homma
Executive Vice President & CTO,
Canon Inc.