Current status of new industry-oriented business group structure


Printing Group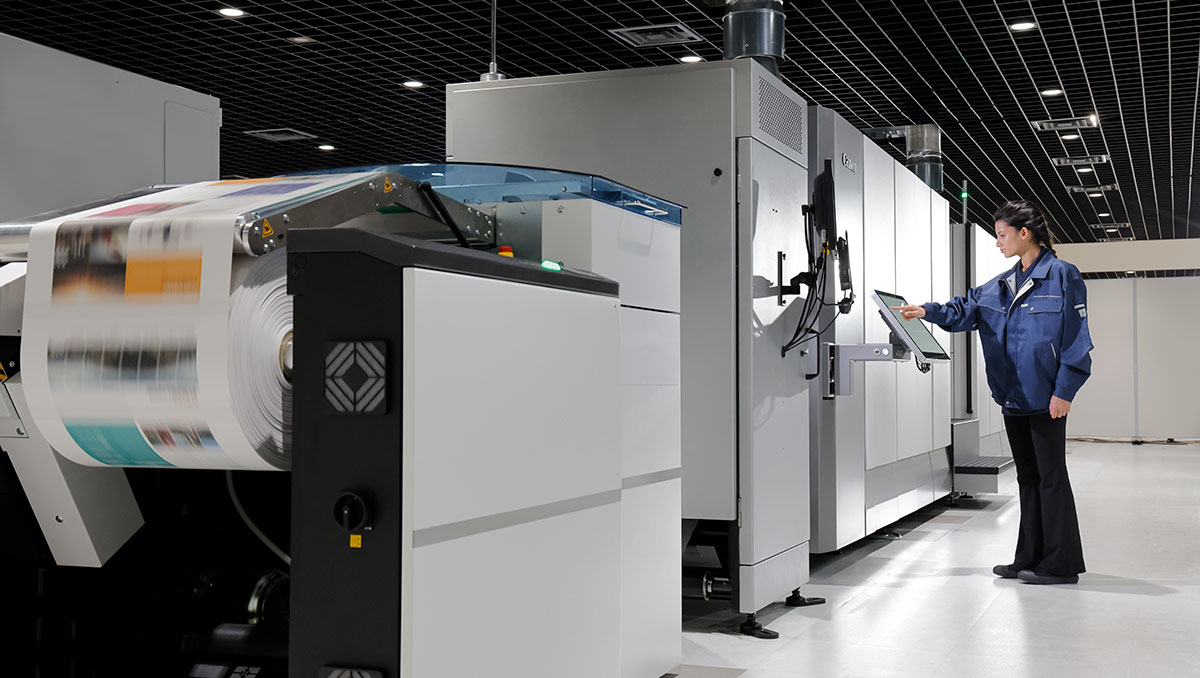 Instantly. Beautifully. Securely. Anywhere.
Digital printing is growing and supporting today's wide range of printing needs.
Always at the forefront of printing technology
As remote work becomes commonplace, lifestyles and workstyles have diversified. Meanwhile, printing needs have continued to grow. For enjoyment and for collaborative work, the value of hardcopy printing, which has played a vital role in human intellectual activity, remains unchanged. Canon offers two main digital printing technologies, electrophotography and inkjet, both of which the company has developed from the ground up. To meet the needs of today, Canon is enhancing on-demand printing technology that enables various content to be printed instantly, beautifully and securely from anywhere, while making further effort to reduce its environmental footprint.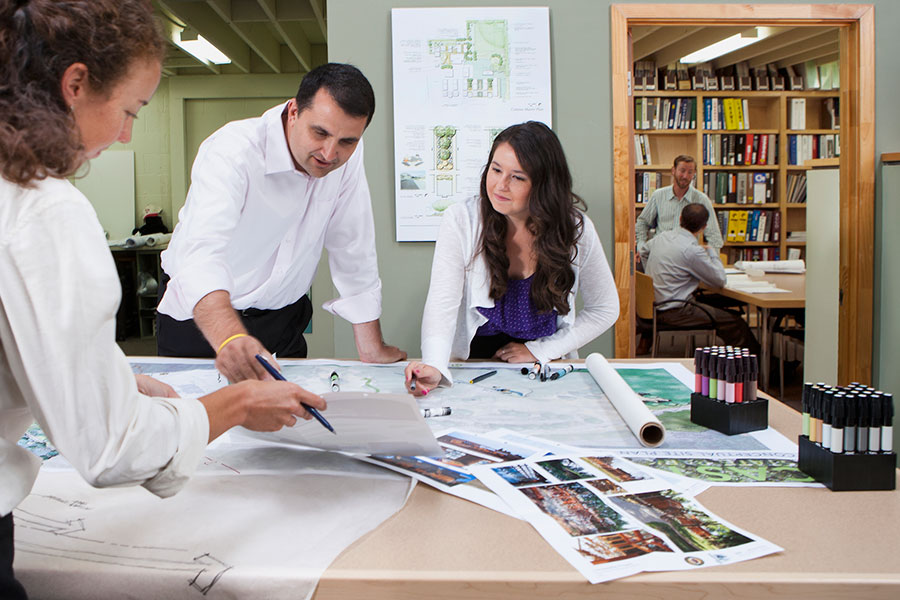 Commercial digital printing fulfills diverse requirements
In commercial printing, a field that encompasses the production of books, posters and direct mail, the shift to digital printing is progressing. Unlike in analog offset printing, the formerly mainstream technology, digital printing's inks and toners contain no volatile organic compounds (VOCs), thus presenting environmental advantages.
Canon Inc. and Netherlands-based Canon Production Printing offer a wide printer lineup including continuous feed presses that deliver over 160 m/min printing on paper rolls; sheet-fed presses that print on standard size paper; and large-format printers for media such as large-size posters. From graphic arts to newspaper and books, Canon is focused on providing digital printers that answer the diverse needs of industry.
Contributing to digital transformation in the office
The digital transformation (DX) in office work is accelerating. By providing comfortable operability with fast and quiet scanning, Canon's office multifunction devices (OMDs) support the digitalization of paper documents, a key step in DX. What's more, Canon's OMDs have strong security features that provide secure and seamless linkage with cloud services. In addition to generating the value that DX provides—rationalizing, refining, and streamlining workflows—Canon prioritizes environmental friendliness by developing lighter products with industry-leading energy-efficiency.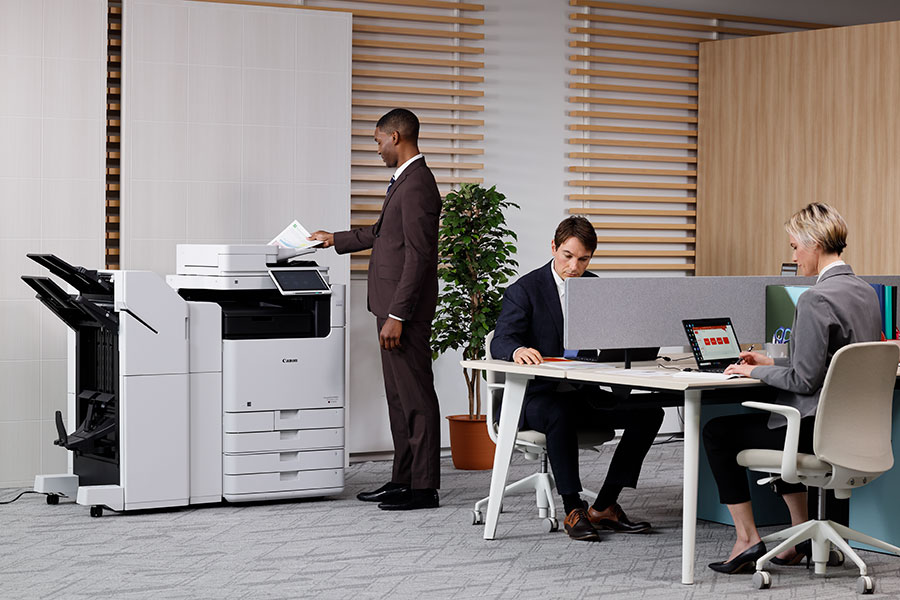 Supporting hybrid workstyles by making printing easier and securer
Hybrid workstyles require the ability to print flexibly from various locations, making print management outside the office essential. By further developing the print management technology cultivated through the development of OMDs, Canon provides a secure printing environment on a par with that of offices, regardless of the place of printing, and centralized control of printing conditions. Canon's extensive lineup of large-capacity inkjet printers, compact laser printers, and mobile printers ensures easy printing not only for work, but also for study and the enjoyment of everyday life.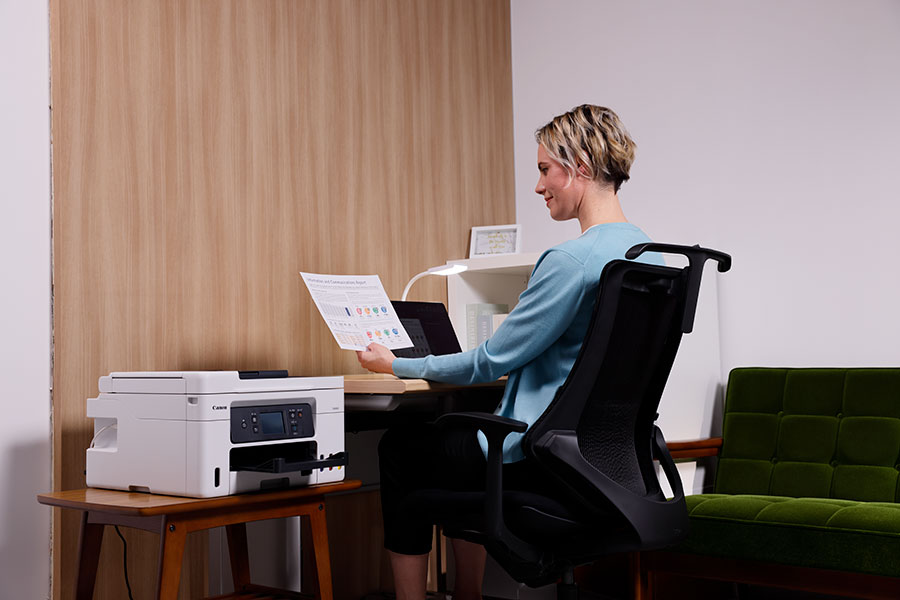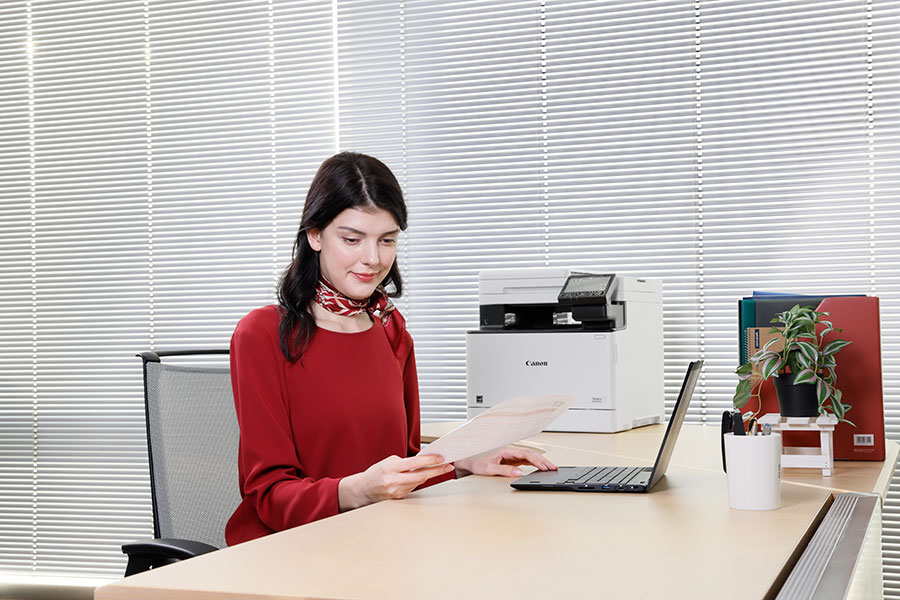 Canon's growing role in the industrial printing business for labels and packaging
In the field of industrial printing—which encompasses the printing of labels and packaging for food, beverages, and household items; wallpaper and building materials; and film wrap that serves as an alternative to painting—the uses of digital printing continue to grow.
Canon label presses and large-format printers that can be used for industrial applications have a high reputation. In 2022, U.K.-based industrial press manufacturer Edale, which specializes in label and package printing and finishing equipment for post-print cutting and processing, joined the Canon Group. In such ways, Canon is aiming to further develop and expand its industrial printing business.
Printing Group main products:
Office multifunction devices / Document solutions / Laser printers & multifunction printers / Inkjet printers / Calculators / Continuous feed presses / Sheet-fed presses / Large-format printers and more
Current status of new industry-oriented business group structure
Society realized by four new businesses that are responsible for a grand strategic transformation