Current status of new industry-oriented business group structure


Medical Group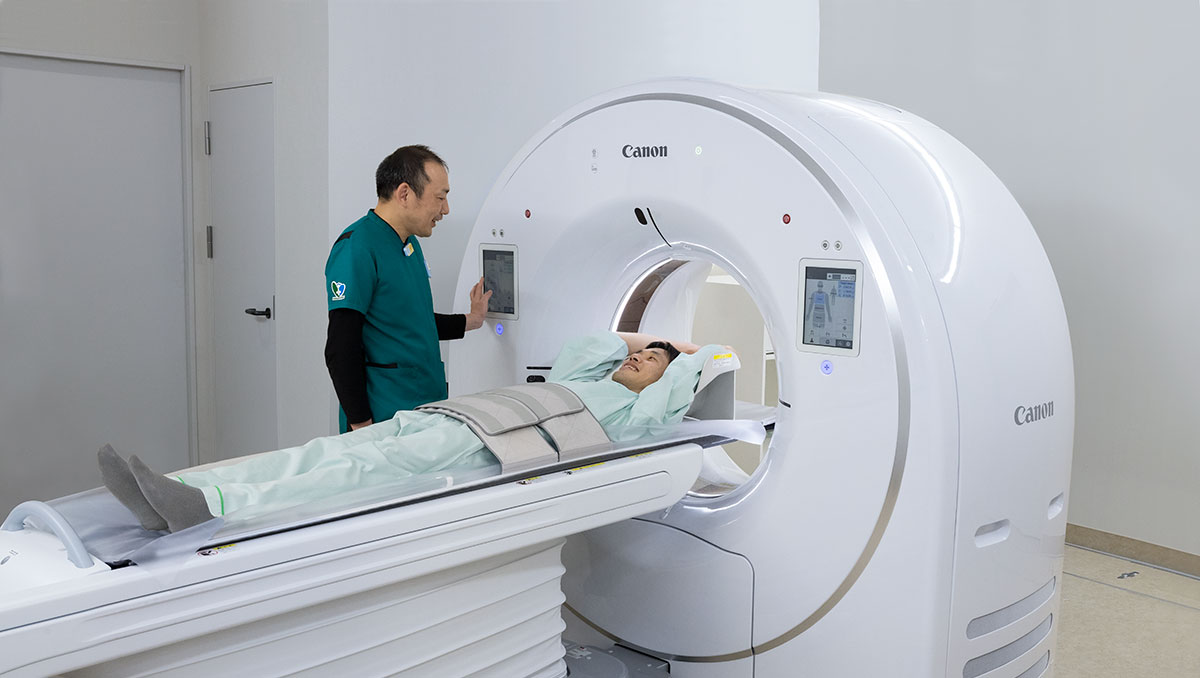 "No medical care without diagnostics." Improving care together with patients and healthcare professionals.
Healthcare needs continue to rise
From disease prevention to the promotion of good health practices, healthcare needs are rising due to factors such as aging societies and the effects of diseases, including global pandemics. As the burden on healthcare professionals also rises, the entire Canon Group is forming collaborative partnerships with medical institutions and universities worldwide to provide medical solutions that will realize higher-quality healthcare with leading-edge technology.
Canon Medical is at the center of new business development
As medical care advances, Canon is focusing on three fields: diagnostic imaging, healthcare IT and in-vitro diagnostics. At the center of this strategy is Canon Medical. Under its corporate philosophy of Made for Life, a commitment to contribute to medical care that protects precious lives, the company pursues technology-focused solutions at the frontlines of medical care in such areas as diagnostics and treatment. Canon Medical is committed to providing valuable solutions for both patients and healthcare professionals.
Diagnostic imaging systems play a vital role in the early detection of diseases
Advanced medical care would not be possible without diagnostic imaging. By providing high-resolution images with diagnostic imaging systems including CT, MRI, diagnostic ultrasound and angiography systems, Canon Medical supports demand for early disease detection.
Featuring image noise removal technology developed with deep learning*, CT, MRI, PET-CT, and X-ray systems not only improve image quality, but also decrease radiation dosages and scanning times, thus reducing the burden on patients during exams and improving efficiency in advanced medical care. Angiography systems also have clinical applications such as fluoroscopic imaging of lesions during surgery.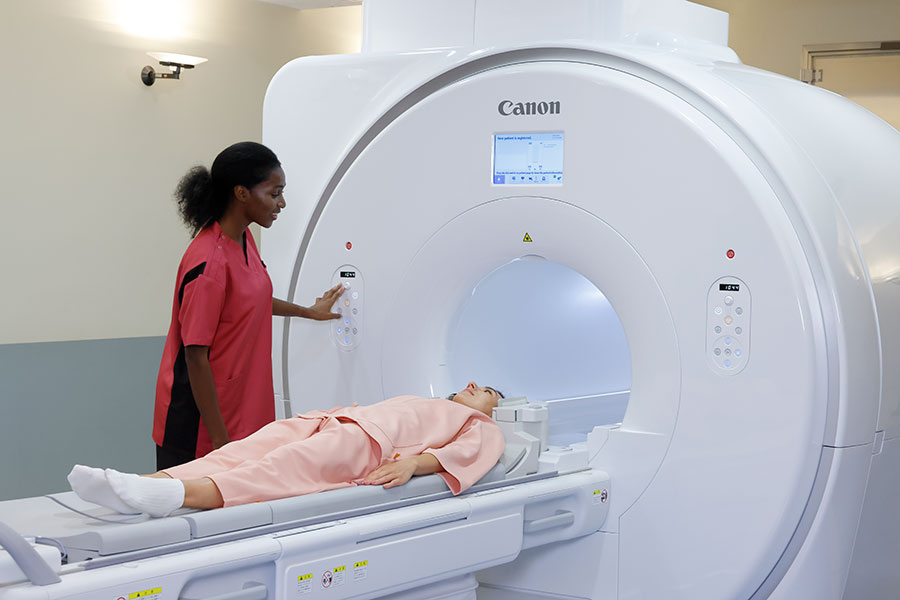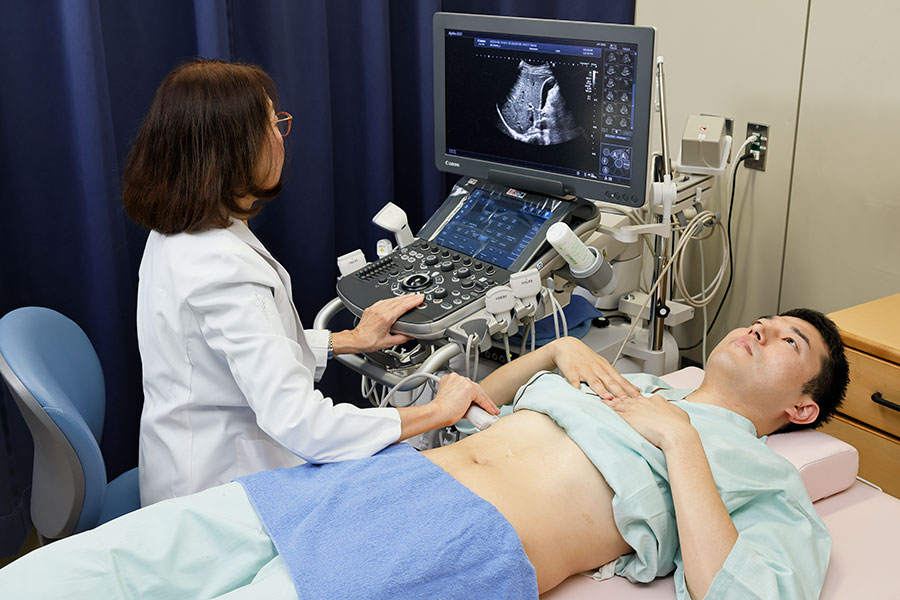 * AI technology was used during the development stage; the systems do not have a self-learning function.
Healthcare IT reduces the burden on healthcare professionals
The amount of time doctors spend analyzing medical images to ensure diagnostic accuracy has dramatically risen. This has become a growing burden in modern medical care. Canon's healthcare IT utilizes AI-based imaging interpretation support* centered on vast datasets accumulated from clinical practices. Among the successes of the technology are assisting prompt decision-making in cases of hemorrhage and ischemia in the brain, and support for recognizing the presence of COVID-19 pneumonia in diagnostic images. Furthering the digital transformation in medical care through the integration of patient data including diagnostic images, medication history, and daily temperature and blood pressure readings chronologically, Canon is helping to reduce the burden on healthcare professionals.
* AI technology was used during the development stage; the systems do not have a self-learning function.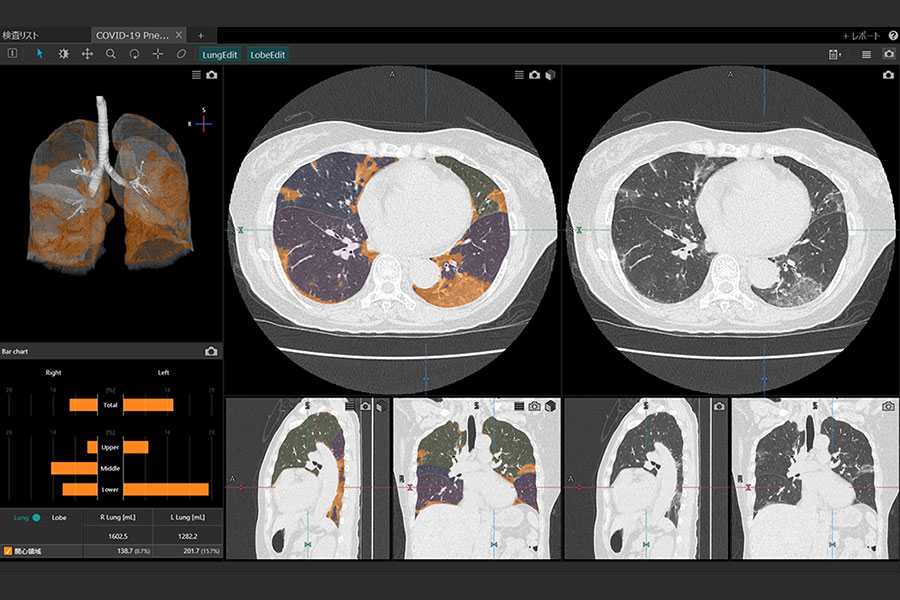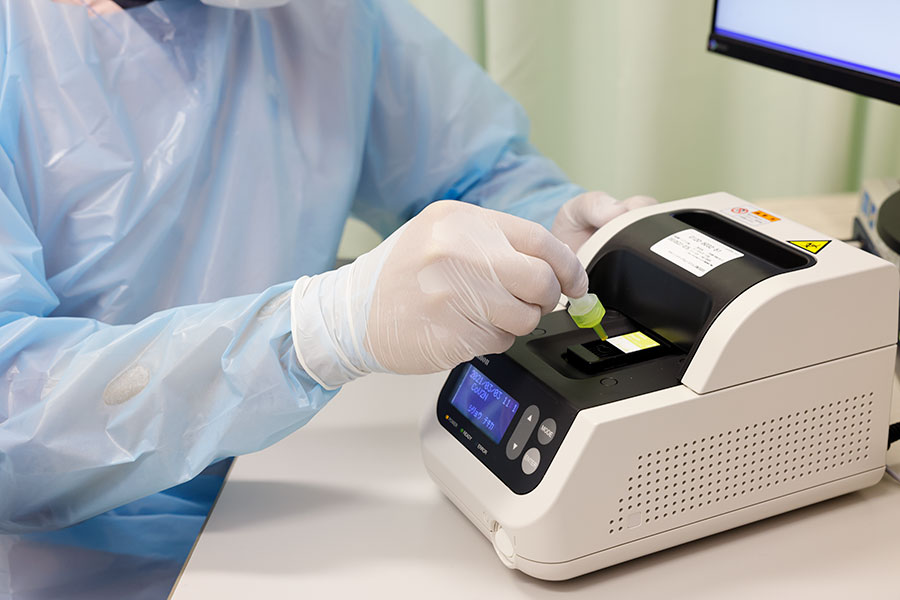 Distributing in-vitro diagnostic systems that achieve outstanding testing speed
Canon quickly moved to develop a practical in-vitro diagnostic testing kit for rapid detection of COVID-19 (p. 30), as well as produce automated clinical chemistry analyzers with the ability to handle large sample volumes at high speeds. With such advanced technologies, Canon aims to be a total solutions provider in the field of both clinical testing systems and test reagents.
Pursuing further growth by strengthening global marketing
In 2023, Canon Healthcare USA, Inc. was established to strengthen Canon's presence in the world's largest and most influential medical market. Through research on the early practical application of PCCT, Canon has built a network of leading-edge medical institutions and researchers in the U.S. and is formulating business strategies aligned with market needs. Further growth is being pursued through product development in areas that address both medical trends and immediate clinical needs, with an eye toward global markets.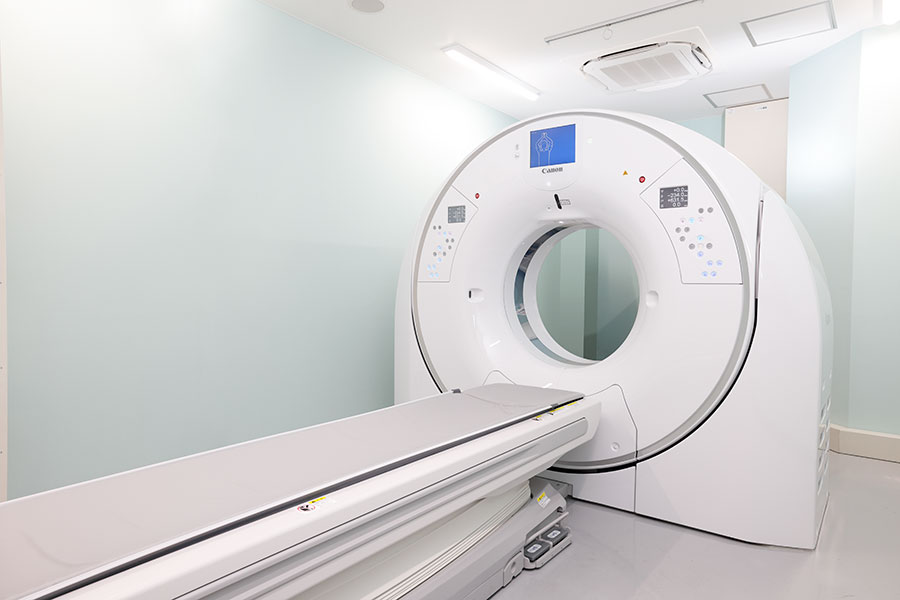 Medical Group main products:
CT systems / Diagnostic ultrasound systems / Diagnostic X-ray systems / MRI systems / Clinical chemistry analyzers / Digital radiography systems / Ophthalmic equipment and more
Current status of new industry-oriented business group structure
Society realized by four new businesses that are responsible for a grand strategic transformation