TOKYO, May 30, 2011—Canon Inc. and Canon (China) Co., Ltd. announced today the companies will be jointly exhibiting at the China-Japan Green Expo 2011 international environmental trade show, which will take place June 1 to 3 in Beijing, China.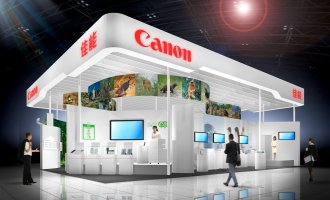 Artist's rendition of the Canon booth at China-Japan Green Expo 2011
(Actual design and layout may differ)
China-Japan Green Expo 2011,*1 which will be held from June 1 to 3 at the China National Convention Center in Beijing, China, will enable companies based in China and Japan, Chinese government ministries and other organizations to exhibit products and technologies that promote environmental conservation. In addition, experts from industry, government and academia will host seminars to introduce environment-related technologies.
Based on its "Action for Green" environmental vision, Canon aims to realize sustainable growth through technological innovation and improved management efficiency, while also realizing a society that promotes both enriched lifestyles and the global environment. During China-Japan Green Expo 2011, the Canon booth will showcase the company's products and technologies that achieve high functionality while minimizing environmental burden. Among the expert seminars held at the event, Canon will host a lecture under the theme "Canon's Lifecycle Assessment System (LCA): driving the company's environmental initiatives."
At the event, Canon will introduce its environmentally friendly technologies incorporated in the company's environmental front-running imageRUNNER ADVANCE series of color multifunction office systems. In addition, the booth will include an introduction to GREEN NAVI,*2 a Japanese-language website that provides information on methods for selecting and using environmentally conscious products. The website also offers such features as a simulation that calculates CO2 reductions based on how a product is used, and when used cartridges are collected and recovered.
The imageRUNNER ADVANCE C5045
multifunction office system
In addition to showcasing such products as Canon digital cameras, which are designed and produced with the environment in mind, and inkjet printers, which feature reduced energy consumption, the Canon booth will also offer a Touch and Try corner allowing visitors to experience the imaging performance of the company's digital cameras and other products.
With the aim of promoting a better understanding of the global environment, Canon has focused on the plight of endangered species through photography in its Wildlife As Canon Sees It advertising campaign, which has appeared monthly in National Geographic magazine since 1981. In commemoration of the 30th anniversary of the advertising campaign, the Canon booth at China-Japan Green Expo 2011 will showcase a selection of 26 different endangered species from among the approximately 350 that have been featured since the campaign's inception.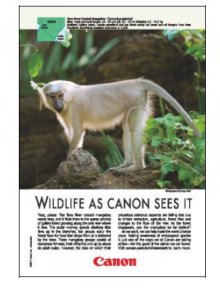 Wildlife As Canon Sees It campaign
*1

The launch of China-Japan Green Expo 2011 is the result of a dialogue that took place in 2010 between Chinese Premier Wen Jiabao and Canon Inc. Chairman and CEO Fujio Mitarai, who was the acting chairman of the Japan Business Federation, or Nippon Keidanren, at the time

*2

canon.jp/green-navi