TOKYO, April 13, 2012—Canon Inc. announced today that the company is developing four new digital cinematography zoom lenses that deliver exceptional optical performance for use with 4K (4,096 x 2,160 pixels) resolution cameras. Joining an already star-studded lineup of Canon EF Cinema Lenses, the four lenses will be compatible with Super 35 mm-equivalent cameras, supporting the professional-level demands of the motion picture, television and other high-end digital production applications.
In November 2011, Canon introduced the initial seven models of the company's EF Cinema Lens series, the first of which went on sale in January this year. EF Cinema Lenses represent the core of Canon's Cinema EOS System of professional digital cinematography products spanning the lens, digital cinema camera and digital SLR camera product categories.
Building off the initial EF Cinema Lens lineup, the company is moving forward with the development of four new cinematography zoom lenses: the CN-E15.5-47mm T2.8 L S (for EF mounts) and CN-E15.5-47mm T2.8 L SP (for PL mounts) wide-angle cinema zoom lenses, and the CN-E30-105mm T2.8 L S (for EF mounts) and CN-E30-105mm T2.8 L SP (for PL mounts) telephoto cinema zoom lenses.
In addition to compatibility with industry-standard Super 35 mm-equivalent cameras, the four cinema zoom lenses will offer exceptional optical performance to support video recording using 4K-resolution cameras. Delivering superior mobility and utility, the zoom lenses will feature compact, lightweight bodies that were designed with such uses as handheld shooting in mind, while covering a wide focal length range. When combined with the previously announced single-focal-length cinema lenses from the EF Cinema Lens series, the four new lenses will easily enable a variety of visual expression possibilities. While further details regarding the four cinema zoom lenses currently under development, including specifications and pricing, have yet to be decided, plans call for the lenses to be launched during 2012.
Canon will be displaying prototypes of the cinema zoom lenses at NAB Show 2012, one of the world's largest events for the video, broadcasting equipment and digital media industries, from April 16 to 19 in Las Vegas, U.S.A.
Canon will continue to enhance its Cinema EOS System product lineup to support diverse imaging creation in the motion-picture and other digital high-resolution production industries, contributing to further expanding the possibilities in visual expression and the development of cinematic culture.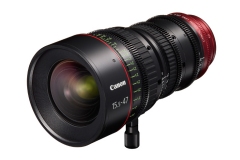 CN-E15.5-47mm T2.8 L S (for EF Mounts)
CN-E15.5-47mm T2.8 L SP (for PL Mounts)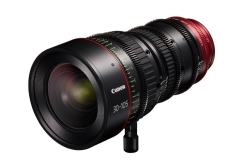 CN-E30-105mm T2.8 L S (for EF Mounts)
CN-E30-105mm T2.8 L SP (for PL Mounts)