TOKYO, Japan, May 29, 2013—Canon Inc. today announced the achievement of a new lens-manufacturing milestone as production of the company's EF-series interchangeable lenses for EOS cameras passed the 90-million-unit mark. Canon turned out its 90-millionth lens, an EF24-70mm f/2.8L II USM (released in September 2012), on May 23, 2013.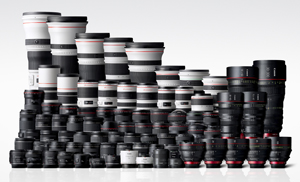 Canon EF lens-series lineup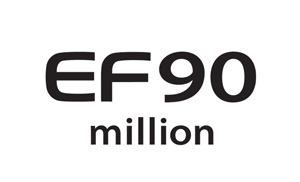 90 Million EF lenses
Commemorative logo
Production of interchangeable EF lenses for Canon EOS-series AF (autofocus) single-lens reflex film cameras began in 1987 at the company's Utsunomiya Plant and since that time, supported by a wide range of users, demand has steadily increased and production has expanded. Today, Canon produces EF lenses at four of the company's manufacturing bases, including Canon Inc., Taiwan; Canon Opto (Malaysia) Sdn. Bhd.; and Oita Canon Inc. in southern Japan.
EF lens production surpassed the 10-million-unit mark in 1995, doubled to 20-million lenses in 2001, and went on to reach 30 million units in 2006 and 40 million units in 2008. Afterward, owing to the rapid spread of EOS digital SLR cameras, production of EF lenses gained further momentum, crossing the 50-million-unit threshold in 2009, reaching 60 million units in January 2011, and hitting the 70-million-unit mark in October of the same year. In August 2012, lens production reached 80 million units and now, a little over nine months later, the company commemorates its latest manufacturing milestone of 90 million lenses.
Canon's proprietary EF lenses, launched in March 1987 along with the EOS SLR camera system, have continued to evolve since their introduction, leading the industry through the incorporation of a wide range of innovative technologies, including such world's firsts1 as the Ultrasonic Motor (USM), Image Stabilizer (IS) technology, a multi-layered diffractive optical (DO) element, and Subwavelength Structure Coating (SWC) anti-reflection technology.
With the introduction in May this year of the EF200-400mm f/4L IS USM Extender 1.4x, the world's first2 super-telephoto zoom lens with a built-in 1.4x extender that makes possible a 200-560 mm focal length range, along with EF Cinema Lenses for digital cinematography, Canon's extensive EF lens-series lineup now comprises a total of 84 models.3
Canon will continue refining its diverse imaging technologies based on its core optical technologies, striving to produce exceptional and reliable lenses and cameras that cater to the varying needs of photographers—from first-time users to advanced amateurs and professionals—while contributing to expanding the photographic and video imaging culture.
1

Among interchangeable lenses for SLR cameras, based on a Canon survey.

2

Among interchangeable lenses for interchangeable lens cameras (SLR cameras, compact-system cameras). As of May 1, 2013, based on a Canon survey.

3

Including two EF lens extenders and three models available outside of Japan. As of May 29, 2013.