TOKYO, February 6, 2014—Canon Inc. announced today the achievement of a camera-manufacturing milestone as combined production of the company's film and digital EOS-series interchangeable-lens cameras surpassed the 70-million mark on February 5.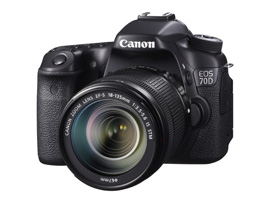 The EOS 70D, featuring innovative new AF technology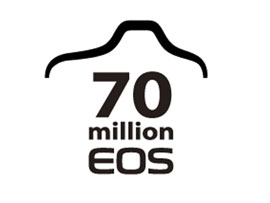 Commemorative logo
Production of Canon EOS SLR cameras began in 1987 at Canon Inc.'s Fukushima Plant (now Fukushima Canon Inc.) with the EOS 650, later moving to such production bases as Oita Canon Inc. and Canon Inc., Taiwan. Following the spread of digital SLR cameras in the early 2000s, production rapidly increased, surpassing the 60-million-unit mark in October 2012 and now, approximately one year and four months later, reaching the 70-million-unit threshold.
EOS, which stands for "Electro Optical System," also carries the name of the Greek goddess of the dawn. Introduced in March 1987 as a new generation of AF SLR cameras, EOS cameras were the world's first to incorporate an electronic mount system enabling complete electronic control not only between the lens and body, but throughout the entire camera system.
Based on the key concepts of high speed and ease of use, EOS-series cameras, including the top-of-the-line professional-model EOS-1 released in 1989 and the popular compact, lightweight EOS Kiss (EOS Rebel XS or EOS 500 in other regions) introduced in 1993, actively incorporate innovative technologies and have gained acceptance from a wide range of users. As digital SLR cameras gained increasing popularity starting in 2000, Canon developed such advanced technologies as its proprietary CMOS sensors and high-performance DIGIC digital image processors, as well as an extensive lineup of EF lenses, in an effort to fulfill the company's new key concepts of high speed, ease-of-use, and high image quality. Currently, Canon offers a broad product lineup that serves the needs of all levels of users.
Among the new Canon cameras that contributed to the realization of the 70-million-unit production milestone were the EOS 70D, featuring innovative Dual Pixel CMOS AF autofocus technology, and the entry-level EOS Kiss X7 (EOS Rebel SL1 or EOS 100D in other regions), which combines a ground-breaking compact, lightweight body design with advanced basic performance. Additionally, in September 2012, Canon added the EOS M compact-system camera to its product lineup and, at the end of 2013, launched the EOS M2, featuring significantly enhanced AF performance, which has been warmly received by the market.
EF lenses for Canon EOS-series interchangeable-lens cameras are also on track to realize a major milestone as cumulative production is scheduled to pass the 100-million-unit mark in 2014.
Canon will continue to refine its diverse imaging technologies based on its core optical technologies, striving to produce exceptional and reliable lenses and cameras that cater to the varying needs of photographers—from first-time users to advanced amateurs and professionals—while contributing to expanding the culture of photographic and video imaging.