TOKYO, September 16, 2014—Canon Inc. announced today that the Company is developing a new-concept photo-storage device, tentatively called the Cross Media Station, which will enable users to easily enjoy high-image-quality photos and movies captured by digital cameras.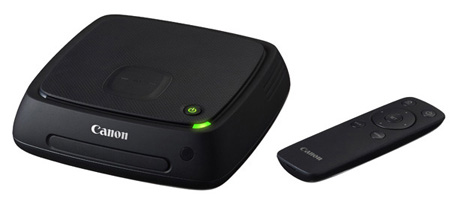 Cross Media Station (tentative name)
In addition to offering the same key concepts as Canon's digital cameras—high speed, ease of use and high image quality—the Cross Media Station will enable users to save and make use of their photos and movies with ease and peace of mind, allowing them to thoroughly and effortlessly enjoy their high-image-quality photo and movie libraries.
Through NFC* technology, images and movies can be easily transferred from a camera and saved to the Cross Media Station, after which they can be viewed in high quality on a large-screen television. In addition, when connected to a network, the Cross Media Station will allow users to easily share photos and movies as well as output images from a printer, along with other various functions. At this time, specifications, pricing, launch date and other details are yet to be decided.
Canon will continue to contribute to expanding the photographic and video imaging culture through new technologies and products that meet the expectations of a wide range of users.
* NFC is an ISO-defined wireless communication technology international standard.