TOKYO, August 25, 2015—Canon Inc. today announced that the Company is currently developing a portable-type zoom lens that realizes exceptional optical performance to support use with 4K broadcast cameras employing 2/3-inch sensors. Canon will exhibit the lens for reference at the 2015 Beijing International Radio, TV & Film Exhibition (BIRTV), to be held from August 26 to 29 in Beijing, China.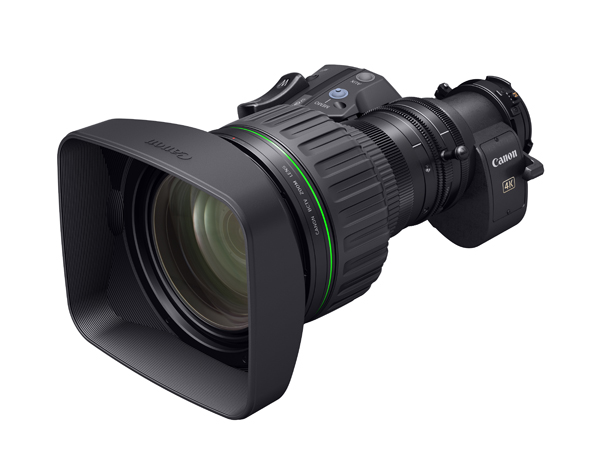 The 4K portable zoom lens currently
under development
As 4K-resolution content, which traces its beginnings to the movie-production industry, continues to gain ground in the broadcasting industry, initiatives are currently underway to implement 4K broadcasting in countries around the world with an increasing number of professionals making use of equipment supporting 4K production.
Canon is developing the new 4K portable zoom lens as a new model in the Company's broadcast lens lineup capable of delivering outstanding imaging performance. Like the new CJ12ex4.3B wide angle zoom lens, also announced today, the new 4K portable zoom lens under development will realize a high level of imaging performance supporting use with 4K broadcast cameras employing 2/3-inch sensors while also featuring a weight and body size that achieve the same level of mobility as conventional portable HDTV lenses. Supporting both indoor and outdoor use for a variety of applications, including sporting events, live telecasts, serial dramas and television commercials, the new 4K portable zoom lens will enable shooting across a range of focal lengths, from the wide-angle capture of entire sets to close-ups of distant subjects, in either 4K or HD resolution.
Canon aims to commercialize the new 4K portable zoom lens in the first half of 2016. In addition to its HDTV broadcast lens and 4K Cinema Lens lineups, the Company will further strengthen its 4K broadcast lens lineup to respond to the needs of a wide range of users.