TOKYO, October 23, 2015—Canon Inc. and Fujitsu Limited today announced that they will jointly develop new imaging solutions utilizing network cameras. By combining Canon's image quality enhancing technology and video content analysis technology with Fujitsu's services platforms, the two companies aim to provide a variety of solutions employing network cameras.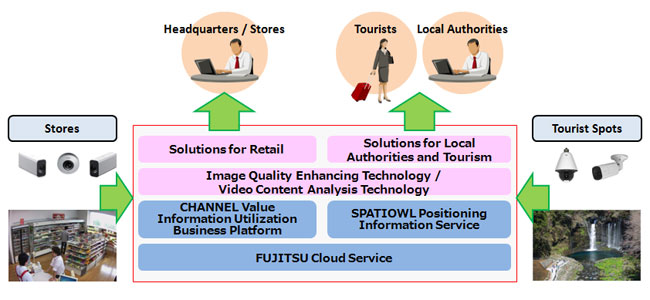 Delivering solutions through synergies between Canon and Fujitsu
Canon is developing technology to enhance the image quality of video captured by network cameras, as well as video content analysis technology that enables such functions as the determining of the ages and genders of pedestrians and the visualization of foot traffic flows. Canon and Fujitsu plan to combine these technologies with FUJITSU Retail Solution CHANNEL Value, which is Fujitsu's information utilization business platform, and FUJITSU Intelligent Society Solution SPATIOWL, its positioning information service, on the FUJITSU Cloud Service with the aim of bringing the following imaging solutions into practical use in 2016.
Solutions for the Retail Industry
Taking information obtained by analyzing in-store video captured with network cameras, such as customer gender, age ranges and traffic flows, as well as in-store congestion conditions, and analyzing it with CHANNEL Value, these solutions will support the creation of more attractive shopping environments, made possible through optimized floor space layouts and sales promotion activities tailored to the customer base.
Solutions for the Public Sector (Tourism Industry)
By combining network cameras installed in tourist destinations with SPATIOWL, users can obtain such tourist information as visitor numbers, traffic flows and congestion levels. This will make possible the provision of solutions aimed at invigorating municipalities and tourist facilities. Additionally, the provision of high-image-quality live video and still images from tourist destinations could represent an attractive service for tourists.