TOKYO, October 6, 2016—Canon Inc. has been recognized by the influential China Environmental United Certification Center1 (CEC) as the country's first five-star Green Supply Chain Assessment-certified company.2 Additionally, Canon (China) Co., Ltd. was the only Japanese electronics company to be recognized by the CEC with the China Environmental Label Excellent Corporation Award in 2016.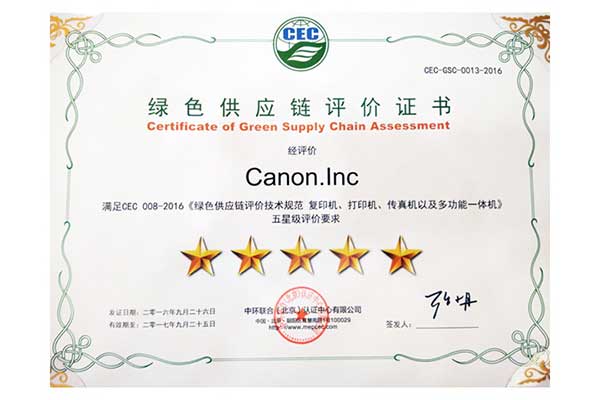 The five-star Certificate of Green Supply Chain Assessment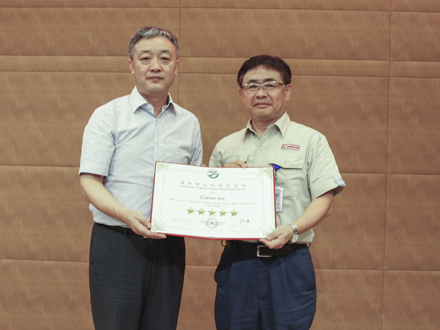 The certificate presented at the award ceremony

The CEC assesses companies' efforts based on the Chinese Ministry of Environmental Protection's policy of "promoting green supply chain management focusing on green production, supply and consumption," which was issued in 2016. Based on the policy's criteria, Canon's green supply chain management, starting with procurement, was highly rated. Canon copying machines, multifunction devices, printers and fax machines all received green supply chain certification, and Canon was the first business in China to be awarded with a five-star rating. What's more, the Company's excellent supply chain transparency and information sharing has fostered trust both among suppliers and in the market, making it a model for office equipment manufacturing companies.
At the same time, Canon China became the only Japanese company in the electronics industry to be recognized in 2016 by the CEC with the China Environmental Label Excellent Corporation Award for its many years of cooperation and support for activities relating to the certification, including its proactive adherence to China Environmental Label official certification standards and continuous receipt of the certification.
In 1997, Canon introduced its Canon Green Procurement Standards and adopted clauses within its contracts with suppliers to reflect them. Based on these standards, the Company thoroughly investigated such factors relating to environmental preservation as the status of chemical substances contained within raw materials and parts when procuring products and packing materials, suppliers' environmental management systems and the implementation of those systems and suppliers' commitment to environmental regulations. What's more, even suppliers who meet these standards are completely reassessed annually in an effort to curb the occurrence of environmental issues.
Canon's environmental vision, Action for Green, aims to realize a society that promotes both enriched lifestyles and the global environment through technological innovation and improved management efficiency. Throughout the entire product lifecycle—Produce, Use, Recycle—Canon continues to expand activities with its customers and business partners to reduce environmental burden and pursue its environmental vision.
1.

The China Environmental United Certification Center, authorized by the Chinese Ministry of Environmental Protection, is the only certification body that can certify products with the nationally recognized China Environmental Label. Additionally, it is China's first third-party certification body to assess green supply chains.

2.

Although companies had been given three- and four-star green supply chain ratings in the past, Canon is the first to be awarded a five-star rating.