TOKYO, December 2, 2016—Canon Inc. announced today that the Company will continue its sponsorship of four of the International Skating Union's most prestigious figure skating competitions, spanning the 2016–2017 and 2017–2018 seasons: the ISU Grand Prix of Figure Skating Final®, the ISU Four Continents Figure Skating Championships®, the ISU World Junior Figure Skating Championships®, and the ISU World Figure Skating Championships®. Canon sponsored all four seasons of the four International Figure Skating Championships from 2012 to 2016, and will continue to provide products, technologies and services to contribute to the success of each upcoming event.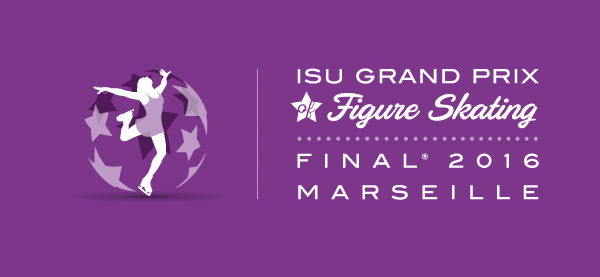 ISU Grand Prix of Figure Skating Final® 2016/2017 logo
Canon Camera Service Depots to support on-site photographers
As with other sporting competitions in the past, both in Japan and overseas, Canon will provide behind-the-scenes support to members of the press covering the four events of the 2016–2017* season, including camera and lens maintenance services and product loans of such cameras and lenses as the EOS-1D X Mark II digital SLR camera, the EF 400mm f/2.8L IS II USM and EF 200-400mm f/4L IS USM Extender 1.4x, to enable the best possible capture of the top-class athletes' high-level performances.
Canon products to facilitate competition management
As a sponsor of the ISU figure skating competitions, a variety of Canon input and output products will be designated as official products, including cameras, lenses, video camcorders, copying machines, multifunction devices, printers, facsimile machines, projectors and displays. Through its various products, such as copying machines and multifunction devices used by event administration, Canon will facilitate the successful management of each competition.
The Canon Group will continue contributing to the advancement of sports through the use of Canon products and technologies.
*

The Company has not yet decided whether it will host Service Depots during the 2017–2018 season.
Overview of the ISU figure skating competitions
International governing body: International Skating Union (ISU)
Homepage: isu.org
Event Schedule:
2016–2017 season
Event
Dates
Host city
(country/region)
ISU Grand Prix of Figure Skating Final® 2016/2017
Dec. 8–14, 2016
Marseille
(France)
ISU Four Continents Figure Skating Championships® 2017
Feb. 14–19, 2017
Gangneung
(South Korea)
ISU World Junior Figure Skating Championships® 2017
Mar. 15–19, 2017
Taipei
(Taiwan)
ISU World Figure Skating Championships® 2017
Mar. 29–Apr. 2, 2017
Helsinki
(Finland)