TOKYO, April 18, 2017—Canon Inc., Canon Marketing Japan Inc. and Canon Production Printing Systems Inc. today, aiming to accelerate the growth of the Company's commercial printing business, opened the Customer Experience Center Tokyo (CEC Tokyo), a venue for customers to try out Canon-Group commercial printing products, located within the Company's Shimomaruko headquarters in Ohta-ward, Tokyo.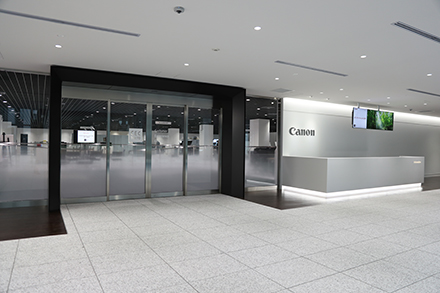 A view of the outside of the CEC Tokyo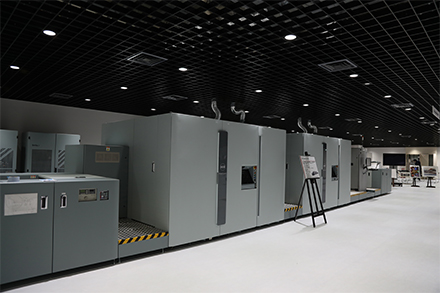 An installation at the CEC Tokyo
At the CEC Tokyo, customers can experience the Canon Group's wide range of commercial printing products for themselves. Through demonstrations using the actual products, customers can verify print workflows—from taking orders to editing, printing and post-processing—using their own print data and test paper, encouraging the installation of digital printing systems and allowing Canon to capture demand in the growing field of digital printing. Additionally, as the CEC Tokyo is located on the grounds of Canon Inc.'s Shimomaruko headquarters, customers can avail of recommendations for improving image quality through a print sample image-analysis service provided by the Company's R&D Department, which is also located at the company headquarters.
Recently, the demand for digital printing, which is ideal for high-mix low-volume printing and print jobs with personalized content, has been increasing. As part of Phase V of the Company's Excellent Global Corporation Plan, a new five-year initiative that began in 2016, Canon is establishing commercial printing as a new business that will become a pillar of growth.
The Canon Group also operates Customer Experience Centers in Venlo (the Netherlands), Poing (Germany) and Boca Raton (U.S.A.), with the CEC Tokyo becoming the fourth location and the first in Asia. This center will not only serve Japanese customers, but also customers from other regions, particularly Asia. Canon, utilizing its Customer Experience Centers around the world, will support the digital printing needs of its customers worldwide and accelerate the growth of its commercial printing business.
Customer Experience Center Tokyo Overview
Location: Canon Inc. Headquarters, Shimomaruko 3-30-2, Ohta-ward, Tokyo.
Floor space (area): 1,354 m2
Opening: April 18, 2017
*

CEC Tokyo operations are handled by Canon Production Printing Systems Inc., a core company of the Canon Marketing Japan group's commercial printing business.