TOKYO, October 29, 2018—Canon Inc. announced today that the company has successfully tested new technologies currently under development at the Canon Bledisloe Cup 2018, held on October 27—including its Free Viewpoint Video System, live viewing solutions and a wide-area security solution. In addition to its role as title sponsor of the 2018 Bledisloe Cup, a rugby competition between the national teams of New Zealand and Australia held at Nissan Stadium (Yokohama City, Kanagawa Prefecture), Canon is leveraging its advanced imaging technology in the development and practical implementation of stadium visual solutions.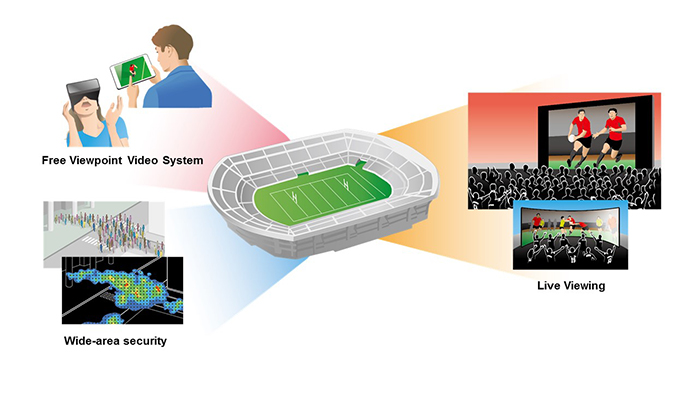 Conceptual image of Canon's stadium visual solutions
Canon tested three systems designed to deliver immersive visuals and create new ways to enjoy sports—the Free Viewpoint Video System, which allows people to view a match from various different angles and points of view, a live viewing solution that displays video footage on a large screen covering audiences' entire field of vision overlaid with three-dimensional audio for a truly realistic and immersive stadium experience and 8K live viewing that achieves impressive, high-resolution 8K visuals. Through the delivery of visual content and services that recreate the feel of stadium viewing and immersive experiences that make viewers feel as if they are right on the field itself, Canon aims to realize a new way to enjoy sports.
Canon also performed wide-area security tests using its network camera technology. The tests comprised recognition and tracking of pre-registered individuals and real-time counting of people in an area as well as analysis of crowd congestion by time period. The company will strive to support the smooth management of sporting events by generating data that can be used for high-level security measures as well as data that can be analyzed to ease congestion, thus helping to ensure greater safety and peace of mind.
In addition to a wide range of products and technology, from input to output, cultivated over its long history, Canon is accelerating the development of visual production processes using innovative methods, proposing new visual experiences and advancing video analysis technologies with the aim of realizing the practical application of its stadium visual solutions. Through these advanced technologies, the company will continue developing new ways to enjoy such events as sports and other forms of entertainment while also helping to realize safe and secure environments.
Tests of immersive visual technologies
1) Free Viewpoint Video System
Canon successfully produced video footage from a trial of the system, which uses multiple high-resolution cameras installed throughout the stadium capture visual data that is then processed to create video that can be freely manipulated to enable viewing from angles impossible to capture through conventional methods. The System enables viewers to freely move a virtual camera around the stadium and even dive right into the middle of the field and see the action from players' points of view. Watching the same scene from freely chosen angles creates a visual experience that allows viewers to more thoroughly enjoy the thrill of competition and the joy of sports. What's more, in cooperation with official tournament broadcaster J SPORTS Corporation, footage created with the Free Viewpoint Video System will be available for viewing on October 31 via its J SPORTS on Demand service.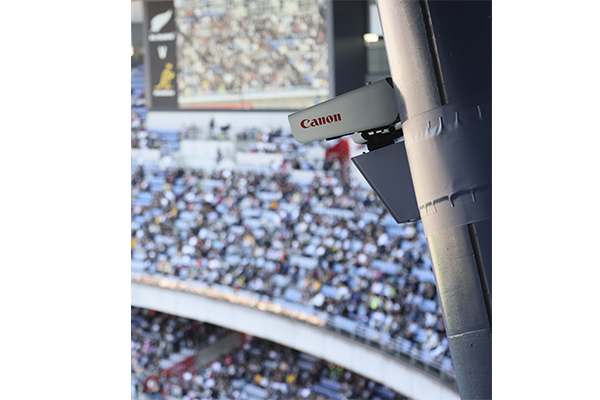 System camera installed on stadium support pillar
2) Immersive Live Viewing
In a test of the company's live viewing technology, wide-angle video captured using an 8K camera and a fisheye lens was transmitted from the stadium, converted in real time for wide-angle projection without distortion to be viewed live at Canon Inc.'s Tokyo headquarters. Utilizing multiple 4K projectors, Canon successfully created a visual space that fully encompassed the audience's field of vision. What's more, Canon cooperated with partner companies to produce three-dimensional sound overlaid on visuals to deliver a truly immersive experience similar to viewing a game from an actual stadium or from right on the sidelines. Going forward, Canon aims to utilize this technology for such applications as sports and entertainment viewing.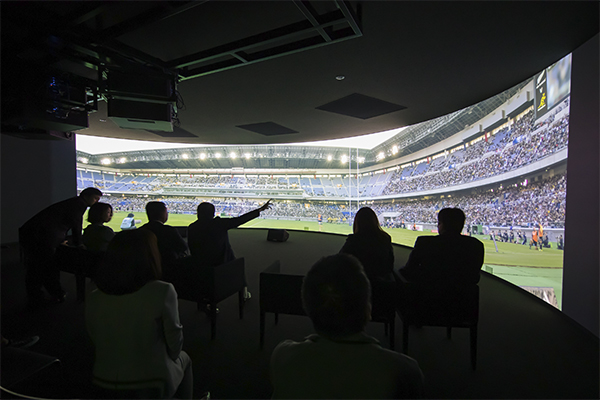 Immersive live viewing at Canon HQ
3) 8K High-resolution Live Viewing
In cooperation with partner companies, including J SPORTS Corporation, video footage captured with a Canon 8K camera and lens was transmitted to and viewed live at Canon Inc.'s Tokyo headquarters. Following a successful satellite transmission trial on June 9, 2018, Canon's most recent test employed fiber-optic cable in the transmission of video to an 8K HDR display and a projector system comprising four 4K HDR projector units, resulting in impressive 8K footage with faithful reproduction down to the finest details. The use of such existing 4K technologies as broadcast vans and 4K codecs is expected to accelerate the spread of 8K broadcasting, Including such scenarios as high-resolution 8K public viewing.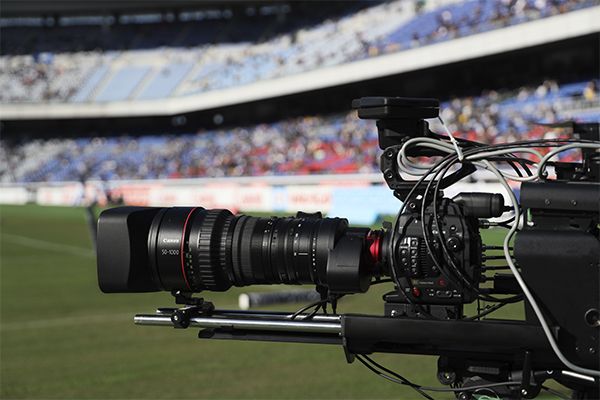 8K camera and lens used for video capture
Tests of safety and security technologies
1) Detection and Tracking of Individuals
Canon successfully conducted a test involving the facial recognition of pre-registered individuals* from video captured on network cameras, and in real time, was able to detect them and confirm their entry into the stadium and subsequent movement. The company's network cameras,equipped with superlative optical and image-processing technologies, detected subjects with high accuracy, even under such conditions as low light or strong backlighting. This technology will help realize more efficient security countermeasures against suspicious persons in stadiums, public transportation hubs, large-scale commercial facilities and other places where large numbers of people gather. Additionally, by applying this technology in such scenarios as the reception of VIPs and location of lost children, Canon will contribute to fostering gracious hospitality
*

Subjects registered for and taking part in this test are employees of Canon.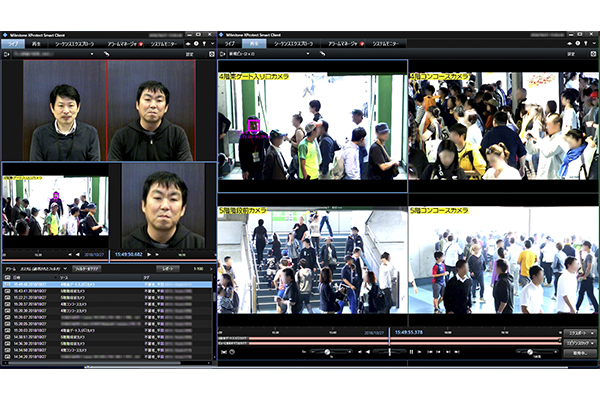 Subject tracking technology
2) Estimation of Crowd Sizes
Using video captured by network cameras, Canon successfully performed a trial to count the number of people present in such spaces as open areas and storefronts around the stadium, and also analyzed congestions levels by specified time periods. Through the use of AI technology, individuals in large crowds could be counted with high precision, even when facing in different directions. Canon proposes such applications for this information as more flexible and effective positioning of staff and smoother control of crowds to help events operate more efficiently. Canon also proposes such marketing solutions as the analysis of the number of and movement patterns of people by time period to decide the placement of a stadium shop or devise ways to improve shop operations.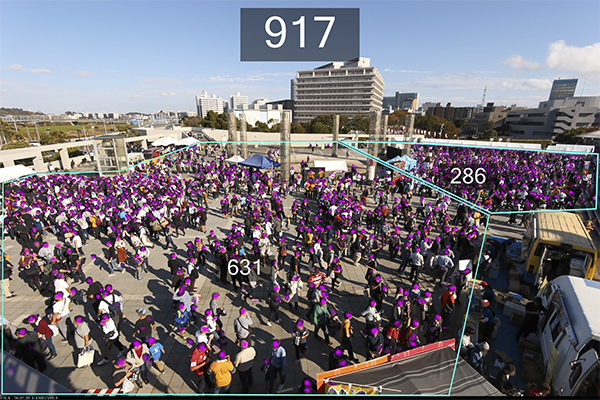 Screen capture from People Counter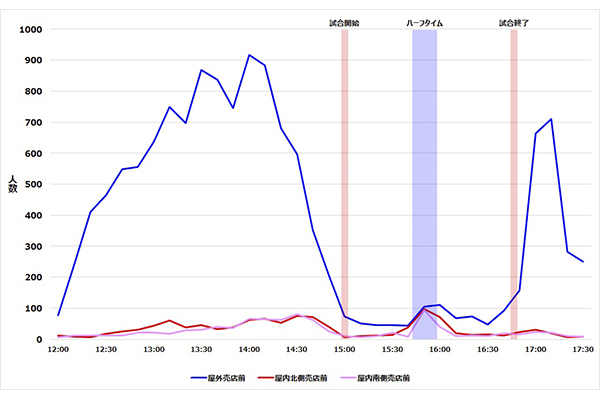 Congestion analysis report