TOKYO, November 2, 2020—Seiya Higuchi, for his work "some things do not flow in the water," was declared the Grand Prize winner of Canon's New Cosmos of Photography 2020 (43rd edition) photo competition at a public meeting of the Grand Prize selection committee held at the Tokyo Photographic Art Museum on Friday, October 30.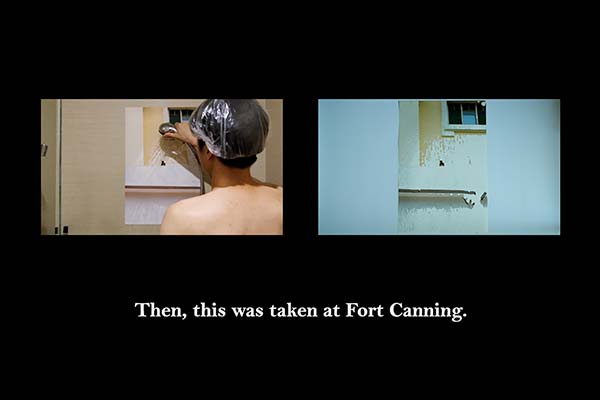 Grand Prize winner Seiya Higuchi, "some things do not flow in the water"
The New Cosmos of Photography accepted entries for the 2020 competition from March 18 to May 31, attracting a record 2,002 submissions from individuals and groups both inside and outside Japan. From those entrants seven Excellence Award winners and 14 Honorable Mention Award winners were selected by the Excellence Award Selection Committee. The Excellence Award winners, as Grand Prize candidates, attended a public meeting of the Grand Prize selection committee held on October 30. Each candidate gave a presentation and faced questioning by the selection committee, after which the committee convened and chose Mr. Higuchi as the Grand Prize winner.
In addition to ¥1 million (approx. US$9,523) in prize money, Mr. Higuchi was awarded a Canon EOS R5 mirrorless camera and RF24-70mm F2.8 L IS USM lens and the right to hold an exhibit of new work next year. Details of the Grand Prize public selection committee meeting will be made available on the New Cosmos of Photography website.
The New Cosmos of Photography 2020 Tokyo Exhibition of Excellence Award winners, including Grand Prize winner Mr. Higuchi, and Honorable Mention Award winners will continue until November 15(Sunday) at the Tokyo Photographic Art Museum.
The New Cosmos of Photography is Canon's cultural support project to discover, nurture, and support new photographers who pursue new possibilities in creative photographic expression. The annual contest, launched in 1991, has been open to the public regardless of the age or nationality of entrants or the number or format of entered works. As such, the contest encourages the creation of original works that push the boundaries of photography's potential and systematically assists and nurtures award winners through exhibitions and published collections of their winning works as well as through publicity on the New Cosmos of Photography website. To date, the New Cosmos of Photography contest has accepted 33,359 entries from both individuals and groups, and has turned out a great number of outstanding photographers who are enjoying widespread success around the world. As a result, the contest has come to be regarded today as a gateway to success for new photographers.
*

Due to concerns regarding COVID-19, the New Cosmos of Photography 2020 Exhibition may be canceled, rescheduled or held with limited attendance. For up-to-date information, please visit the New Cosmos of Photography website. Additionally, when attending the New Cosmos of Photography 2020 Exhibition, please comply with COVID-19 infection prevention guidelines including the wearing of masks.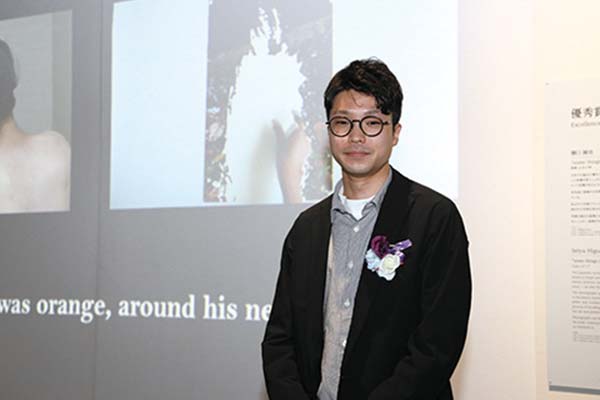 Grand Prize winner Seiya Higuchi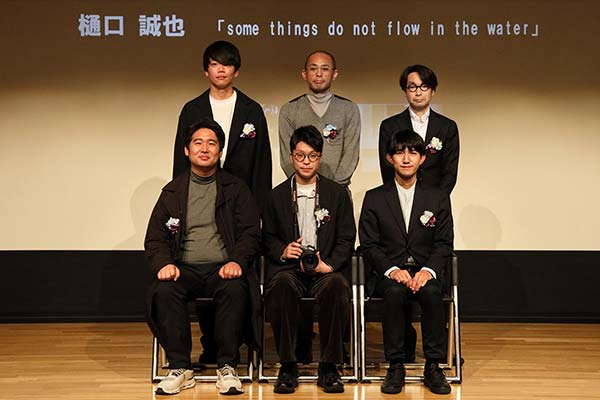 The six Excellence Award winners
*Sergei P. Bakanov not present
About the winning entry
"The Japanese saying mizu ni nagasu [literally "let the water carry it away"] means to forget past troubles as if they never happened. Some aspects of the history between Japan and Singapore, however, cannot be easily washed away – an idea that can be summed up as "forgive, but never forget".
The photographs appearing in this work were taken at locations connected to the history between Japan and Singapore. I took a shower with each of the prints and washed some of the ink away. I then recorded on video the process of recalling what had been in those areas of the photographs where the ink was peeled off.
Photographs can be evidence of the past, but lack of evidence does not erase the truth. Unfortunately, in the absence of evidence, we often forget the truth or overwrite it."
Comments from the Grand Prize winner
Asked about their thoughts on receiving the award, Mr. Higuchi said, "I am delighted that my work is able to be viewed by a wide audience at an event such as this. Furthermore, I am grateful to the selection committee for their carefully chosen questions and insightful comments, which I learned a great deal from. In addition to the joy I feel, I also feel a sense of pressure going forward. I will continue to focus on what it is that I find interesting, earnestly creating new works unconcerned with appearances."
Comments from the selection committee
The following is a comment from Mr. Noi Sawaragi, a member of the selection committee: "I wish to congratulate Mr. Higuchi Seiya for receiving the grand prize at this year's event. I had my concerns about the event due to the effects of COVID-19 pandemic, but despite this, we received a record 2,002 entries. To be chosen among such a competitive field is truly wonderful. The true beauty of his work was that it was not bound by theoretical constraints, but how he used his own body to demonstrate a conceptual connection between the photograph and human contact. I also praise his the gentle focus the subject, despite its tendency to feel overly serious.
During the selection process, I felt that all of the entries were in line with this year's keyword, 'distance.' I believe the idea that 'how the distance between people and objects is captured is not limited to expression via photography' was a major theme as well. Until now, technological advancement in photography has mainly been about 'how faraway things can be made to appear close.' To instead consider 'how things close up can appear far away' as a central idea provides this work with significant influence that will impact photography from now on.
It is undeniable that people in any age are forced to confront the unknown. But I hope that those who express this idea are able to boldly continue exploring it, undaunted by setbacks, and explore new possibilities of photography."
The New Cosmos of Photography 2020 Tokyo Exhibition details
Time
Oct. 17 (Sat.) – Nov. 15 (Sun.)
10:00 – 18:00
* Closed on Mondays.
Venue
Tokyo Photographic Art Museum (Exhibition Room on B1F)
1-13-3 Mita, Meguro-ku, Tokyo (inside Ebisu Garden Place)
Exhibiting Artists
Excellence Award winners: 7 artists
Honorable Mention winners: 14 artists
Concurrent exhibition
Grand Prize winners of the New Cosmos of Photography 2019, Tomomichi Nakamura, exhibition of new work: "Ants"
Sponsor
Canon Inc.
Co-sponsors
Tokyo Metropolitan Foundation for History and Culture,
Tokyo Photographic Art Museum
Admission
Free
Related Links