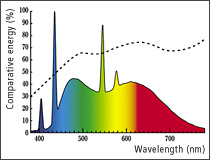 Comparison between spectral distributions of D50 type (solid line) and solar light (5,000K) (dotted line).
There are a few spikes, but the spectral distribution is nicely averaged.

It is often assumed that monitor calibration involves little more than monitor adjustment, but, in fact, preparing the lighting environment is more important.
Everyone's sight adapts to colors in accordance with the lighting environment, so even though the monitor is adjusted, if it is not appropriate to the lighting environment, the colors observed on the monitor may be misconstrued. Printed data cannot be observed correctly either if lighting equipment with a biased spectral distribution is used. Fluorescent color-evaluation lamps are manufactured specifically in order to conduct such color reproduction assessment of printouts in conditions closely replicating daylight. (see chart to left)
A D50 color source is recommended for color evaluation, but this can be substituted with a three-band fluorescent lamp depending on the monitor calibration method.