TOKYO, November 7, 2022—Last year, Canon Inc. acquired Redlen Technologies Inc. (Redlen), one of the world's leading companies in creating new technologies related to the development and manufacture of semiconductor detector modules1. Canon Medical Systems Corporation (Canon Medical), a group company of Canon Inc., has developed the first domestically produced2 photon-counting CT (PCCT)3 system incorporating Redlen's advanced technologies. This system has been installed at the National Cancer Center (NCC) Exploratory Oncology Research & Clinical Trial Center in Japan, where it is currently used to conduct research exploring the clinical applications of PCCT.
An advanced modular photon-counting detector based on the latest crystal production/processing technologies developed by Redlen Technologies Inc. is incorporated in the PCCT system. The modular design of the photon-counting detector allows the size of the detector to be increased while reducing manufacturing and service costs. The modular detector supports a wide range of examinations and is expected to satisfy the most demanding requirements of advanced clinical practice.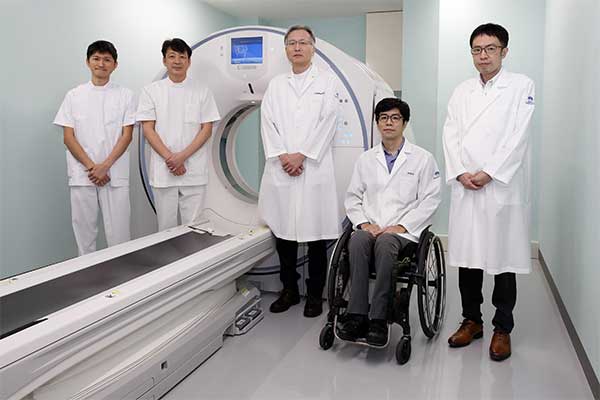 Researchers at NCC Hospital East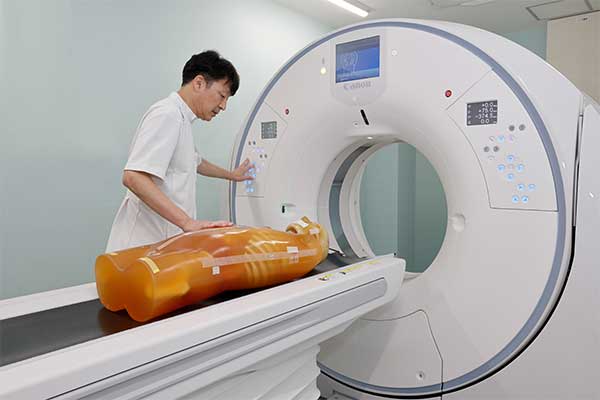 Operating the system
Based on a framework agreement4 signed in July 2020 and a basic collaborative research agreement signed in November 2020, NCC Exploratory Oncology Research & Clinical Trial Center, NCC Hospital East and Canon Medical have already started joint research5 to promote the clinical application of PCCT. The results of this joint research to improve the fundamental performance of PCCT have been reported at the Annual Meeting of the Radiological Society of North America (RSNA 2021), the 2022 Annual Meeting of the Japanese Radiological Society, and the Annual Meeting of the European Society of Radiology (European Congress of Radiology, ECR 2022). In the future, Canon will explore the new value offered by PCCT in a wide range of clinical fields, with the aim of promoting its rapid practical application.
Unlike conventional CT, in which X-rays are detected indirectly by a scintillator-type detector, PCCT detects X-rays directly using a photon-counting detector, resulting in substantially improved basic performance. The advantages of PCCT include reduced exposure dose compared to conventional CT, improved detectability of lesions thanks to higher resolution imaging, precise discrimination and identification of various materials in the body, and tissue characterization and malignancy assessment based on quantitative image analysis. These advances are expected to provide improved diagnostic accuracy throughout all phases of clinical care, from prevention to diagnosis, to evaluation of treatment effects, as well as long-term prognosis.
Dr. Tatsushi Kobayashi (Chief, Department of Diagnostic Radiology at NCC Hospital East) states that Canon's CT systems have already achieved high resolution and include an advanced function for differentiating and quantifying materials in the body. This is expected to improve the diagnosis of tumors by accurately identifying benign and malignant lesions and will also provide clearer images for the evaluation of treatment effects. In addition, because patients with cancer may need to undergo multiple follow-up examinations, the dose reduction made possible by PCCT minimizes medical X-ray exposure, allowing examinations to be performed with greater peace of mind.
Mr. Toshio Takiguchi (Senior Corporate Executive of Canon Inc. and President and CEO of Canon Medical) asserts that Canon Medical seeks to rapidly achieve the No. 1 share in the global CT market by introducing next-generation PCCT systems incorporating Redlen's advanced fabrication technologies as well as Canon Medical's unique imaging technologies such as AI-based image reconstruction and analysis. In addition, by making Redlen's photon-counting detectors available to other medical equipment manufacturers around the world, Canon Inc. will help to promote the global development of diagnostic imaging technologies.
By strengthening its medical equipment business as one of the Canon Group's new businesses, Canon Inc. aims to promote future growth and continue contributing to healthcare around the world.
2

Based on Canon research as of November 6, 2022

3

Pending approval under the Pharmaceutical and Medical Device Act of Japan
Related Links