Flat Panel Display (FPD) Lithography Equipment

MPAsp-E813

FPD Lithography Equipment for Generation 6 Plates, Size 1,500 mm x 1,850 mm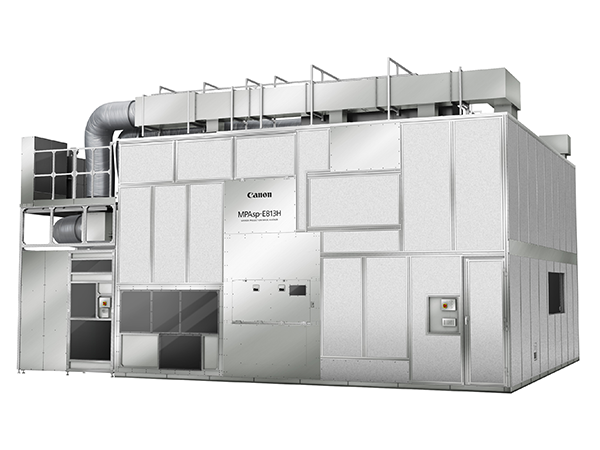 Basic Information
Model Name: MPAsp-E813
Features
High-definition panel production on Generation 6 glass plates
Smartphones, smartwatches and AR/VR displays increasingly demand higher definition displays.
MPAsp-E813 FPD Lithography Systems have helped manufacturers realize the production of high-definition plates with Generation 6 glass plates (1500 mm x 1850 mm) and have become indispensable for Liquid Crystal Display (LCD) and Organic Light Emitting Display (OLED) panel production.
MPAsp-E813H FPD systems achieve the panel process resolution of 1.5 µm for Line & Space patterns (L/S) and 2.0 µm for Contact Holes (CH) by adopting a new mirror optical system design and illumination system.
As a result, it is possible to produce high-definition panels that exceed 800ppi (pixel per inch).
Overlay accuracy improvement
MPAsp Series FPD equipment enjoy improved overlay accuracy due to a new magnification correction mechanism and temperature control system. When compared to previous FPD Lithography Equipment MPAsp series FPD systems provide higher overlay accuracy, at a higher speed thanks to the new alignment system.
High productivity & high utilization rate
MPAsp Series FPD systems feature wide-field exposure and are capable of producing high-definition display panels efficiently using a one-shot exposure method without stitching.
Further cycle time reduction options are also available to improve productivity and Canon is constantly striving to deliver additional improvements.
MPAsp Series FPD systems also boast a high stability and utilization rates thanks in part to stage precision improvements and increases in body rigidity.
Designed for ultra-thin glass plates
Mobile products such as smartphones are required to be lightweight and thin and subsequently, glass plates required for displays must also be thinner. MPAsp-E813 Series FPD systems feature improved glass plate handling technology that makes exposure of a glass plates with a thickness of 0.3 mm a reality.
Specifications
MPAsp-E813H
Resolution

1.5 µm (L/S)
Overlay Accuracy

± 0.3 µm
Projection Optical System

Reflection Projection Optical System (no magnification)
Reduction Ratio

1:1
Plate Size

1,500 mm x 1,850 mm
Main Body Dimensions

(W) 8,000 x (D) 9,900 x (H) 5,700 mm
*Tact Time

**46 sec
MPAsp-E813T
Resolution

2.0 µm (L/S)
Overlay Accuracy

± 0.35 µm
Projection Optical System

Reflection Projection Optical System (no magnification)
Reduction Ratio

1:1
Plate Size

1,500 mm x 1,850 mm
Main Body Dimensions

(W) 8,000 x (D) 9,900 x (H) 5,700 mm
*Tact Time

**46 sec
MPAsp-E813P
Resolution

3.0 µm (L/S)
Overlay Accuracy

± 0.5 µm
Projection Optical System

Reflection Projection Optical System (no magnification)
Reduction Ratio

1:1
Plate Size

1,500 mm x 1,850 mm
Main Body Dimensions

(W) 8,000 x (D) 9,900 x (H) 5,700 mm
*Tact Time

***53 sec
*

2 x 2 shots, 30 mJ/cm2

**

Hybrid mode, Option required

***

FDC mode