TOKYO, January 24, 2022—Canon Inc. announced today that the company has been honored with a 2021 Excellent Performance Award, presented by leading global semiconductor foundry Taiwan Semiconductor Manufacturing Co., Ltd (TSMC) to suppliers and partner businesses who made significant contributions to the company's success.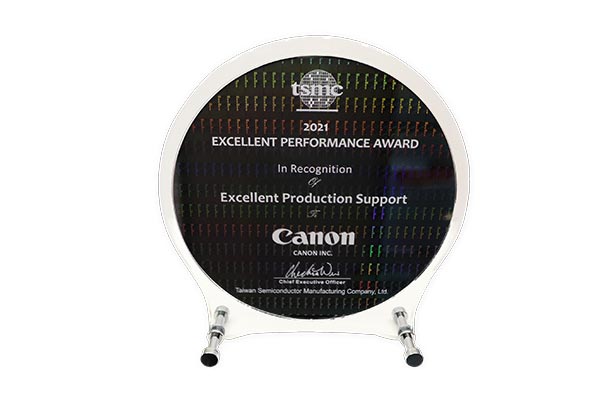 The Excellent Production Support award
Canon was presented with the Excellent Production Support award, a category within the 2021 Excellent Performance Award, for its contribution as a leading supplier to TSMC. The award was given to Canon in recognition of its valuable contributions to TSMC's semiconductor manufacturing business, which include the provision of semiconductor lithography systems that realize both high precision and productivity, as well as fast and flexible support.
Encouraged by this award, Canon will continue to improve its semiconductor lithography system technology and support with the aim of contributing to a prosperous society.
Reference
Canon Technology Site - Semiconductor Lithography Equipment
Canon's semiconductor lithography system 50th anniversary special homepage
Related Links