TOKYO, September 2, 2009—Canon Inc. today announced the achievement of a medical equipment manufacturing milestone as cumulative production of the company's CXDI digital radiography systems surpassed the 10,000-unit mark. The accomplishment was reached over a period of ten years and nine months, beginning with the launch of the CXDI-11 in December 1998.
Canon began research and development on X-ray imaging sensors in 1993, leading to the introduction in December 1998 of the world's first digital radiography system, the CXDI-11, equipped with Canon's proprietary LANMIT (Large Area New MIS Sensor and TFT) flat-panel detector. In addition to making possible the confirmation of an on-screen preview image in approximately three seconds following exposure, the CXDI-11 also enabled the transmission of examination orders and the sharing of image data over intra-hospital networks. The system created a stir in the industry with its range of groundbreaking features not found in conventional radiography systems.
Canon went on to build a comprehensive DR system product lineup with the introduction of such models as the Bucky-type CXDI-22, launched in September 2000; the CXDI-31, the world's first portable DR system, released in September 2001; the portable CXDI-50G launched in December 2003, featuring a large imaging area; and the CXDI-40C, also launched in December 2003, equipped with a Cesium Iodide (CsI) scintillator that delivers high sensitivity while reducing X-ray exposure for the patient.
Canon's CXDI series of DR systems have been lauded by members of the medical community and research institutions for their rapid-display capability, high image quality, and high reliability. Accordingly, the systems have been installed at countless medical and healthcare facilities worldwide. In 2005, the company's large-area sensor for real-time digital X-ray imaging was awarded Japan's prestigious Imperial Invention Prize, the highest honor of the National Commendation for Invention.
Additionally, the CXDI-50G and other Canon compact, lightweight DR systems, which offer outstanding portability, have proven invaluable in such areas as home healthcare and disaster relief missions. The CXDI-50G was used after the earthquake that struck central China's Sichuan Province in 2008 in the examination of a survivor rescued after 139 hours buried under rubble. These compact systems have also contributed to an expanded range of applications for digital radiography in fields outside of conventional medicine, including the examination of animals, such as the checking of leg injuries on racing horses, and the inspection of artifacts and other remains at archaeological excavation sites.
Canon is now working on the development of a new portable flat-panel DR system capable of both viewing dynamic and capturing static X-ray images with plans to enter the medical fluoroscopic device market.
Taking advantage of its proprietary sensor and imaging technologies, Canon aims to realize further market expansion by maximizing the performance of DR systems that combine dynamic-image viewing and static-image capture, while also enhancing the company's overall DR system lineup. Additionally, through the promotion of filmless X-ray procedures at healthcare facilities and provision of strong support for monitor diagnosis, the company intends to contribute to improved diagnostic accuracy and more efficient examination procedures.
The Road to 10,000 DR Systems
Year
Activity/Achievement
1993

Research and development efforts for X-ray imaging sensors begins

1998

The CXDI-11, the world's first digital radiography system, is introduced
First Canon DR system is installed at a hospital in Dortmund, Germany

1999

CXDI-11 is recognized in Japan with a Good Design Award in the Social Use Product category

2000

The CXDI-22 DR Bucky sensor unit system is introduced

2001

The CXDI-31, the world's first compact, portable DR system, is introduced

2003

The portable CXDI-50G, with a large imaging area and lightweight design, is introduced
The highly sensitive general-system CXDI-40C is introduced

2005

The CXDI-50G is recognized in the United States with an IDEA (Industrial Design Excellence Awards) Silver Award in the Medical & Scientific Equipment category
Canon's large-area sensor for real-time digital X-ray imaging is awarded the Imperial Invention Prize in Japan, the highest honor of the National Commendation for Invention

2008

Canon supports relief efforts following the Sichuan earthquake in China with the donation of a CXDI-50G DR system to the Mianyang City Central Hospital in Sichuan Province
The compact, portable CXDI-60G is introduced
Canon announces plans to enter the medical fluoroscopic device market

2009

The portable, large-image-area CXDI-55G/55C DR systems, with a thickness of 15 mm and weighing 3.4 kg, is introduced
The compact, high-sensitivity CXDI-60C is introduced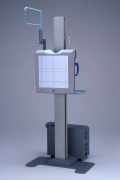 CXDI-11

CXDI-50G

Usage example (Portable-type large-area sensor)
Cumulative Production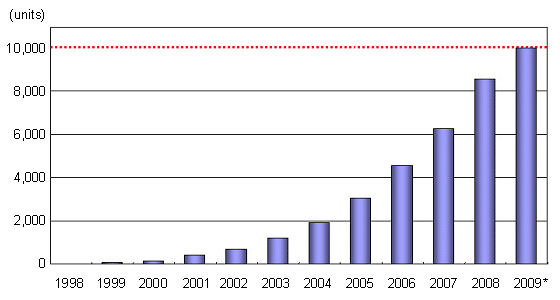 * 2009 figures as of end of August