TOKYO, August 26, 2010—Canon Inc. announced today that it is developing two new telephoto lenses for use with its EOS lineup of single-lens reflex cameras—the EF500mm f/4L IS II USM and EF600mm f/4L IS II USM—and will display prototypes at the photokina 2010 photography and imaging industry trade fair between September 21 and 26 in Cologne, Germany.
The EF500mm f/4L IS II USM and EF600mm f/4L IS II USM are being developed as L (Luxury)-series lenses equipped with a high-performance image stabilization system. Employing fluorite and other special optical materials to correct for a variety of aberrations, the lenses aim to realize high-resolution, high-contrast imaging performance in a lighter-weight body design.
The EF500mm f/4L IS II USM and EF600mm f/4L IS II USM are under development as successors to the EF500mm f/4L IS USM (introduced in July 1999) and EF600mm f/4L IS USM (introduced in September 1999), respectively, models which earned strong praise from professionals in the field. The new lenses target improved dust-proof and moisture-proof performance in the face of harsh shooting conditions to satisfy the demands of sports, news and nature photographers, as well as high-contrast, high-resolution imaging from the maximum aperture setting.
Canon will continue to actively and flexibly respond to the diverse needs of professional and advanced-amateur users, expanding and improving the performance of its EF lens lineup to contribute to expanding the realm of photographic possibilities for SLR cameras.
Note: Details regarding release dates and specifications for the abovementioned products have yet to be decided.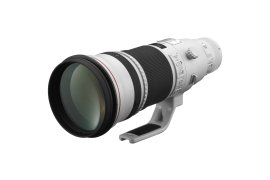 EF500mm f/4L IS II USM
(prototype)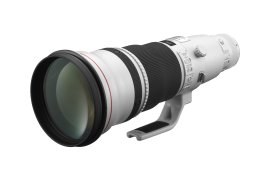 EF600mm f/4L IS II USM
(prototype)