TOKYO, February 22, 2010—From April 14-19, 2010, Canon Inc. will participate in the Milano Salone, one of the world's largest design festivals, held annually in Milan, Italy.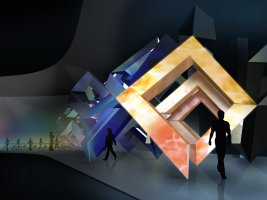 Marking its 49th year, the Milano Salone has been held every April since 1961 as a forum for leading-edge designers and companies to promote the appeal of their latest brands and designs to creators and media from around the globe. Last year's festival attracted some 278,000 visitors with over 1,300* companies and organizations from Italy and abroad taking part.
Marking Canon's third year exhibiting at the Milano Salone, this year continues the NEOREAL theme promoted since 2008, "a new world of sensibilities," which creates a never-before-seen world of innovative video expression.
Canon's 2010 Exhibition Overview and Features
Conceived by two cutting-edge creators, the Kagayaki exhibition space combines architect Akihisa Hirata's spiraling polyhedral screen structure with artist Kyota Takahashi's vibrant projected video images bursting with color. The structure, which resembles a living organism with a three-dimensional twisting and curling design, measures approximately 6 meters in height, 8 meters in width and has a depth of 40 meters.
From input to output, the exhibit is made possible by utilizing Canon's digital imaging technology. The video was created using Canon's EOS 7D digital SLR camera, which features Full HD video recording capabilities, while the image projection will employ projectors such as the WUX10, which delivers a WUXGA (1,920 x 1,200 pixels) display area, a resolution surpassing full HD, and the SX80 MarkII, which realizes SXGA+ (1,400 x 1,050 pixel) resolution. In the exhibit, approximately 20 projectors will be arranged multilaterally to display high-definition, high-resolution images that transform and shift in succession at various angles, to create a kaleidoscope-like effect.
*

Participating companies and organizations: Italy-based: 1,080; from abroad: 290
Exhibition Overview
Theme:

NEOREAL: A source of visual inspiration — Canon digital imaging

Period:

April 14 (Wednesday)—19 (Monday), 2010
10:30—22:00 daily


Press Review:

April 13 (Tuesday), 11:00—15:00

Opening Reception:

April 14 (Wednesday), 19:00—23:00

Venue:

Curva A, A1, La Triennale di Milano
(Viale Alamagna 6, Milano)

Entrance Fee:

Free

Exhibition Space:

650 m 2

Participating Creators:

Kyota Takahashi (Artist)
Akihisa Hirata (Architect)

Exhibition Design:

Akihisa Hirata (Architect)

Exhibition Title:

Kagayaki
Creator Profiles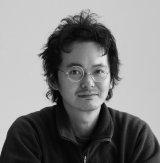 Kyota Takahashi (Artist)
Kyota Takahashi was born in Kyoto in 1970 and graduated with a master's degree in Sculpture from the Graduate School of Arts at Kyoto City University of Arts in 1995. Takahashi's work has been recognized with numerous awards, including the Kyoto Mayor's Prize from Graduation Works Exhibition in 1993; top prize from the Kirin Art Award '95, awarded by Toshio Shimizu with an Art Scholarship in 2001; and special prize for the Promotion of Art and Culture Award, Kyoto City in 2002. Furthermore, in 2005, Takahashi went on to win the top prize from the Kyoto Prefecture Art and Craft Selection Exhibition, the Most Promising Young Artists Prize in the Fine Arts Division of the Gotoh Commemorative Culture Award, and the Good Design Award 2005 (Environmental Design Section). In 2008, he won the encouragement prize from the Kyoto Cultural Award, Kyoto City. With video and lighting, Takahashi has achieved wide success in his lighting and art projects, live performance, installation, and public works. Furthermore, the artist has created large-scale architectural structures featuring lighting projections with dynamic video and light modeling at locations including Kyoto's Nijo Castle and the Towada City Museum of Contemporary Art.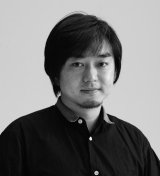 Akihisa Hirata (Architect)
Akihisa Hirata was born in Osaka in 1971 and graduated from the Faculty of Engineering at Kyoto University in 1997. After working for the architectural design firm Toyo Ito & Associates, he established akihisa hirata architecture office in 2005. His work has been recognized with multiple awards, including third place in the 2003 International Design Competition for Environment Art Forum in Annaka, the Asakura Award in the 2004 Space Design Review, honorable mention in the 2006 Space Design Review, the 2007 Japan Illustrators' Association Newcomer's Award, and ELLE DECO's "Young Japanese Design Talent 2009" award. In his work, Hirata deciphers the seemingly disordered principles that lurk in the natural world and constructs visual spaces out of these basic tenets. His architecture brings together opposing elements-the inside and out, natural and synthetic, conscious and unconscious, structure and design-for a style with a keen sense of balance. Hirata was in charge of exhibition design for NEOREAL in 2009.