TOKYO, September 17, 2010—On September 14, 2010, five astronauts who took part in a long-duration space flight on the International Space Station, including Soichi Noguchi of the Japan Aerospace Exploration Agency (JAXA) and astronauts from the National Aeronautics and Space Administration (NASA) and Russian Federal Space Agency (FSA), paid a visit to Canon Inc.'s Shimomaruko headquarters in Tokyo, Japan.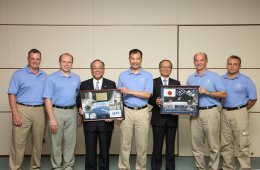 The astronauts at Canon's Tokyo headquarters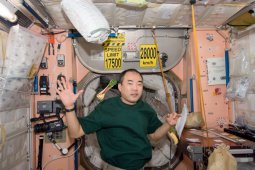 The video camcorder in use on the ISS
Image courtesy of JAXA / NASA
Recording International Space Station activities in HD video
As a flight engineer on International Space Station (ISS) Expeditions 22 and 23, Mr. Noguchi spent 161 days, from December 2009 to June 2010, on the ISS handling assembly, operations and management procedures, and also conducted scientific experiments in the "Kibo" Japanese Experiment Module. In addition, Mr. Noguchi engaged in the first joint operations between Japanese astronauts when astronaut Naoko Yamazaki traveled to the ISS by space shuttle.
Inside the ISS, Canon XH G1 professional camcorders with the same performance specifications as commercially available models were used to record HD (High Definition) video of various experiments and life aboard the space station, which was then transmitted to Earth. The system made possible the viewing of various activities aboard the ISS on Earth in high-image-quality HD video. Additionally, late on the night of Wednesday, February 24 JST, HD video was transmitted to the Kibo Control Room in Tsukuba, Japan, marking the first successful transmission of HD video via the Kibo's Inter-orbit Communication System (ICS).
Visit to Canon Inc. headquarters
The visit to Canon enabled the five astronauts to report on the performance of the XH G1 during the expeditions and engage in dialogue regarding their impressions and assessments of using the equipment in space. Mr. Noguchi and the other astronauts exchanged their opinions with Canon engineers about the image quality and reliability of the product used, and also shared their thoughts about the first successful transmission to Earth of HD video from the space station via the ICS. Through the company's high-image-quality products, Canon representatives expressed their wish to continue contributing to manned space development.
Visiting crew members from Expeditions 22 and 23
Jeffrey N. Williams

(NASA astronaut; Commander, Expedition 22)

Maxim Suraev

(Russian cosmonaut; Flight engineer, Expeditions 21 and 22)

Oleg Kotov

(Russian cosmonaut; Commander, Expedition 23)

Timothy J. (T.J.) Creamer

(NASA astronaut; Flight engineer, Expeditions 22 and 23)

Soichi Noguchi

(JAXA astronaut; Flight engineer, Expeditions 22 and 23)
Video from the International Space Station
Video of Mr. Noguchi's activities aboard the ISS shot with a Canon XH G1 HD video camcorder are available for viewing on the JAXA website.
JAXA Video Library (page available in Japanese only)
http://iss.jaxa.jp/iss/jaxa_exp/noguchi/library/video/index.html#21s_docking
Sample images from the JAXA Video Library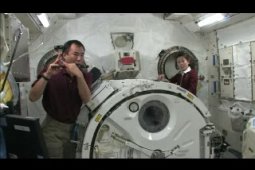 Astronauts Soichi Noguchi and Naoko Yamazaki
perform the traditional Japanese folk song
"Sakura Sakura" *1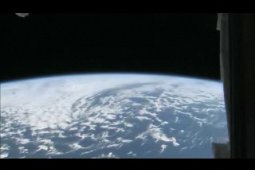 The Earth as viewed from the ISS's Cupola
observation module *1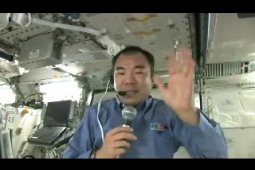 Mr. Noguchi takes part in a video transmission via
the Inter-orbit Communication System *2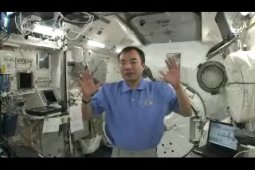 Mr. Noguchi gives a tour of the ISS *1
*1

Images courtesy of JAXA / NASA

*2

Image courtesy of JAXA
Sample images from the JAXA Video Library
Dec. 2009-June 2010

Canon XH G1 HD video camcorders are used on the International Space Station

Oct. 2007

A Canon XH G1 HD video camcorder travels aboard the Discovery space shuttle for use in testing on the space station by JAXA and NASA involving the capture of digital high-definition television (HDTV) images