TOKYO, February 7, 2011—Canon Inc. and Canon Marketing Japan Inc. announced today the achievement of a new EF lens-manufacturing milestone with the production of the company's 60-millionth lens in January 2011: an EF70-300mm f/4-5.6L IS USM.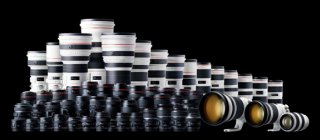 Canon EF lens lineup

60 Million EF Lenses
Commemorative logo
Production of interchangeable EF lenses for Canon EOS-series AF (autofocus) single-lens reflex film cameras began in 1987 at the company's Utsunomiya Plant, and has since expanded to a total of four production centers including Canon Inc., Taiwan; Canon Opto (Malaysia) Sdn. Bhd.; and Oita Canon Inc. in Japan. EF lenses reached the 10-million-unit milestone after approximately eight and a half years in production, followed by the 40-million-mark in April 2008 and, owing to the rapid spread of the EOS Digital series, production then increased 10 million units to reach the 50-million mark in December 2009. Canon celebrated 60-million lenses produced in January 2011—an increase of 10 million units after only a short one year and one month period.
First introduced in March 1987, along with Canon's EOS SLR camera system, the EF lens has over the years led the industry through the incorporation of a number of innovative technologies, including such world's firsts*1 as the Ultrasonic Motor-powered lens (USM), Image Stabilizer (IS) that compensates for the effects of camera shake, Subwavelength Structure Coating (SWC) anti-reflection technology, and a multi-layered diffractive optical element. Last year, Canon announced the introduction of the world's first*1 true fisheye zoom lens with angle-of-view coverage from 180-degree circular fisheye to 180-degree diagonal fisheye: the EF8-15mm f/4L Fisheye USM. The model is slated for release in March 2011.
Canon's current EF lens lineup, comprising 65 models, *2 ranges from super-wide-angle lenses to super-telephoto zoom lenses. The company's diverse lens selection offers several features, including a number of zoom options ranging from standard to super-telephoto, Image Stabilizer-equipped lenses, large-diameter lenses, macro-lenses and TS-E lenses incorporating a special tilt-shift mechanism allowing manipulation of image perspective and distortion.
Canon will continue to refine its optical technologies, striving to produce exceptional lenses that cater to the varying needs of photographers—from first-time users to advanced amateurs and professionals—while contributing to expanding the photographic possibilities for SLR cameras.
*1

Among interchangeable lenses for SLR cameras

*2

Including two EF lens extenders and models available outside of Japan
Related Links