TOKYO, April 5, 2012—Canon Inc. announced today that the company has commenced sales worldwide of the new FPA-6300ES6a scanner, a lithography tool employing a KrF excimer laser*1 light source for the high-volume production of memory, logic and image-processing devices.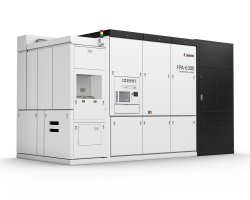 FPA-6300ES6a
Amid ever-growing demand for computers, smartphones and other advanced electronic devices, demand for the semiconductors used in these products has also been on the rise, creating increased need for tools capable of delivering high productivity, precision, reliability and capacity utilization. In response to these industry needs, Canon launched the new FPA-6300ES6a, designed for the mass production of DRAM, flash and other memory devices; logic devices such as microprocessors for PCs; and color filters and other imaging sensors and image-processing devices.
Based on technologies cultivated through the field-proven FPA-6000 series, Canon's new FPA-6300ES6a achieves high throughput and the industry's highest level of overlay accuracy to effectively respond to the advanced needs of chip manufacturers seeking reduced Cost of Ownership.
The new Canon scanner incorporates a newly designed reticle stage and wafer stage that achieve accelerated exposure processes for significantly reduced exposure times. By optimizing the wafer alignment sequence and reducing the time of wafer handling and other processes, the FPA-6300ES6a realizes a high throughput rate of more than 200 wafers per hour,*2 an approximately 1.6-time improvement over its predecessor.*3
The FPA-6300ES6a employs highly sophisticated stage-control technologies, an improved alignment scope and precise temperature control to make possible an overlay accuracy of 5 nm,*4 the highest level within the industry. Additionally, it offers an advanced NA 0.86 projection optical system and a wide range of options to support demanding and robust device production.
*1

A laser with an exposure wavelength of 248 nm that employs a mixture of the noble gas krypton and the halogen gas fluorine. One nanometer is 1/1000000000 (one one-billionth) of a meter

*2

12-inch (300 mm) wafers, 98 shots with High Throughput Option applied

*3

FPA-6000ES6a, released in 2005

*4

With Overlay Upgrade option applied. As of March 30, 2012, among KrF scanners (based on Canon research)