TOKYO, April 13, 2012—Canon Inc. announced today the company is developing a new digital cinema camera capable of recording 4K-resolution video in response to growing expectations for higher levels of imaging performance. Targeting Hollywood and the broader motion picture and television production industry, the interchangeable-lens EOS C500/EOS C500 PL will support 4K (4,096 x 2,160 pixels) video capture with RAW output to ensure the utmost in image quality.
In January this year Canon released the EOS C300 digital cinema camera, part of the company's Cinema EOS System, which was introduced in November 2011, marking Canon's full-fledged entry into the motion-picture production market. Highly acclaimed by professionals in the industry, the camera realizes not only exceptional video quality performance, but also outstanding mobility, durability and expandability.
Professionals in the high-resolution production market have growing expectations for filmmaking tools offering even higher levels of video image quality. In response, Canon is moving forward with the development of a new interchangeable-lens digital cinema camera, available in two models: the EOS C500, which supports Canon's diverse lineup of interchangeable EF lenses and EF Cinema Lenses; and the EOS C500 PL, with a PL lens mount for compatibility with industry-standard PL lenses. Supporting 4K-resolution video capture and RAW data output, the EOS C500/EOS C500 PL will achieve exceptional video results without loss in quality. In addition, the digital cinema camera will newly employ a 12-bit RGB 4:4:4 signal during 2K (2,048 x 1,080 pixels) video output, delivering rich color expression and high compatibility with such image processes as chroma key compositing. While further details regarding the EOS C500/EOS C500 PL, including specifications and pricing, have yet to be decided, plans call for the digital cinema camera to be launched during 2012.
Canon will be displaying a prototype of the EOS C500/EOS C500 PL digital cinema camera at NAB Show 2012, one of the world's largest events for the video, broadcasting equipment and digital media industries, from April 16 to 19 in Las Vegas, U.S.A.
In addition to targeting a swift launch of the EOS C500/EOS C500 PL, Canon will continue to enhance its Cinema EOS System product lineup, contributing to further expanding the possibilities in visual expression and the development of cinematic culture.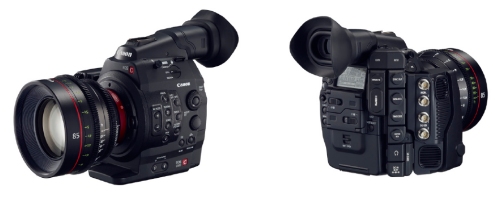 EOS C500/EOS C500 PL