TOKYO, June 26, 2012—Canon Inc. announced today that the company has commenced sales of the new FPA-3030i5+ i-line stepper, designed to provide a long-term manufacturing solution for manufacturers of energy-efficient "green devices" and MEMS (MicroElectroMechanical Systems) devices.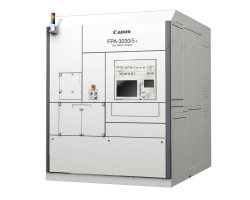 Canon FPA-3030i5+
As awareness of clean energy and energy conservation increases, so too has demand for new "green technology," including wind and solar power, fuel-efficient vehicles, low-power facilities and green devices. Trends indicate a drive toward environmental impact reduction for products and operations.
Green device manufacturers have unique process requirements and several new upgrades have been incorporated into the FPA-3030i5+ semiconductor stepper design. The FPA-3030i5+ is designed specifically to provide a flexible solution for a variety of users, including power-semiconductor, LED (Light-Emitting Diodes) and MEMS manufacturers.
Canon FPA-3030i5+ realizes highest levels of imaging-resolution, overlay-accuracy and productivity performance in its class
Based on technologies cultivated through the field-proven FPA-3000 series, the FPA-30303i5+ is capable of providing imaging resolution below 350 nm*1 while maintaining overlay accuracy of less than 40 nm*1 and throughput in excess of 104 wafers per hour,*2 delivering the highest levels of performance among i-line lithography tools of the same class.*3 Canon developed the FPA-3030i5+ system to reliably meet and exceed the imaging, overlay and productivity requirements of green device and MEMS manufacturers.
The FPA-3030i5+ features a renewed software structure and electrical control system that allow the application of advanced hardware and software options to support next-generation semiconductor manufacturing.
Canon FPA-3030i5+ supports special substrate materials required for green device and MEMS manufacturing
The FPA-3030 platform allows processing of silicon (Si), sapphire (Al2O3), silicon carbide (SiC) and a wide variety of wafer materials used in green device manufacturing. FPA-3030i5+ options include warped-wafer handling systems to allow processing of distorted substrates. The FPA-3030i5+ stepper can also be configured to process multiple wafer sizes, and can be equipped with a variety of options to improve productivity and efficiency.
*1

1 nm (nanometer) = 1 billionth of a meter

*2

200 mm wafers, 60 shots per wafer

*3

As of June 15, 2012, among same-class i-line lithography tools (based on Canon market research)