TOKYO, April 4, 2013—In November 2011, Canon announced its full-fledged entry into the cinema and television production industry with the launch of its Cinema EOS System of digital cinematography lenses and cameras, positioning the lenses at the core of the system. To date, Canon has launched 11 EF Cinema Lenses. Earning kudos from industry professionals working in the fields of motion-picture, commercial and television production, the lenses boast outstanding optical performance to make possible a wide range of visual expression possibilities while delivering exceptional handling ease.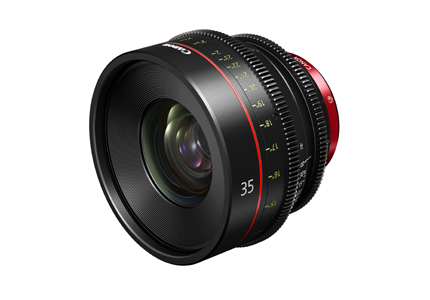 New 35 mm fixed-focal-length EF Cinema Lens (mock-up)
In response to strong market demand, Canon is developing a 35 mm single-focal-length EF Cinema Lens. The lens is designed to fulfill contemporary 4K (4,096 x 2,160 pixels) production standards, which offer a level of resolution exceeding four times the resolution of Full HD, and will be compatible with not only industry-standard-size Super 35 mm-equivalent sensors, but also 35 mm full-frame, APS-H-size and APS-C-size sensors. While details regarding specifications and pricing have yet to be determined, Canon aims to release the new lens at the end of 2013. By providing filmmakers and videographers with a wider selection of lenses from which to choose, Canon supports increased shooting flexibility to facilitate new and fresh imaging perspectives.
Canon plans to exhibit a mock-up of the lens from April 8 to 11 at NAB Show 2013, one of the world's largest events for the broadcasting equipment, video and digital media industries, in Las Vegas, U.S.A.
Canon will continue to enhance its Cinema EOS System product lineup to support diverse imaging creation in the motion-picture and other digital high-resolution production industries, contributing to further expanding the possibilities of visual expression and the development of cinematic culture.