TOKYO, June 12, 2013—Canon Inc. today announced that the company is developing a new handheld display for its MREAL System for Mixed Reality (MR), which will follow the HM-A1 head-mounted display launched in July 2012 to augment the company's product lineup. Enhancing the ease with which the MREAL System can be used, the handheld display currently under development will prove particularly advantageous in such settings as showrooms and exhibitions, as well as during meeting presentations.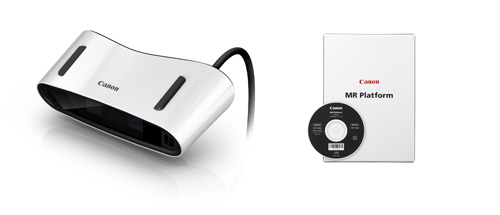 The handheld display (mockup, left)
and software under development
Canon's MREAL (pronounced em ree-AL) System, launched in Japan in July 2012, is a next-generation design/production solution tool that merges the real world with virtual, computer-generated images in real time to create a new "mixed" reality. The system, which has earned high marks from the manufacturing industry, makes possible product evaluations early in the design process through the use of digital data, facilitating reduced development times and lower costs by lowering the number of prototypes required.
Canon is also developing new software that realizes improved accuracy and convenience for the MREAL System when used in conjunction with a dedicated third-party position-alignment camera and carpet-type markers. By attaching the camera to the exterior of the display, providing a perspective that differs from that of the display's built-in cameras, the software delivers increased alignment precision between real-world visual information and digital data while offering greater camera-tracking-area coverage to enable an expanded range of use. Additionally, by using portable carpet-type markers, users can realize faster system setup and can also put a system in place in most any setting.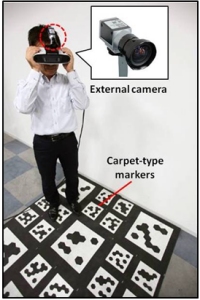 An MR system employing the software
now under development,
a third-party camera and carpet-type markers
While detailed specifications and pricing of the handheld display and software currently under development have yet to be decided, Canon aims to commercialize the products at the end of 2013.
Canon plans to display these products during the 21st 3D & Virtual Reality Expo (IVR), an exhibition featuring cutting-edge 3D technology and super-high-definition image technology, from June 19 to 21, 2013, at the Tokyo International Exhibition Center.
In addition to contributing to design and production processes within the manufacturing industry through the enhancement of its MR system, a new business area for the company, Canon will pursue new possibilities for its MR technology.