TOKYO, May 15, 2013—Canon Inc. and Canon Marketing Japan Inc. announced today that the company's EOS 6D digital SLR camera, launched in November 2012, has been honored in Japan with the coveted Camera Grand Prix 2013 "Editors Award." The accolade marks the second award to date for the EOS 6D, which was also named "Best DSLR Expert in 2013" by the Technical Image Press Association (TIPA).*1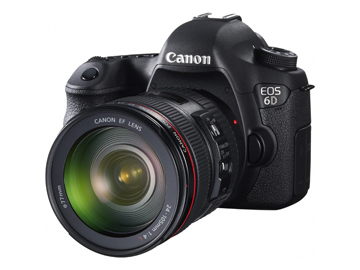 EOS 6D
The Camera Grand Prix, considered the most sought-after camera and lens product awards in Japan, is organized by the Camera Journal Press Club (CJPC),*2 comprising journalists from major photography and camera magazines in Japan. The "Editors Award," for which the Canon EOS 6D was selected, is one of the four award categories that make up the Camera Grand Prix. "Editors Award" winners are selected by CJPC members from among all the cameras (excluding the winner of the "Camera of the Year" award), photography-related products and equipment introduced in the Japanese market during the past year based on popular appeal, topicality and spirit of innovation.
The Canon EOS 6D was also selected for one of TIPA's world-renowned "Best Photo and Imaging Product" awards: "Best DSLR Expert 2013." The two awards are a testament to the industry's wide recognition of the 6D's high level of innovation, including the world's smallest and lightest*3 body among 35 mm full-frame sensor cameras, and for incorporating such cutting-edge features as Wi-Fi connectivity and GPS functionality.
Reason for selection*4
Winner of the 2013 "Editors Award," the Canon EOS 6D was launched in 2012, a year that the CJPC calls the "first year of the full-frame-sensor era." According to the CJPC jury, the EOS 6D opened the door for photography enthusiasts to 35 mm full-frame sensor cameras at an affordable price. In addition, the camera was commended for its lightweight, compact body, and for incorporating such cutting-edge technologies as built-in Wi-Fi connectivity.
*1

The Technical Image Press Association (TIPA), comprising 28 photography and imaging magazines from 15 countries across 5 continents, awards products based on an annual vote.

*2

Launched in September 1963; currently comprises 11 affiliated magazines (as of April 2013).

*3

As of May 1, 2013, based on a Canon survey.

*4

Based on an announcement by the Camera Journal Press Club executive committee.