TOKYO, Japan, November 21, 2013—Canon Inc. announced today that the company's EOS C300 professional cinema camera (launched in January 2012), part of the company's Cinema EOS System1 lineup of professional digital cinematography products, was recognized for design excellence by the Hong Kong Design Centre2 with the 2013 Design for Asia Silver Award.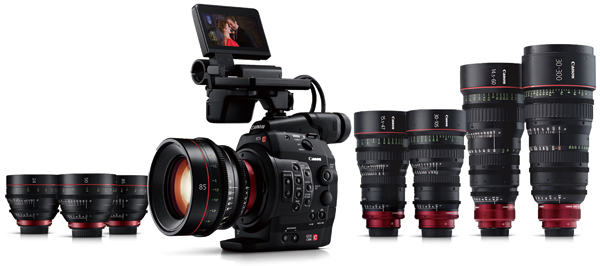 The Cinema EOS System EOS C300
(Shown alongside EF Cinema Lenses)
Launched in 2003, the Design for Asia (DFA) Awards celebrate design excellence, honoring and acknowledging outstanding designs that have the potential to increase the quality and vibrancy of life in Asia and create globally sustainable ideas. Winners of 2013 DFA Awards, including the DFA Grand, DFA Special and DFA Gold and Silver Awards, were selected from among the approximately 970 entries representing designs that were launched between January 1, 2011, and July 31, 2013, in one or more Asian markets.
The launch of the Cinema EOS System lineup of cinema cameras and lenses in January 2012 marked Canon's entry into the motion picture production industry. The EOS C300, winner of this year's DFA Silver Award, was the first Cinema EOS System camera introduced and combines exceptional imaging performance with outstanding mobility and expandability to meet the demanding production needs of the motion picture industry.
The Design for Asia accolade, Canon's first, was achieved following the company's first-ever submission to the DFA Awards. To date, in addition to being selected as a finalist for an International Design Excellence Award (U.S.A.), the EOS C300 has been recognized with a range of prestigious industry awards, including an iF design award (Germany), a Good Design Award (Japan), and a Machine Design Award (Japan).
Encouraged by this latest industry recognition, Canon will continue striving to create products that combine the highest levels of performance and design excellence.
The Cinema EOS System comprises digital cinema cameras, including the EOS C300, and EF Cinema Lenses that deliver high optical performance to support the recording of 4K video and realize the operability required by the film and television production industries.
A publicly funded, non-profit organization established in 2002 with the support of the design industry.