TOKYO, December 4, 2014—Canon Inc. announced today that the Company has joined the family of Rugby World Cup 2015 official sponsors. The deal marks the first time that Canon has partnered with Rugby's showcase event, underscoring the strength and appeal of the Rugby World Cup brand in the global sponsorship marketplace. The Company will serve as an Official Sponsor for the 2015 Tournament in England, which will take place from September 18 to October 31, 2015, at 13 venues in England and Cardiff, Wales.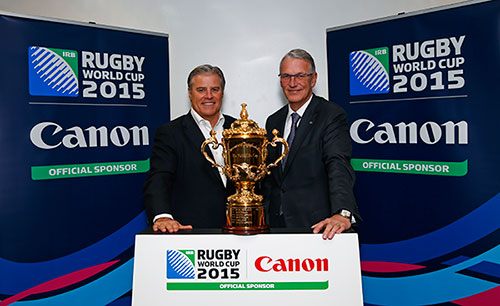 Sponsorship Signing Ceremony, December 1, 2014
(Left: Brett Gosper, CEO, World Rugby, Managing Director, Rugby World Cup Limited;
Right: Rokus van Iperen, President & CEO, Canon Europe, Middle East & Africa) © Eddie Keogh, Canon Explorer
Rugby World Cup, owned by World Rugby,1 is a rugby union Tournament contested every four years by the world's top national teams. Over the course of the competition, teams from 20 countries will vie for Rugby's top honor.
First held in 1987 in New Zealand, Rugby World Cup 2015 will be the eighth time that this action-packed Tournament has been played. The 2011 competition, hosted by New Zealand, recorded a match attendance of more than 1.5 million and was broadcast in 207 territories around the world.2 The 2019 tournament will take place in Japan, breaking new ground as the first Rugby World Cup to be held in Asia.
At numerous sporting competitions both in Japan and overseas, the Canon Group has provided behind-the-scenes support to members of the press covering these events, including technical support, advice and repair services as well as loans of the latest Canon EOS system camera and lens equipment. To help professional photographers get the perfect shot throughout Rugby World Cup 2015, expert Canon Professional Services (CPS) staff will be on site to share their imaging expertise. CPS technicians will provide accredited photographers with advice, essential maintenance services and equipment loans, and help with minor repairs.
The Canon Group will also provide print and copying solutions used by England Rugby 2015, the Tournament Organising Committee, supporting the event by facilitating the printout of handout materials and the streamlining of document workflows.
As a Rugby World Cup 2015 official sponsor, various Canon input and output products will be designated as official products of Rugby World Cup 2015, including cameras, lenses, video camcorders, copiers, multifunction devices, printers, scanners, facsimile machines and projectors.
The Canon Group will continue contributing to the advancement of sports through the use of Canon products and technologies.
The international governing body for the sport of rugby union. Name was changed from the International Rugby Board (IRB) to World Rugby in November 2014.
Source: World Rugby