TOKYO, November 25, 2014—Canon Inc. announced today that the Company's EF200-400mm f/4L IS USM Extender 1.4x, a super-telephoto zoom lens incorporating an internal extender, and the LEGRIA mini X (VIXIA mini X in the Americas and iVIS mini X in Japan) video camcorder were recognized for design excellence by the Hong Kong Design Centre* with 2014 Design for Asia (DFA) Bronze Awards.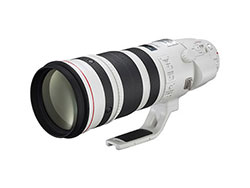 EF200-400mm f/4L IS USM Extender 1.4x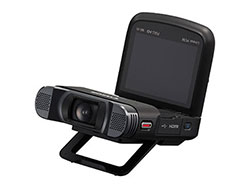 LEGRIA mini X (VIXIA mini X / iVIS mini X)
The Canon EF200-400mm f/4L IS USM Extender 1.4x is the world's first interchangeable super-telephoto zoom lens to employ an internal extender. With the simple flick of a switch, the internal extender enables the lens's focal length range to be increased, a capability that normally would require the attachment of an external extender. The EF200-400mm f/4L IS USM Extender 1.4x brings together various Canon optical technologies, making possible exceptional versatility through its built-in extender, which does away with the need to attach an external extender, thus eliminating the risk of dust or moisture entering the lens or camera during lens changes.
The Canon LEGRIA mini X video camcorder features a simple, compact body design that is small enough to fit in the palm of a hand. The camcorder employs a wide-angle lens delivering widespread coverage even when shooting at close range, and includes a built-in stand. Supporting a wide range of shooting styles, the LEGRIA mini X facilitates hands-free shooting and self-shooting—both video-shooting styles that have grown in popularity alongside the spread of Social Networking Sites and video-sharing sites.
As the Hong Kong Centre's flagship program, the DFA Awards were launched in 2003 to increase public and professional awareness of the value of design excellence, honoring and acknowledging outstanding designs that have the potential to increase the quality and vibrancy of life in Asia and create globally sustainable ideas. Designs are judged based not only on their level of excellence, but also on such aspects as their use of technology and impact on the lifestyles of citizens across Asia. This year saw approximately 1,000 entries representing designs developed by companies hailing from 24 countries and regions. Winners of 2014 DFA Awards, including the DFA Grand, DFA Special and DFA Gold, Silver and Bronze Awards, were selected from among the entries, which were introduced between January 1, 2012, and May 31, 2014, in one or more Asian markets.
* A publicly funded non-profit organization established in Hong Kong in 2002 with the support of the design industry.