TOKYO, November 26, 2014—Canon Inc. announced today that it will showcase a work-in-progress high resolution, medical grade, color display for mammography images during the 2014 Annual Meeting of the Radiological Society of North America (RSNA), November 30 to December 4, 2014, in Chicago, Illinois, U.S.A.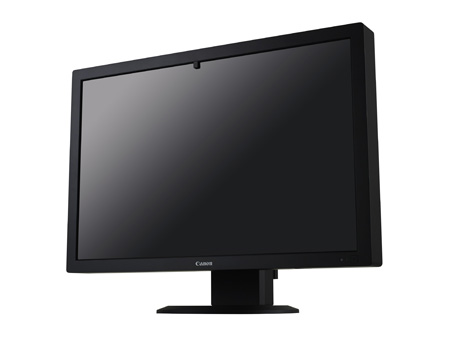 Canon's newly developed color display
for mammography (sample display)
When looking for breast cancer, medical practitioners require high quality, consistent diagnostic displays to see the subtlest details of the breast. Although 2D and tomosynthesis* mammograms are usually displayed with monochromatic monitors, other imaging modalities like ultrasound often use a color visual map to indicate the stiffness of body tissue, such as lumps, creating a need for devices capable of displaying both monochrome and color images on the same display.
Canon's newly developed 30-inch, 10-megapixel (4,096 x 2,560 pixel) color display for mammography delivers high-quality, high-resolution images, realizing high levels of monochrome imaging performance. Drawing on Canon's proprietary advanced imaging technologies, the Company developed the medical imaging display with the aim of contributing to the advancement of medical treatments. Although product details and pricing are yet to be determined, Canon is planning to enter the medical display market with the commercialization of the device in 2015.
Canon U.S.A., Inc. and Hologic, Inc., a market leader in 2D and 3D mammography, will feature works-in-progress of the newly developed display at their booths during this year's RSNA Annual Meeting, the world's premier radiology conference. Visit Canon (booth 1241, Hall A) and Hologic (booth 2539, Hall A) for more information on this work-in-progress product.
* Tomosynthesis is a medical imaging technique that uses X-rays to capture numerous tomographic images of the breast that, when viewed in succession, allow practitioners to view a 3D-like video of the breast.