TOKYO, April 7, 2015—Canon Inc. announced today that it has entered into a sponsorship agreement with the Scout Association of Japan to become a Platinum Sponsor1 of the 23rd World Scout Jamboree,2 which kicks off on July 28, 2015, in Yamaguchi Prefecture, Japan.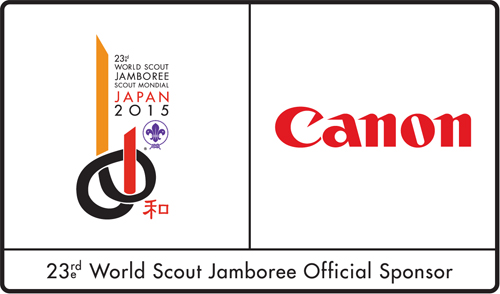 23rd World Scout Jamboree Sponsor composite logo
Canon will support the 23rd World Scout Jamboree through a contribution as a Platinum Sponsor, the event's highest sponsorship ranking, along with product loans and other assistance.
The Company will host a booth at the World Scout Jamboree's program venue, with plans to allow participants to pose for commemorative photos captured using Canon cameras, which will be output on the spot by Canon printers and given as souvenirs. The Company will also launch a photo gallery on the World Scout Jamboree's homepage to share photos captured from the camping grounds, from which participants can view, download and print their favorite photographs both during and after the conclusion of the event.
Furthermore, plans call for a number of Canon network cameras to be installed across the venue, enabling visitors to the World Scout Jamboree's homepage to watch live footage from the event. This service will allow the friends and family of participants to view the event in real-time, even if they live in distant locations.
Overview of 23rd World Scout Jamboree
Date:

July 28 (Tue)—August 8 (Sat), 2015

Venue:

Kirara-hama, Yamaguchi City, Yamaguchi Prefecture, Japan

Participants:

Approximately 30,000 Scouts and leaders from 162 countries and regions

Eligibility:

Scouts aged 14 to 17 and leaders; participating leaders aged 18 and above will act as support staff
For more information, please visit the 23rd World Scout Jamboree homepage
1

The sponsorship program comprises the following five categories (ranked from highest to lowest): Platinum, Diamond, Gold, Silver and Bronze.

2

A Scout event organized once every four years by the World Organization of the Scout Movement, an over 30-million-member organization composed of Scout associations across the world.